10 Best Halloween Movies of All Time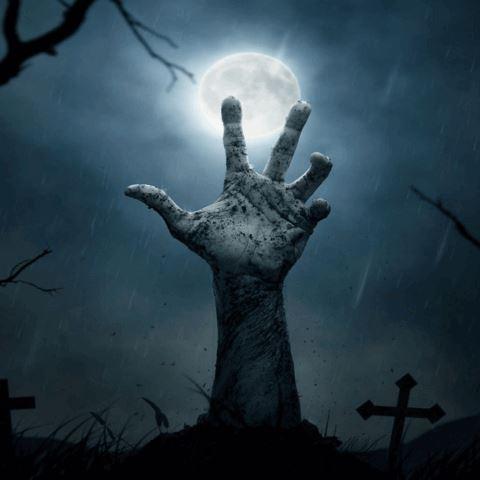 When witches go riding and black cats are seen, the moon laughs and whispers, it's near Halloween
Halloween is the evening before All Hallows' Day on November first, thus 31st October being phrased as All Hallow's Eve. Halloween is the time for cute little ghosts and goblins to take to the streets, asking for candy and scaring one another silly wearing ghastly costumes. Spooky stories told around fires, scary movies appear in theatres and pumpkins are carved into jack-o-lanterns.
Halloween Season gives us an excuse to binge watch all our favourite Halloween horror movies. Though there might be new flicks to piling up on our aficionado list, it's always fun to rewatch the classics, isn't it? Whether it's fear and blood oozing gore or the spooky clowns that make you look under your bed before you sleep (with the lights on), these 10 movies are a must watch for this Halloween season.
1. Paranormal Activity
One of the biggest sleeper hits in horror, Paranormal Activity follows young couple Katie and Micah in their own home. Katie opens up to Micah about a demonic presence that has haunted her ever since she was a young girl. Micah decides to record the couple at night to figure out what's wrong. As the nights go by, the evil presence gets worse and Katie and Micah must try to survive and get rid of the presence that seems to want more than just to haunt them.

Credit:www.jackiolie.com


2. A Quiet Place

John Krasinski's first film as a writer and director, A Quiet Place takes place in 2020 after most of the Earth's population has been killed off by mysterious creatures that hunt humans based on sound. Lee Abbott (Krasinski) and his wife Evelyn (Emily Blunt) try to protect their family by living in silence. A series of events causes the family to try to find a way to survive or be killed by the mysterious creatures that will kill them at all costs.


Credit: www.followingthenerd.com


3. Coraline
Coraline (Dakota Fanning) and her parents move from Michigan to Oregon, where they work jobs that cause her to be home alone the majority of the time. After receiving a mysterious doll from one of her new neighbors, Coraline discovers the Other World, which includes Other Mother and Other Father, parents who are much more attentive to Coraline than her own. Coraline soon discovers that the world is not what it seems and tries to make her way back home and to her real parents.


Credit: www.freemovieposters.net

4. Death-Note

Based on the popular anime of the same name, Death Note follows Light Turner (Nat Wolff), a student who is angry with all the bad things that happen in the world. One day, a mysterious notebook called the Death Note falls from the sky and gives Light the ability to kill anyone whose name he writes in it. The notebook is also linked to a death god named Ryuk who encourages Light to use it. After various mysterious deaths start to happen all over the world, all of which involve criminals, Light must make a decision to continue to use the notebook to get rid of evil in the world or go into hiding before he is caught.


Credit:www.fontmeme.com


5. Get out

When it comes time for Chris to meet his girlfriend's parents, he's a little nervous how they'll react to their daughter dating a black man. Although at first, her fam seems perfectly cool and polite, Chris soon realizes he shouldn't have just been nervous about meeting this family — he should have been dead scared. The family has a dark secret that could cost Chris his life. This movie isn't only a scary AF movie — it's also an on-point commentary on race relations in across the world today.


Credit: www.impawards.com
 
6. The Addam's Family
They're creepy and they're kooky, they're all together kookie ... so they're perfect for Halloween! Gomez Addams, head of the Addams family, tells his lawyer, Tully, that he has not spoken to his brother, Fester, in many years. When a loan shark demands that Tully pay her, her son poses as Fester in an attempt to break into the Addams family's vault. However, it's difficult for the Fester-impostor to fit in with the Addams. Their home is full of dark magic, and the Addams find it equally hard to adapt to the outside world when they are forced out of their home. If Wednesday (played by Christina Ricci), the disturbed. Addams daughter, doesn't creep you out, then Thing (who's just a hand) definitely will!


Credit: www.halloweendailynews.com
7. Ghost Busters
Who are you gonna call? How about three parapsychologists (ghost scientists) who started a New York ghost-busting business to rid Manhattan of all its spooks? Ego, Ray, and Peter lose their research grants at their university and open Ghostbusters, and they soon find themselves investigating the possession and abduction of a woman who Peter was planning on going on a date with. It turns out, ghosts aren't as rare in New York as people think. Halloween's the perfect time to catch up on the original before you go pick up the all-female remake.


Credits: www.impawards.com


8. The Conjuring
Scary movies are especially creepy when they're based on true stories. This one is based on the real investigations of noted paranormal experts, Ed and Lorraine Warren. In The Conjuring, the Perron family moves into a truly freaky-looking house in Rhode Island (which should have been a dead giveaway that it was haunted, guys) when increasingly strange things begin happening to them. Desperate to get rid of their tormenter, The Perrons call on the Warrens to investigate. What they find is straight out of your nightmares.


credit:www.teaser_trailer.com


9. Insidious: The Last Key

Not every horror franchise can squeeze legitimate jolts from its audience on a fourth movie, but there's always been a low-key sense of quality to the Insidious series. This chapter kicks off with a creepy flashback and then settles in with a basic-yet-engaging ghost story that centers around franchise MVP Lin Shaye (as paranormal investigator Elise Rainier) and how her character became so dang interested in supernatural stuff in the first place.


Credit:www.cinemamaterial.com


10. Unfriended: The Dark Web
The writer of the American version of The Grudge ventures into the director's chair with this unrelated sequel to one of Blumhouse's unexpected hits from 2015. The format is the same as the first Unfriended -- the story takes place entirely through one guy's computer monitor -- but that's the only connection. This time around we're privy to an online "game night" between six old friends... only problems arise once we learn that one of the players is working from a stolen computer. And this computer has some very "dark" passageways on it.


Credit:www.impawards.com


These 10 movies will put you in a Halloween state of mind with their zombies, ghosts, and endless jump-inducing scares. Watch these movies without the nightlights on and you are bound to be running down the Halloween aisle with a scare of a lifetime. The best news is, by the time you work your way through the list, Halloween will be here and you can start stringing cotton cobwebs all over your house. Hope these movies help Halloween get here just a little bit faster for you. Enjoy them now and you will be donning your Halloween costume in no time.

 

"It's Halloween, everyone's entitled to one good scare"
---