10 Super Cool Rakhis Your Brother Actually Wants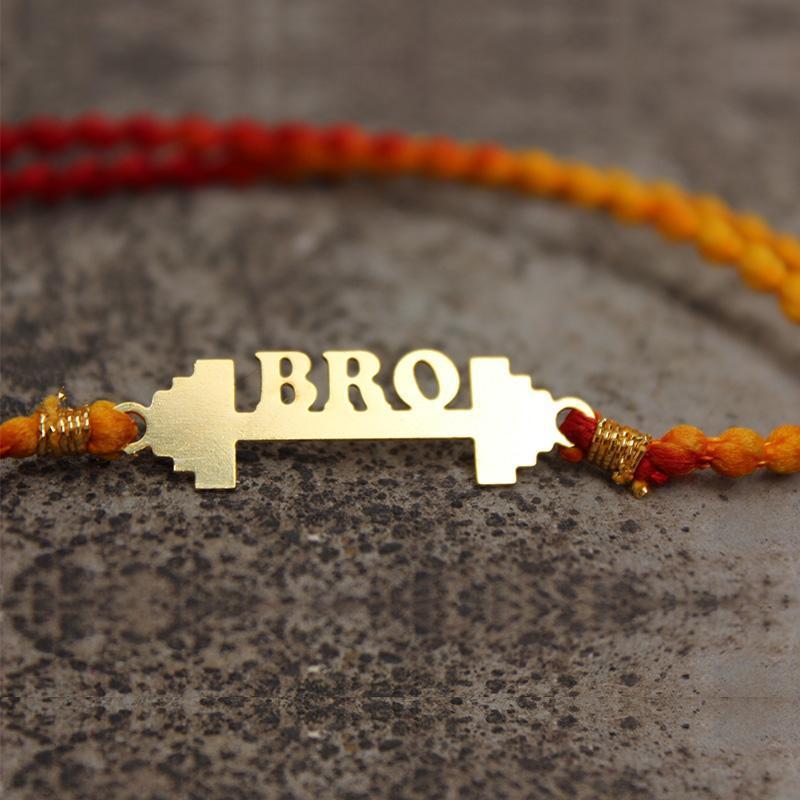 In a world where everything is changing by the minute, family is the one thing that remains constant - all the way from childhood to being clueless adults!
Your family members are the people you can go back to anytime you want, no matter what. After all, a cup of coffee and quality time with your sibling can do wonders for you when you're stuck in a rut! It isn't possible for all of us to go home whenever we want to. However, on festivals and special occasions, we all rush to get there as soon as we can, don't we?  
Raksha Bandhan is one of those days. Sure, the times might have changed, you might've left the town you grew up in, might have a place of your own...but Raksha Bandhan is still the same happy day devoted to celebrating the bond you and your brother share.
The ceremonies remain the same- the prayers, the gifts, the scrumptious food, the hugs and delight and of course- tying the Rakhi! Of course, growing up, you've probably experienced tying a Rakhi that you carefully handpicked for your brother, only to have him take it off within half an hour of the ritual getting over and soon forgetting all about it.
Well, can you blame the poor guy? Not everyone out there has a taste for beads and glitter!  This year, why not spruce things up a bit? You want to Send Rakhi that he'll actually cling on to for the whole year! He's bored of the generic old rakhis - get him a unique rakhi. something that's personalized, special for him. Along with the best Rakhi Gifts, you want to gift your brother the best Rakhi.
At Bigsmall, we've collected the coolest, classiest Rakhis you need to get for your brother this year. Take a look:  
1. Mixtape Memories Rakhi
For the brother who has always honoured the unspoken, unwritten bro-sis code, this one makes for a fitting rakhi for your bro.
2. Bhukkad Bhai Rakhi
This fun rakhi cum bracelet is a tribute to the brother who is never full, no matter how much he eats, there is always room for an extra piece of sweet.
3. Lil' Bro Rakhi



Do you have a lovable younger brother you love pampering? A sibling who'll always be the baby of the house? Get him this adorable Rakhi that says 'Lil' Bro' and he'll be grateful forever. Its innovative design will keep him gazing at it with glee! 
4. Devil Bhai Rakhi
For the bro who loves pulling pranks on you and never lets you sit in peace, the Devil Bhai Rakhi with an impish little devil complete with horns is the perfect personality specific rakhi for him. 
5. Cool Bro Rakhi
When your brother ain't just a sibling but also your best friend, and you can discuss everything with him under the sun, then you should probably get him the Cool Bro Rakhi. 
6. Personalized Wooden Rakhi
If you really wanna step up your rakhi game this year, then look into this adorable quirky rakhi for brother. Celebrate your undeniable strong bond this Rakhi season with this personalized Rakhi. Provide us with a name and we will do the rest. 
7. Book Worm Bro Rakhi
If your bibliophile brother was the one who got you hooked onto your first book be it fiction or biographies, then get him this Book Worm Bro Rakhi as a way to acknowledge his reading capabilities.
8. Never Ending Fight Rakhi
Grew up fighting with your brother? For good or for worse, it only brought you close together in the end. Get this unique rakhi online, to celebrate the equally unique relationship with your brother.
9. 

Socially Awkward Bro Rakhi
If your brother rather send a text than call and hate the conversation loop, then this rakhi is perfect for him. Tell him there's nothing wrong with being an introvert and that you'll always be there for him.
10. Momo Lover Rakhi
If you love eating or making momos with your brother or grew up sneaking out together and eating a plateful from that roadside cart, this is the rakhi he'd love.
All our Rakhis are handmade and intricately crafted. They're made of metal or wood and vibrant, colourful thread! With our specially curated collection of Rakhi Gifts for Brothers, and the cool Rakhis online handpicked for you, you can make Raksha Bandhan even more memorable this year! Get the full package with Rakhi Gift Sets and go that extra mile, or get a rakhi gift for sister and let her know that you appreciate her as much as that pesky brother of yours, if not more.
---