Ultimate Valentines Gift Guide for 2023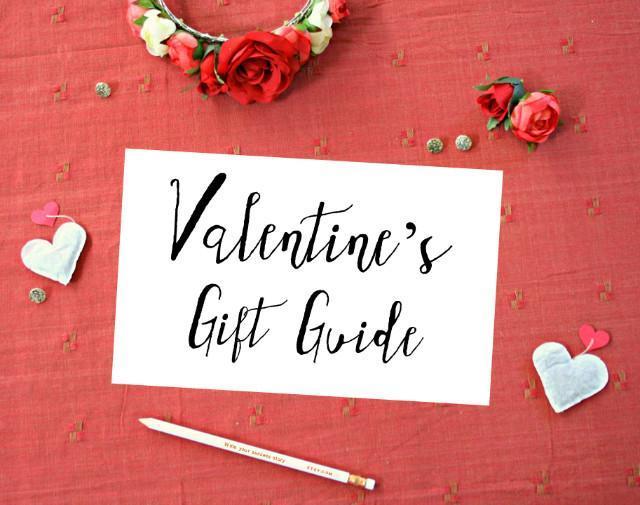 Clock's ticking fast and now your heart is pounding more than ever. Anticipation, excitement, hopes and in some cases fear are the heightened emotions as Valentine's week is approaching. Love is everywhere. You find it in the smile of your girlfriend, possessiveness of your boyfriend, taunts of your friends, care of your siblings and selflessness of your parents.
More often you find it hard to delve in the feeling of love. But when it's the month of love, it becomes easier to pour your heart to someone you love dearly. They might be your soulmates, best buddies, siblings, pets or even parents. This time of the year is for you to tell them how special they are for you. Express your thanks to them for being a part of your life and appreciate them for all they have done for you. But, most of all, acknowledge them for their unwavering trust in you, throughout.
You might wonder it's always easier said than done. My friends, this time doing it is going to be as easy as it's said. Because, we at bigsmall.in have already planned it out for you this year!
This valentine's day, give all your loved ones a souvenir of your love and a reminder of your presence in their lives. Give them the ultimate gifts that define them correctly and make them jolly and jubilant about it all.
Intrigued and excited already? Wait no further. Browse down to our special Valentine's Day products, shop your favorite and gift them to your loved ones. NOW!!

1. BEARD SHAPER


Your man loves his beard? Is he very particular when it comes down to his well-kept beard?Is styling it the most glorious thing for him? If your man is obsessed with his stubble and talks about giving it a new look time and again, then beard shaper is your ultimate choice of gift for him this V day. A comb and a stylist, it shapes both cheek and chin lines to flaunt his treasured beard!


2. MUSCLE COFFEE MUG


For your fitness freak husband/boyfriend, there is one thing that would never grow old. And that is his overwhelming feeling on being given a fitness compliment. And this mug could be your gesture of appreciation and a source of motivation for your love to keep going. Give him this unique gift and make his valentine's day all the more special.


3. CHILLING CUBES


Who doesn't likes to sip their drinks chilled? Your guy loves to have his drinks chilled to the core but doesn't wanna spoil it by using ice? He'd be definitely joyous when you'll gift him these steel chilling cubes for Valentine's Day. The cubes help keep your whiskey or beer's temperature low so that you enjoy them fully without compromising on the taste. The steel cubes are resistant to chemical reactions and are reusable. Carry them on a picnic without worrying about melting them early! Drink, have fun and enjoy your special day with this party gift for your love.


4. INSTANT BOTTLE SHAKER



He might love you and take care of you every second. But when it comes to taking care of himself, he'd find some excuses. But now, even when he's busy, he'll have time to keep himself fit and healthy. While he'd be doing his work, instant bottle shaker would do theirs. From making shakes to mixing drinks, the shaker will be your man's little helping hand. Gift him this shaker on Valentine's Day and bid adieu to all his excuses.
1. ELEPHANT PLUSH SLIPPERS


The elephant has geared up for the day. Now it's your turn. Make her feel comfortable and cozy while you fill her day with a lot of surprises. Give this cute and special little gift for girl to your lady love and make her remember you every moment. Give her this unique valentine day gift and fill both your hearts with love! 

2. WEARABLE NAIL POLISH HOLDER


Your wife always complains about how difficult it is to get her nail polish done perfectly? Well, if your girlfriend blames it on nail polish for not drying on time and hence her getting late, then here comes a unique gift for her! Gift her nail polish holder and see how pleased she'd be the next time you go on a date!


3. MERMAID TAIL BLANKET


She loves to nap and relax after a hectic day at work? Why not make it even more comfortable for her? It's your unique gift to give her this Valentine's Day and fill her with elation with the colors, fabric, and design of the mermaid tail blanket!


4. OWL WALL CLOCK


Girls love creative things And when it comes to a clock that they'd get to see every minute, there is nothing that could match this home décor gift for her this valentine's day. Catching up with time and getting a companion while she does her work? Trust me; she'll be the happiest on receiving this combo!
1. WALKING MAN WALL CLOCK


Gear up this V day and do what you always wanted to do. Walk away from the things that made you feel terrible. Walk towards your goals and the life you always wanted to live. And while you do that as a strong independent person, keep this walking man to give you company every second of your journey. A home décor gift, it's a reminder of what you need to do- love yourself. And this perhaps is the best day to start with!


 2. DUMBBELL WATER BOTTLE


Do you promise yourself to exercise every day? And while you have an unbreakable resolution, you somehow procrastinate it for the next time? If you are nodding in agreement, then it's time you transform yourself, for better. And what's apter than your water to start with! These dumbbell water bottles are your daily reminder for a healthy lifestyle. Gift yourself this unique gift this valentine's day and mark a change you always needed up to your sleeve.


3. CARTOON SUPERHERO SOCKS


Be your own superhero! Go back in time and cherish the days when you thought these superheroes were going to save your day. Give yourself a unique gift this valentine's week and relive these super amazing days. But this time, be your own superhero!


4. BUDDHA INCENSE BURNER


Enjoy the serenity and peace of Buddha at your home! Let the fumes of enlightenment blossom your soul while they add beauty to your home. Give yourself this home décor gift and celebrate your own valentine's day with your little Buddha.


1. FART GUN


A little fun for your kid never gets old. And when your kiddo is as naughty as hell, fart gun would be his weapon of choice. Gift this funny gift to your kid this Valentine's Day and let him spread laughter. After all, Valentine's Day is for all our loved ones. And our kids definitely top that list. 


2. SUPERHERO KIDS SOCKS


Give your child their superhero companion for valentine day. Let them fall in love with the superheroes of all time. A perfect gift for kids, the superhero kids socks are soft, safe and your child's cozy friends.


3. PLUSH MARIO WINTER SHOES


Keep you kid's feet soft, comfortable while they battle to save the princess along with their friend, Mario. It's one of those gift for kids that your child would love to flaunt and would treasure dearly.


4. PANDA SHAPED RUG


A Panda for your child's room is the perfect home décor gift you can get them for their new room. The soft rug will create a vibrant ambiance for your kiddo to live in. A unique gift for kid this valentine's day, isn't it?


ULTIMATE VALENTINE'S DAY GIFTS FOR PETS

While we talk about family, how can we miss out the most loyal and loving members- our beloved pets! So, here we at bigsmall.in have some special and unique gifts for pets to brighten their days during the week of love! Have a look!


1. SHRILLING CHICKEN TOY
A fun game to engage your pet while you look after your house. It would keep your little friend engaged( hopefully long enough) while you prepare to battle all the mess that would follow later.  


2. FUNNY PIG SOUND SQUEEZE TOY



You might not always be there for your pet to give him company. And in your absence, these pigs would give your pets, especially your dogs some companionship. The squealing pigs( when pressed) would brighten up your pet's and your mood alike.  
After reading through all these unique gifts, you'd definitely don't wanna resist yourself. And, why should you? After all this is one big day. And it needs to be made special. Check out quirky Valentine gifts for gf and bf at your favorite online store. So, go on, Happy shopping!
Happy Valentine's day!
- Written by Sanskriti
---