Celebrate Your Loved One's Birthday With These Unique & Cool Birthday Captions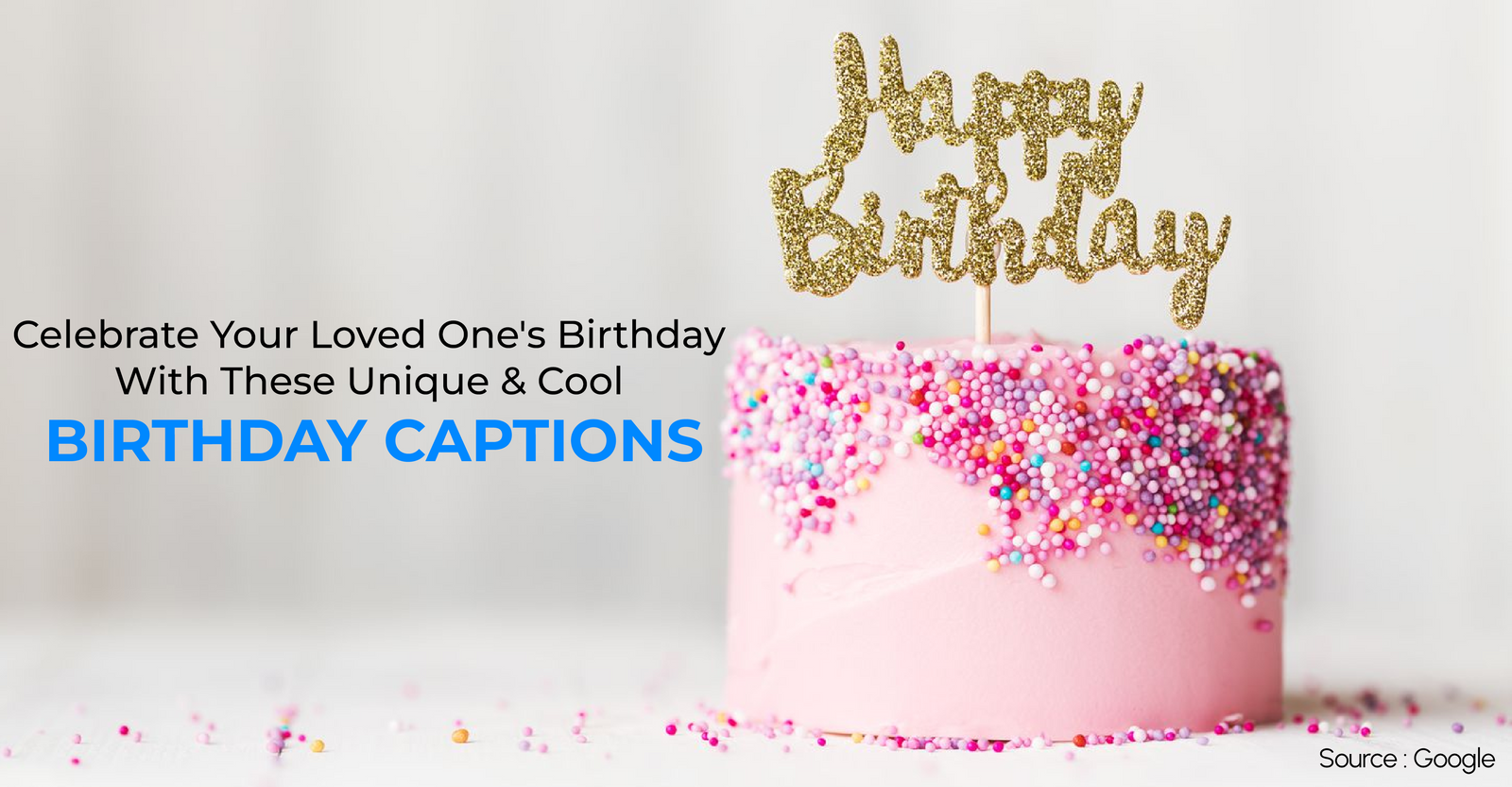 Greeting someone on their special day strengthens your bond with them. It's a technique for expressing your remembrance of and gratitude for their accomplishments, which can promote a more enduring bond. Wishes express your concern for the person for their contribution to your life. It's a way of expressing your love, care, and appreciation for them. Nowadays, people focus on captions since they grab everyone's attention. Captions for birthdays, anniversaries, or any other occasion act as a blessing.
Happy birthday captions can be funnier, serious, or advice. Birthday post captions are usually posted with funny birthday quotes, making them unique and memorable. Caption for birthday celebration makes the recipient's day happier and more exciting. Your remarks uplift their spirits, bring a smile to their face, and lighten their day just a little.


Happy Birthday Captions - Wish Someone In A Unique Manner



If you are confused about the best captions, here are some ideas by which you can create fresh birthday post captions for your friends and family.

1. You are the daring explorer: birthdays are just like new experiences! I hope the happenings in your forthcoming year will be exciting!
2. "You're a work of art in the process of aging. Honor yourself because you are a labor of love! Happy Birthday to the gorgeous.
3. "A toast to another orbit of the sun! Happy Birthday to the one who makes each day shine brighter!"
4. Wish you a chock-full of things that make you smile, sprinkled with laughter, doused in love, and adorned with love. Happy Birthday!
5. May you experience love, joy, and infinite possibility in every chapter of your life. Wish you very "Happy Birthday!"
6. This day saw the creation of a masterpiece. Happy Birthday to the creative soul who colored our lives with joy!"
7. The road of life is sweeter having you on it. I hope your birthday is as enjoyable as you have made our lives. Happy Birthday!
8. Birthday reminds of how much you've improved with each passing year. Continue exhibiting your unique qualities. Happy birthday!
9. "Getting better with age, like a superb wine. Happy Birthday to the one who keeps growing with time!"
10. Towards a new chapter! Greetings on your birthday!


Why Unique & Cool Birthday Captions For Instagram Are Important



People find it critical to use creative and amusing birthday Instagram captions since they draw attention to your post and compel viewers to interact with it. You can show off your originality and personality by using a special caption. It may showcase your sense of humor, personal flair, or uniqueness. Birthday captions for Instagram frequently elicit remarks, likes, and shares. Funny birthday captions usually resonate with people and have a higher chance of getting noticed.

A personalized happy birthday caption demonstrates that you gave the subject serious thought. The birthday person thus feels cherished and valued. It takes effort to create a caption for birthday pics that sticks out. It demonstrates your concern for the person you are honoring. A noteworthy caption sticks out in the social media content sea. You can also consider buying the best birthday gifts which definitely complement your wishes and make the celebration memorable.


Types Of Birthday Captions




Funny birthday captions
Funny birthday captions usually represent sarcasm that is enjoyable. Caption for birthday celebration grabs people's attention since it reveals the star of the day's personality and vibe. Below are some captions for birthday pics that are funny.

1. Birthdays are like cheddar cheese; the stretch gets worse as you age. Happy birthday!
2. Nature reminds us to eat more cake because it's your birthday!
3. Congratulations on turning a year older, but you have not become any wiser! Happy Birthday
4. Take in the glow rather than counting the candles. Happy Birthday!

Inspirational birthday captions

Best inspirational birthday captions have the power to influence people. Below are some that may help you create one.

1. Every candle you blow out symbolizes a wish granted and a dream realized. Happy Birthday!
2. Remember that your unique day is an opportunity to create a life you love and rewrite your story every single year. Happy Birthday!
3. "Life is a canvas, and the stroke that adds color and vibrancy to your journey is your birthday."
4. Age is just a number; what matters most are your moral integrity and your heartfelt kindness. Happy birthday!

Birthday Captions For Friends


Happy birthday captions for your close friends that are unique and memorable.

1. Another year of laughter & happiness. Birthday wishes to the one who truly understands the value of every moment.
2. Some people enter our lives and leave emotional imprints on us. You have left a trail of love and laughter. I'm glad you're here. Happy birthday!
3. All the joy, love, and cake in the world are yours to enjoy. Greetings on your birthday, my dependable friend!
4. True friends last a lifetime, not just a birthday. My wishes to the one who has remained by my side throughout everything!
Birthday Captions For Family

Some exclusive happy birthday captions for family members.

1. Another year has passed, making me wiser, more experienced, and more loved. Happy Birthday to the best dad in the world!
2. Happy Birthday to the person who has always been my pillar of strength and staunchest ally. Love you mom!
3. Having you as a child was the best experience. We look forward to more fun times and memories together. Happy birthday bro!
4. You are always close to my heart, no matter how far apart we are. Happy birthday sis!
5. With you by my side, the journey through life is more lovely. I hope your day is filled with love and joy. Happy birthday my love!
6. You brighten our days with astonishment and laughter every day. I wish you a happy birthday, my beautiful child!
7. Your influence is significant from generation to generation. Happy birthday to my favorite grandparent!


Captions For Special Milestone Birthdays

Birthday captions highlighting experiences, feelings, and goals to mark the milestone birthdays!

1. A lifetime of dreams lie ahead, 18 candles, 18 wishes. Happy 18th birthday!
2. Now that you have an actual ID rather than a fraudulent one. Celebrate your 21st birthday responsibly!
3. A quarter century of fun, learning, and adventures. "Here's to the following 25! Happy birthday
4. 40 years of joy, love, and memories we will never forget. Salutations for embracing the great 40s! Happy birthday

Some Short & Simple Captions For Birthday Pictures




Finding the best caption for birthday pics is tricky. Since birthday Instagram captions attract people's attention, we need to frame simple, unique, and quirky captions to make it perfect. Below are some captions that can help you create one.

1. Yet another journey around the orbit of the sun!
2. Cake is eternal; age is just a number!
3. The next chapter has begun!
4. Yet another year for blissful smiles!
5. Birthday vibes!
6. Preserving today's specialness!

Use Emojis In The Instagram Birthday Caption




Emojis draw the viewer's attention and help in the visual perception, breaking the words and improving the caption. They capture the audience's interest and nudge them to read the caption. They amplify the sentiment by expressing emotions like joy, enthusiasm, appreciation, love, and fun. It overcomes linguistic and cultural barriers, making your caption relatable and clear to a worldwide audience.

1. Cheers to a new year of adventures! 🥂🎂
2. "Making today extra special 🎉🎈
3. "Making memories on my special day 📸🎈
4. "Living, loving, and celebrating today 🎈❤️


Emoji usage over time can become ingrained in your personal or brand's identity, increasing the recognizability and impact of your postings. Emojis let you express emotions and sentiments clearly in your birthday captions, improving the overall post.


Tips For Writing The Perfect Birthday Caption



Create a caption that reflects the person's personality, interests, and relationship with you. A personalized note demonstrates that you gave the wish some thought. Your caption should reflect feelings like happiness, appreciation, love, or nostalgia. The audience responds to authenticity. Emojis can improve your caption, but don't use them excessively. Emojis that enhance your message and offer visual appeal.

Your caption can stand out by adding humor. Make sure it fits the situation and the person's sense of humor. Invite readers to comment, share a recollection, or wish the person a happy birthday to increase interaction. Your caption should reflect your true feelings. When possible, avoid using cliches or generalizations unless you mean them. Along with the captions, make your loved ones feel special with the best birthday gifts from Bigsmall. We are proud to say that we are one of the best online gifting platform and serve our customers with unique gifts. 
FAQ
1. Do people like these savage instagram captions?

Savage captions might be well-received if your audience enjoys humor and playfulness, but some might take it as an offense.

2. What are some most popular birthday captions?

There are several popular birthday captions that people often use:
"Growing older, but not up", "Aging like fine wine.", or " A year bolder."

3. What are some good Instagram birthday captions for yourself?
Here are some birthday captions for yourself:
"I'm not getting older; I'm leveling up", "It's my birthday, and I'm ready to shine brighter than ever", or "A year older, a year wiser, and a whole lot more fabulous"
4. How to choose a perfect Instagram birthday caption for someone?
Consider your relationship with the individual. The intensity of your bond will impact the caption's tone. Thinking about the person's character traits and sharing memories in the description makes it more poignant.
5. How to add your birthday to your Instagram bio?
You can write something like " Wish me on [Your Birthday].
---