How To Get Through This Christmas Without Going Broke?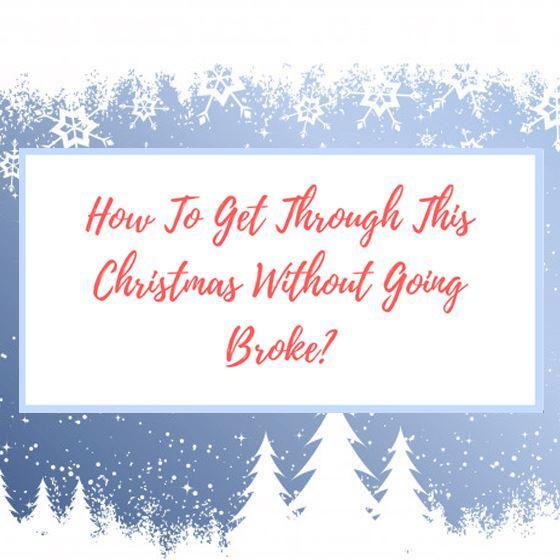 Christmas is that one festival which calls for some big celebrations. Being celebrated towards the extreme end of the year, Christmas calls for a huge expense to be celebrated lavishly. More often than not, the festival leaves behind a trail of broke-ness all around. 
Everything about Christmas is just so right, so perfect and so exciting. Starting from music, the decorations to the Christmas plum cakes, everything is just as amazing to die for. And hence, people tend to spend loads behind making it an exceptional day. But did you know, there are some pocket-friendly Christmas celebration ideas which would make sure that you don't run penny-less. 
So, if we are thinking of getting through this Christmas without getting broke, there are some pocket-friendly Christmas gift ideas along with some celebration ideas that can help you get through this Christmas without getting broke.
Monitor your spendings first
The first and foremost thing that should be done before Christmas is to make a checklist along with a budget. Planning how much you will be spending on Christmas will help you better assess the total spending, and prevent you from overspending. You would be surprised how much money this small trick can save you.
Unique Christmas gift ideas
Give unique and experimental gifts
Thinking of gifting your loved ones with some gifts this Christmas? Try to be more experimental with some of the most out-of-the-box Christmas gift ideas. And the moment you try to get cheeky with some unique Christmas gifts and move away from the orthodox ones, you know that you will be saving huge on your expenses. Something like Unicorn Plush Slippers or Spa Socks- just the best kind of pampering christmas gifts for friends!
Best Christmas party ideas
Decorate your house
Christmas trees, silver bells, decorative lights, etc., are the most popular Christmas decorations. However, if we look at the other side, making the house attractive will open up a new dimension of decoration this Christmas. To set the wall of your room to be stylish, you can use the Wooden Santa Claus Lamp.
But yet, lights are mandatory during Christmas or the New year party. Decorating the house with some of the most attractive and out-of-the-box Christmas decorative lights like an Eiffel Tower Bottle Lamp that will entice the look of the place you keep it in, be it on the study table or the drawing-room. Also, with something like the Animated Fireplace LED Lamp, the entire Christmas decoration seems to be sorted.
If you are looking for some more unique Christmas lights, there are plenty more, like the Reindeer Lamp.
Organise a fun party

There are some good Christmas party ideas that can save you big bucks at your expense. Organise a Christmas party with some of the most unique products which will keep your invitees amazed. Offer wine in a trending 3D GOT Wine Glass but make sure that you use the Wine Aerator & Decanter. Got any other cold beverage drink to offer? The moment you serve cold drinks or beer in a Football Beer Mug, you will be getting a lot of compliments from the guests. To hog some more of the praises, serve drinks with unique ice molds like Sphere Ice Moulds or a unique Bullet Ice Tray.
There are many more Christmas gift ideas
We might have heard about the carol "Christmas every day", didn't we? But alas, not to be so, Christmas comes just once a year, which calls for a huge celebration and planning. But what is more important to maintain is that we should not let these take a big toll on our finances as we end up broke. Hence, it is very important to adopt the habit of buying Christmas gifts within 500 so that you don't go broke.
Secret Santa is a fun office involvement that gets you in the yuletide spirit without burning a whole in your pocket. If on a budget, secret Santa gifts under Rs.500 is a prudent enough choice for colleagues and co-workers whilst hosting an office secret Santa gifts giving activity.
So the regular decorations and parties will stay as every year, but the planning should take the bulk of the preparation. In the same way, the custom where you give best Christmas gifts to your loved ones will stay, just that the gifting ideas will change. This way, you can keep up with your Christmas budget and also give a touch of uniqueness to the entire gifting ideas. 
Christmas preparation and decoration is now sorted with some of the best Christmas party and gift ideas and be assured, it won't cost you a fortune. Also, if you are looking for New Year Gifts, there plenty more in the store!
---