Propose Day Messages And Wishes For Your Partner In 2023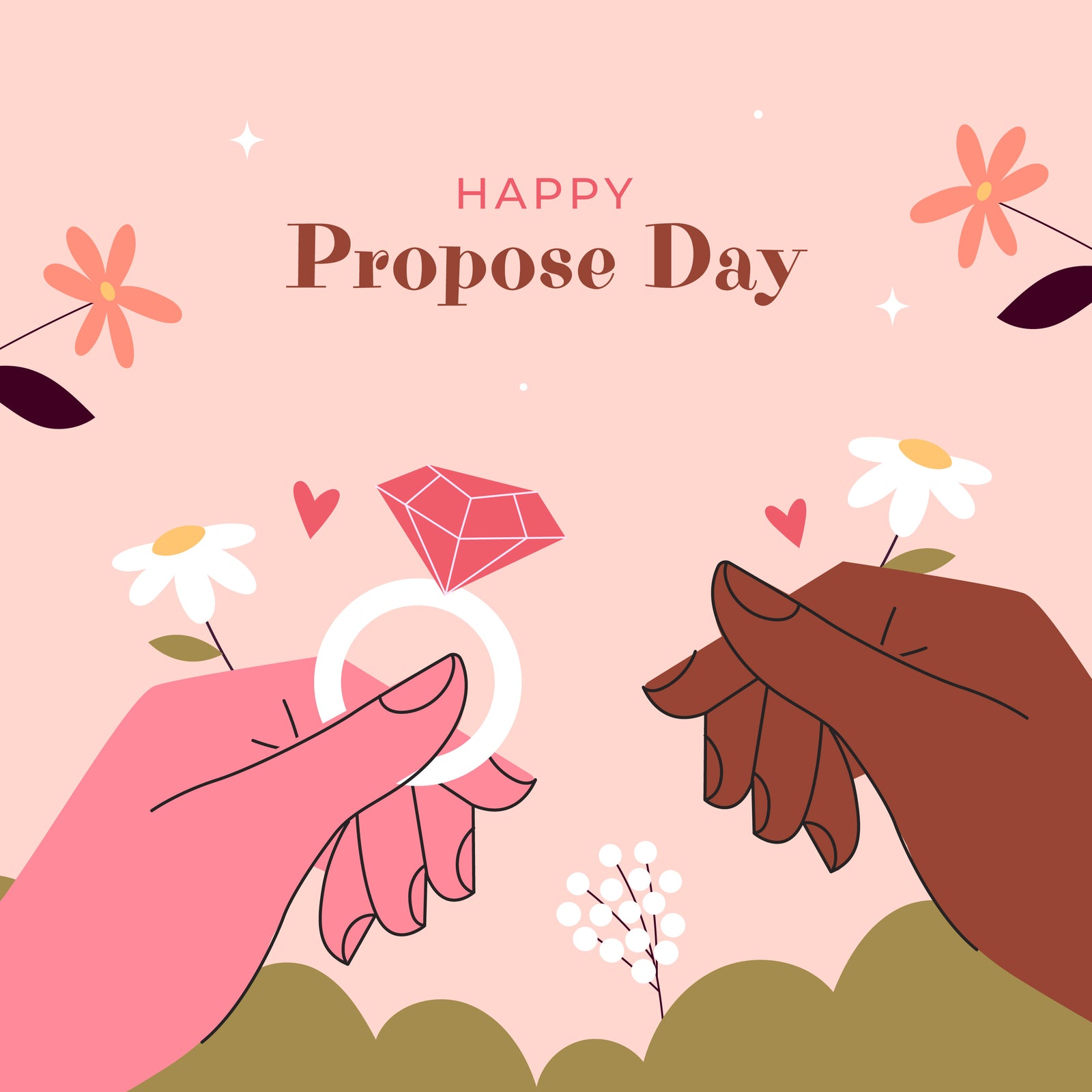 Propose Day comes right after Rose Day on February 8. The global calendar marks it as the Propose Day to denote an opportunity for all the love birds to propose to each other. It can be hard to put yourself out there and be vulnerable, even in front of the right person. Fortunately, their smile and warm hugs make all the anxious nights worth it.
After watching aesthetic proposals on the beach or beautiful words being written in the sky, it may seem like you've run out of creative ways to propose. This blog is here to prove you wrong and to help you say the right words to your special person. Check out these unique Propose Day quotes and much more to ace the surprise.
Ways to Say "I Love You" on Propose Day
Whether or not it's your first time saying these three magical words to your partner, you need to step up your game this time. Hence, to tackle this nerve-wracking situation better, here's a curated list of ways to profess your love on the momentous occasion of Propose Day. Scroll down for trendy, sentimental, and instantly heart winning Happy Propose Day quotes.
I'd choose you in a room full of people - in a hundred lifetimes, in a hundred words; in any version of reality - I would find you and choose you.


My heart is always and forever with you!


I can't think of a person more deserving of my last slice of pizza than you.


You are the only person I want to return home to all my life.


I didn't think I would ever say this, but here I go. Will you be my forever so I can be your constant?


I wouldn't change a thing about everything that came before you. All that was the equation to find you and be yours from the moment I first adored you.


This heart is all yours for the rest of my days on Earth.


I won't trade any of our laughs or fights; I won't dare to risk losing you.


With you by my side, love, a garden feels like heaven, and every breath is a gift.


No matter what happens, it's you and I against the world - the same world that was cruel to me until I met you.


I knew you were my soulmate the second I found someone weirder than me.


The universe has a way with fate, and I just lucked out.


If there's any form of heaven in the afterlife, I might be one of the rare people who found it in someone I love.


Even before I knew it, my heart was more yours than it was ever mine.


I don't want to sound corny, but I'm this close to being in love with you. Oh, who am I kidding? I was there long ago.


It's you and me against everything.


In a room full of people, I'd always look for you.


I don't think a lifetime is enough to show how much I love you. I'm going to spend my life trying anyway.


Little did I know that love was going to sweep me off my feet after all.


We are in this together, no matter what happens, because I love you.


Love is not just looking at each other; it's looking in the same direction.


The world doesn't turn on the love. Love is what makes the journey worthwhile.


I started hunting for you the moment I heard my first love story, not realising how blind I was. Ultimately, lovers don't cross paths. They've always been in each other's way.
Exclusive Gifts For Propose Day For Your Loved One This Valentine's
What better way to make this day special than Propose Day gifts? Check out these gifts that will always remind your special person of you and your love through thick and thin.

This ceramic mug screams aesthetic vibes and sets a versatile tone on the laziest mornings. Let them think of you the first thing they wake up. Its steady grip and flexibility for all drinks will quickly make it a favourite.

This neon heart light is your go-to companion to ease your nerves on Propose Day. With it around you or in your hand, it can lift the tension and highlight your finest features. Let it help you take the next step in your relationship.
This clock creates the illusion of a beating heart in your space. Not only does it remind them of you, but it also helps your partner appreciate life and time. Gift your special someone this innovative clock as a token of your love, loyalty, and trust. 
If there's one thing the modern era can't steal from you, it is the craze for vintage stuff. Here's a gramophone Bluetooth speaker to play upbeat songs in the morning and soothing tunes at night. From its wooden finish to a great stereo system, it's the perfect Valentine's Day gift for your music-loving partner.

Looking for a timeless gift? You're at the right place. Look at this classy I Love You gift set to make your choice easy yet thoughtful. This rose carries beautiful calligraphy that reads I Love You. Along with it comes a spectacular necklace with a little golden heart. Grab this package deal today and you're good to go this Propose Day.
Let's rewind to see if you've got everything to go about your Propose Day. This blog covered messages for Propose day, ways to profess your love, and gifts for your special one. At the same time, remember to be yourself and don't overthink it. At the end of the day, it only matters who you're spending the rest of your life with and not how lavish your proposal was. Relish in the little moments with your partner and build a beautiful life around them.
If you are looking for more thoughtful gifts for propose day or valentine's day, head to Bigsmall.in and surprise your better half!
FAQs
1. What is the date of Propose Day in 2023?
Propose Day will be celebrated on February 8, 2023, the second day of Valentine's week.
2. How can I plan my Propose Day to make it memorable?
Pamper your partner as much as possible and make them feel appreciated, seen, and loved. Take them out to a place that holds significance to both of you and get down on one knee. Their million-dollar reaction will take care of the rest.
3. How should I express my love for my beloved?
First of all, be yourself. Every person has a love language, so find your partner's love language and stick to it. Mean every word you say and show that you love them by treating them the way they deserve.
Cover Image by Freepik
---