How Can Singles Rock Valentine's Day 2023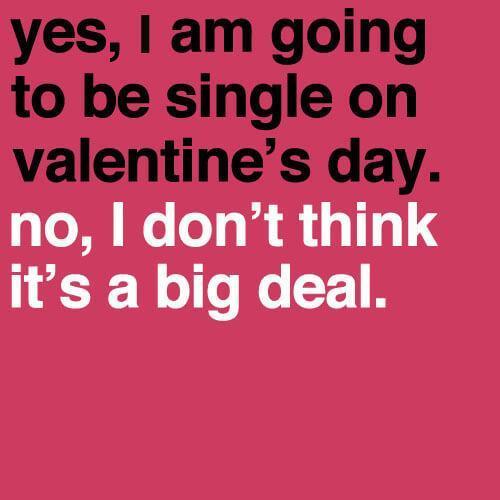 "I walk on the lonely road, the only road that I have ever known…"
These words sung by Green Day have of late become by the serenade of singles around the world. When lovebirds walk snuggling against each other or revel together on the dance floor, the legion of singles can be found lazing in front of TVs or simply evading the sight of lovers that may irk them and hurt their ego. But do singles need to retreat into their burrows every time Valentine's Day arrives? Does having a partner embracing your arm in affection an eligibility criterion for enjoying the V-Day? Absolutely NOT!
So what if no one sent rhythms running on the strings of your heart? Show the world that your single status is far more exciting than cuddling on the streets and spending a night drinking mocktail from the same glass. Pamper yourself with some of the most amazing Valentine's Day gifts which you don't need to give to any beloved. And if your mind is screaming for the answer of how to spend Valentine's Day 2021 single, here's some worthy advice from Bigsmall. Singles, unite!


Have a Single's Party


This Valentine's Day, throw caution to the couples as here arrives the Legion of the Singles. Get together with some of your single friends, pool some money and throw a party at a grand location or maybe at a farmhouse. Get bottles of wine and loads of snacks. Just immerse yourself in jubilation as you laugh your entire night away dancing, singing and swimming with your closest of pals. Don't forget to fetch some 3D Game of Thrones Collectible Tankard that add a unique zing to your party. 
Treat yourself


Why should couples have all the fun? Why should only lovebirds keep thronging the hotels, malls, and restaurants while the Legion of Singles just loiters around staring at these souls with teary-eyes wish-making eyes? No way the eateries and party hubs are meant only for the duos. Reach a party place or a club with all your single friends and shout out loud "This is Sparta!"
The get-together can get far classier through the exchange of gifts. And you can try some unique Valentine's Day gifts to give to your friends. Raid the dance floor with all the moves that you have got to flaunt. Show that being single is the best thing that can happen to anyone. Who knows, you may end up making some of the couples jealous of your life.


Go for a massage


While the entire lovebird community enters into an uncontrollable hysteria, take an opportunity out and just sneak into a spa. Get your body caressed by herbal oils and natural products that rejuvenate your body like nothing else. An evening away from the din of maddening urban life is one of the best things to do when you are single on Valentine's Day. Just imagine yourself lying down on a warm sheet and your back getting messaged by experienced hands that replenish the burnt-out energy in your body and refreshes your mind. The U-Shape Travel Neck Pillow will enhance your relaxation further during the spa session. Get to love your body and see how much your body loves you back. Valentine's Day is not just about couples, it is actually about love. And it does not discriminate against loving one's own body. We are not asking you to become whacky like Narcissus, but definitely to fall in love with yourself. Wouldn't this be an awesome and unique Valentine's Day gift you would want for yourself?


Catch up


What if we told you that Valentine's Day is not just about romantic love but also the love of friendship? Will you doubt our words? You just can't, as we tell you one of the best ways of how to spend Valentine's Day single. Move out of your home, drive long distance and land in front of the door of a friend who you have not been in touch with for long. And the internet is here to help you with this. Just seek the help of Facebook and then ask Google Maps to guide you on the meandering roads to reach the abode of that friend whom you considered indispensable for your life's happiness but over the course of time, the friend slowly entered into the annals of memory, just never to be seen again. This is the day to revisit the past days of your childhood or college. Knock on their doors with a big box of unique Valentine's Day gifts for friends; yes, they work for singles too. Bigsmall can help you find some of the most remarkable gifts that you would not have even imagined. And don't make excuses that your friend lives too far. Bigsmall takes care of your time and needs by delivering your ordered best Valentine's Day gifts at your friend's doorstep. But beware! Your friend must be a single too. You definitely don't want to end up facing a door that is locked just because your best pal of the past is now committed and has different priorities for Valentine's Day this year.


Shoppers, don't Stop


Valentine's Day is one opportunity to get cool and unique gifts at a reasonable price. There are high chances of offers being floated in the market during Valentine's Day to push sales among couples. But what stops you from making the most of this opportunity? Just hit a shop at any local market and fill the trunk of your car with all kinds of items that you need to pamper yourself. Or even better, visit Bigsmall, and with a few clicks, explore unique Valentine's Day Gifts for yourself and get them delivered right at your doorstep. You don't need to spend on your girlfriend, you don't need to spend on expensive restaurant bills, and you don't need to spend on an hour of dance. Utilize this saving for buying special gifts that pamper you as much as you're supposed beloved one would have.


Spread love


Love is not something that exists between a young girl and a young boy. Love manifests itself in some of the most beautiful forms when you go for social service. You can try visiting orphanages, old-age homes and hospitals to be with those on whom luck has not been smiling for a long time. Being the reason for someone's happiness spreads more joy and love than anything else in this world. Complete it with some most unusual Valentine's Day gifts this time. Bigsmall helps you bring smiles to such people by bringing unusual gifts right your doorstep. In case you are too short of time to visit such places, why not send unique gifts to the doorstep to these people? Sounds like an aha-moment, right?


Go out on a vacation


Valentine's Day is the perfect time to go on a traveller mode, especially if you are the only single in your friend circle. While your other friends sweat under the stress of how to make their beloved ones feel special with Valentine's Day gifts, you simply pack your bags and walk out to explore some unique places in and around your city. Google Maps is always there for you to help you find ways beneath flyovers, between lanes and in remote areas too. Keep a stylish travel journal and a dumbbell water bottle ready to accompany you.


Unplug
And if nothing works out, then simply unplug from all kinds of digital devices surrounding you. Have a day that has no involvement of any gadget or social media updates. Take a deep sigh and take a day off from the monotony of your life. You will realize how much more time you have in your life and how things begin to happen so smoothly when the distractions have been ordered not to disturb. Say 'Hi' to slumber and relax an entire day donning the swish travel hoodie pillow.


Join a workshop


An amazing way how to spend your Valentine's Day single is to join a one-day or a prolonged workshop that helps you add a new skill. This is the best Valentine's Day gift that you can present yourself. While your friends simply roam around hand-in-hand with their loved ones, you would be making yourself more adept at a new skill, which you may never know may seem appealing to someone and may attract them towards you.

And the list just goes on and on. There is a myriad of things to do when you are single on Valentine's Day. And these very activities can make a single's life far more exciting than that of a couple. What do you say? Do you want to try it out? If yes, then there is nothing stopping you from trying these tips on how can singles rock Valentine's Day. Get the most unusual gifts for friends from Bigsmall and yourself. Let the Legion of Singles join hands to show couples who their daddy is when it comes to partying hard and enjoying a day. Once again, singles unite!
For the committed folks, discover and shop unique valentine's day gifts for boyfriend and valentine's day gifts for girlfriend only at bigsmall!
---