How to Dress Up For Valentine's Day?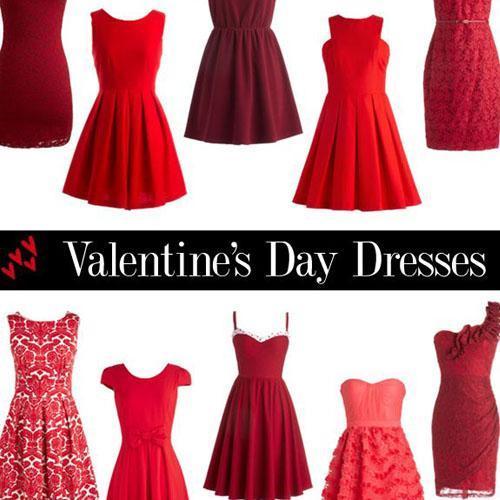 Valentine's Day - the word itself is enough to get us the tingling feeling of excitement and happiness. Most of the people start planning about that day well in advance as there are many things that are to be looked into, like how to impress your girlfriend, boyfriend or your spouse in a way that can be innovative and different from the mainstream Valentine's day ideas. There is a lot of hustle and bustle regarding everything that you can probably do that will blow your partner off his/her mind?


Officially regarded as a day of lovers, 14th February is nothing but sheer bliss and a lot of heart-shaped balloons in the air. Waiting for D-day is itself a matter of excitement for everyone who has someone in his/her life to love and care for.

And of course, just like many other, I am one of the people who start planning for Valentine's day at least a month in advance if not more. I include every little thing in my priority list that could make a big impact like what to wear, how to wear, how to impress my partner in the best way possible, what should be the best Valentine's day gift, and guess what, the list is pretty long. After all, no one wants any small mismanagement to spoil that special day.


Why dressing up perfectly is important on Valentine's day?


Valentine's day is the day when you need to look your best, whether you are going out with your spouse or your boyfriend/girlfriend. This is the day when you need to step out in style, even if you are going solo. You may not get back this opportunity to make a big impression on yourself.

If we go the scientific way, I can give you many reasons why you should dress to impress on Valentine's day. If you have one of the best Valentine's day dressing ideas, you have a better chance of wooing your partner and fall in love all over again. Just the way you wouldn't want your partner to meet you dressed up in a coarse manner, your partner would also love to see you dressed sharp.




The moment you dress up like a gentleman, you will be perceived as being a gentleman yourself, which is a great thing to boast about when you are on a date. Hence, it is always better to go formal and present yourself as a true gentleman this Valentine's day.


Which color to wear on Valentine's day?


No points for guessing, the most suitable colour to put on on Valentine's Day is the colour of love, i.e. Red. But again, just like me, you might be drawn in to think that Red probably has become the most stereotypical colour that cupid relates to, too much of mainstream right from the onset. So it is always better to think twice before you wear red, lest you end up having the same colour fabric on among the many even in a secluded restaurant or cafe.


But if you think that red suits you more than any other color and you can carry it better than any other, go for it, albeit making it slightly different. Get a contrasting overhang, like black or blue over the regular red. You can slip on a blazer or a half-coat to make the red appear more enticing, besides imparting the gentlemanliness.

If you are a girl, the color that you choose largely depends on the time you are wearing it. Wearing something which is extremely light during the day is the mantra here. Subtle pink or white could be the best colour for Valentine's day. However, as night falls in, you can get cozier by choosing something deep, as deep as scarlet red or as spicy as crimson would do too. Pair it with some shrug or a short scarf in white and black and watch your partner get his eyeballs popping.


What are the best Valentine's day dressing ideas for men?


If you have been thinking that men do not have the dressing complexities that women do, you are on a wrong path. Just like women become extra sensitive and choosy when it comes to dressing, men should also have the same. Believe it or not, seldom you will find a man who will be perfect in every kind of attire. They may be near perfect but seldom perfect.
Trying to wrap yourself into a slim fit formal set? Don't do it if you have a thin or shorter stature as it could just emphasize the slimness. If you think you are the perfect size and weight, you can carry any type of apparel better than others.

On the other hand, if you are on the heavier side, don't wear something that hugs your body as it could entice the extra bit of fats on your midsection, much to the disapproval of your partner. But yes, if you are on the heavier side, you can flaunt formals better than the men who are on the thinner side. Whatever, it may be, don't forget to check out yourself in the trial room.


What are the best Valentine's day dressing ideas for women?


For women, there isn't any such defined thumb rule that should come in handy while choosing what to wear. If there were any, there would be complacent women everywhere. But yet, there are some simplified roots which are often stuck to.



But then, for women, it's all about how well you can carry yourself in anything you choose to wear. Maybe that is why we find women mostly dissatisfied with their attire. Even with a wardrobe full of clothes, you may find yourself not being able to choose what to wear and what not.
So here are some wise tips on the best dressing ideas for women this Valentine's day depending on their body type, which, by no means, could be termed as body-shaming.


Best dressing ideas for women with athletic body
An athletic body does not mean muscular body type. In fact, if you are slender with a banana type figure, you can call yourself to have an athletic body. And when you have such body type, you might not have to worry much about wearing casual clothes like jeans, tops, etc. However, you might not be very satisfied with the end result since, though you can fit in any type of clothes, you might look good and not gorgeous. Under such circumstances, you can team up things with some accessories like a scarf or a shrug that will make your body appear fuller.
Best dressing ideas for women with pear-shaped body


Though most men consider pear shape to be the most attractive of all body shapes, the subtle disproportion between the shoulders and hips spoils the fun. Women with a pear-shaped body have the perfect-shaped shoulder but comparatively larger hips, which may make your upper torso look smaller.
But you will be happy to know that that are some amazing tips for you to dress and impress. You belong to that segment of girls who can look perfect in whatever you wear, but with slight extras. You can wear skirts with crop tops, dresses, casual jeans with tees or traditional Indian wear. But to look the best in whatever you wear, you will need to choose a dress that is fluffy or layered on the top area to make it look proportionate to the bottom. Similarly, if you are wearing a pair of slim fit jeans, don't wear a body-hugging top as it may make the upper torso look smaller. Wear something that loosely fits you or slips in a shrug.


Best dressing ideas for women with an hourglass body
Trust me, you are blessed if you have an hourglass figure. A small percentage of women around the world have the hourglass in them and if you are one of them, it's time for you to flaunt it. It will give your partner a new reason to love you more this Valentine's day. 


Having an hourglass figure means you have the best proportionate upper torso with the hips and can pull off any apparel that you wear in the best possible way. You can never feel smugly dissatisfied with yourself while you choose to wear party gowns, short dresses, off-shoulders, crop tops, jeans or sarees. All you need to take care of is the colour that you wear.


Clothing is one of the most important parts of Valentine' day!

Believe it or not, dressing up sharply on Valentine's day has been largely overshadowed by people putting in more emphasis on choosing great Valentine gifts for their partners. But the truth is, having the most appropriate and attractive dress is just as important as cupid is for hearts.


Even psychology says the way you dress up speaks a million words about what kind of person you are or the kind of person you can be. And it's never a bad idea to groom yourself with fashion on Valentine's day. After all, everyone believes that "first impression is utmost important".
---