Inspire Your Best Self in 2023 with these Motivational Unique Gifts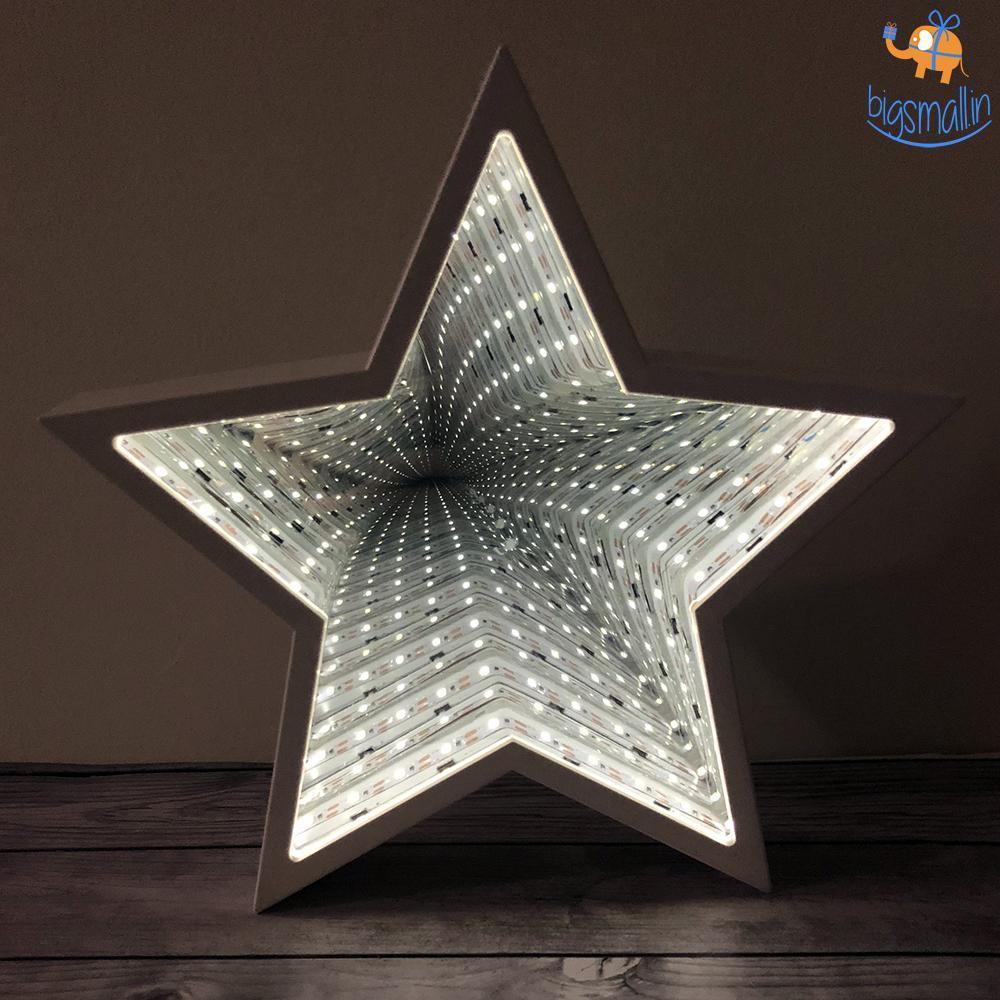 "The past cannot be changed. The future is yet in your power."
Feeling down and low? With the new day, come new strengths and new thoughts. Every day is a new opportunity to be a better version of your previous selves. Sometimes, all it takes to lift yourselves is a bundle of happiness - via a gift. Even the smallest of things can help you dust yourself off, lift yourself up, get a fresh start and grind it out again.
At Bigsmall, we've curated an exclusive list of 15 motivational gifts for you - which will help you get that fresh start for the new day. Failure will never overtake you if your determination to succeed is strong enough. Make it strong enough.
Light up your day as you stare into the abyss with these magnificent Infinity Mirror Lamps. Mirrors when switched off, LED lamps when switched on, the mirror lamps create a wonderful infinity-like optical illusion when switched on, which will dazzle you every time. 
Available in 5 variants - heart, Christmas tree, cloud, star and pineapple, you can lift your life according to your personal style and mood. With the integrated holes at the back, it's easy to hang - or you can have it lean against your wall. Mirror, mirror, on the wall, who is the fairest of them all? It's you! Let this infinity mirror lamp tell yourself just that as you lift yourself up. Everyone can do with a ray of light in their life - check out our collection of other super cool unique lamps.
It's not easy to lift yourselves up, to go to work, travel or play - especially when you have such a long and arduous journey in front of you. Stop dreading those long journeys - start looking forward to them with this J-Neck Pillow. With its distinct J-shaped design, it's an ergonomically revolutionary pillow.
The J-shape provides for a chinrest, neckrest and headrest - all in one pillow. Be it in a car, plane, bus or train - you can have a comfortable trip the next time, and even take a power nap if need be. It's not just for travel - if you're lying down on the sofa at home, reading at night or need a nap - you can also use it for home use. Lift yourself up and motivate yourself for that long journey with the J-Neck Pillow. Push yourself for long journeys with some more extremely practical Travel Essentials.
We've observed this time and time again - sometimes, it's even fictional characters that can cheer us up when we're down - be it in the form of a movie, or a TV series. Movies are finite - after a couple of hours, you go back to the miserable real world. Get a piece of the fictional world in your own house - infinitely - with this adorable Baby Groot Holder. 
Now you can wake up looking at the charming Baby Groot, from the Guardians of the Galaxy franchise, every day - from the convenience of your home. Have Groot light up your desk, nightstand, terrace, table or wherever you wish to place him - with its hollowed out head, Groot can hold your stationery, your small items as well as your small plants, cacti and succulents for your mini garden, and take a wander into the fictional world each time! Not a Guardians of the Galaxy man? Check out other Superhero gifts.
Sometimes, the best way to motivate yourself is to gather some fresh air. And the best way to gather the fresh air is to travel around the vast marvel that our Earth is. Motivate yourself to see the phenomenal sights the world entails with this magical Scratch World Map, which is extremely informative, yet easy to use.
As you travel to a country, take a steel ruler and use its semi-rounded side to scratch off the country on the world map. Once you scratch off a country, it reveals another color from underneath. This map will motivate you to scratch them all, one country at a time - while also reminding you the good times you spent at the countries already scratched - and get motivation for the rocky roads ahead.
Take a wander into the extraterrestrial world, each time you look at this exquisitely crafted Astronaut Mobile Stand. In the shape of an astronaut, the astronaut's back will duly hold your phones - up to a screen size of 5.5". 
It can hold your phones both horizontally - if you want to send a text or browse social media, or vertically - if you want to watch a video. Stow your phone on the astronaut's back and remind yourself that much like astronauts, you are out of this world too!
6. Beer Cap Bottle Holder
You'd be hard pressed to find a more relaxing activity than cracking open a chilled beer, sitting down on the sofa and catching a movie, a rerun of your favorite show or the big encounter of your favorite sport. Or a more enjoyable activity than going over to the pub and enjoying a brew of beer with your friends. Lack motivation? Fret not - this Beer Cap Bottle Holder will push you to have more and more of those good times.
Motivate yourself to try out more and more different brands of beer with this uber cool bottle holder - which can hold up to 60 bottle caps. Collect them all, spruce up your home and show everyone you're the biggest beer fanatic out there. We often find the best things while trying out something new - push yourself to explore your boundaries.
"It isn't enough to talk about peace. One must believe in it. And it isn't enough to believe in it. One must work at it." If you find your inner peace, you find yourself. And once you find yourself, finding motivation is never an issue. While finding that all important inner peace, who could be a better companion than Lord Buddha himself?
Find your inner peace with this surreal Buddha back-flow incense burner. Just place the back-flow cones on top of the waterfall, and with its special properties, the smoke will flow in the reverse direction - top-down - creating a majestic waterfall like effect as it flows down. The set comes with 80 back-flow cones included, each lasting for 15-18 illuminating minutes. Motivate yourself to greatness by finding your inner peace. Meditate your way to peace with our collection of soothing incense burners.
All in or nothing. Go big or go home. Live life king size. We hear these sayings on a regular basis. It's time to put those into action with this incredibly gigantic Oversized Wine Glass. The 40 cm high (yes, 40 - there's no typo there!) glass will lift you up by letting you live life the Brobdingnagian way.
With an immense capacity of 2.5 litres, you can keep chugging at your drink all day long. A unique decorative piece, it can also be used as a vase - or to hold your ice in a party. Lift yourselves up - it's either go big or go home, and you sure don't want to go home. Funk up your next party with some more unique gifts from our Party Shop.
Often, we notice that our motivation levels are directly proportional to the money we have in our pocket. There is perhaps no feeling more satisfying than saving up your hard-earned money, and then spending it on something you love. This Rainbow Unicorn Money Bank will help you achieve just that feeling.
Pinch your pennies with this charming Unicorn-shaped money bank. Not only can you save money, but the beautiful unicorn - with a rainbow-colored mane - will add a kawaii touch to your nightstand, desk, mantle or your room. Buoy your spirits in the mythical way with this enchanting Rainbow Unicorn Money Bank! Can't have enough unicorns in your life? Our Unicorn Crazy collection is made just for you.
Can't lift your spirits up enough to go to work, to be tied to your dreadful and somber desk all day long? Having trouble pushing yourself to sit on your study desk for those long hours? Put your despondency to bed - the Foot Hammock is the knight in shining armor for your damsel in distress. With its comfortable cotton build, it will keep you snug for long.
With its easy to use strap on system, you can turn any desk or table into your personal, comfortable fortress of solitude. Instead of those arduous, leg-numbing hours you spend at the desk, this Foot Hammock will have you never want to leave your desk again. Half the battle is won in the mind - this is one gift that will motivate you to put in the grind, at work or while studying. It's hard to motivate yourself to go to work to face up against a boring old desk - spruce up your desk with our unique Office Items.
Taking the famed gondola ride in Venice. Basking in the glory of the illustrious Eiffel Tower in Paris. Gushing over the marvellous Colosseum in Rome. Scaling the majestic Toblerone-like Matterhorn mountains in Zermatt. Dancing till you drop in Ibiza. We all have incredible dreams to put on our bucket list, but it's often hard to keep track of all your fancies with the innumerable marvels this Earth holds.
This 365 Bucket List Gift Box has you covered. With space for 365 entries, make a bucket list to fulfill the content of your heart. Its informative and quirky prompts will help you fill out your bucket list, and keep track of it. This will also motivate you to tick as many off as soon as possible - you only have limited time in this world, so why not make the most of it?
Can't quite get the brain juices flowing? Having a hard time moving on from that writer's block? Could do with a companion to motivate you out of this standoff-like situation you've gotten into, with your own mind? The Thinking Man Clock is here to help you out.
Motivate yourself and get the creative juices flowing with this intriguing, yet elegantly crafted clock. With the gear mechanism of the clock in a state of perpetual motion, it gives for a wonderful illustration of the brain's nuts and bolts in action. Inspire yourself to think. What we think, we become. As Henry Ford once said, thinking is the hardest work there is - which is why so few indulge in it.
Do you find yourself stressed out very often? Find yourself working up a temper very often? Want to resolve that without troubling the people around you, and the people who care about you? The answer is simple - let this stress sausage be your release mechanism.
Angry? Bored? Stressed? Stuck? Need something to fidget around? The stress sausage can rescue you on all occasions, in all conditions, in all moods. Made of rubber, it can be squeezed, twisted, stretched or smashed around as per your mood. Take your feelings out on the sausage and never bother people around you again - motivate yourself for the day ahead.
It's true that the world is not an easy place to be in - its vicissitudes can be extremely tasking to handle. So why not take a break, slip out of the real world and dip into the world of fantasy? This adorable Mermaid Tail Blanket will help you do just that.
The mermaid, mythical or not, is perhaps one of the most beautiful creatures known to man. Take the mermaid avatar with this wonderful yarn-knitted blanket will keep you warm and cozy all day long. Refresh yourself the mermaid way - and inspire yourself for the treacherous roads that lie ahead in the real world. Wouldn't this also be a perfect Rakhi Gift for your sister?


"Do not follow where the path may lead. Go instead where there is no path and leave a trail." Take the roads less taken with this vintage travel journal. Motivate yourself to tread uncharted territory, and take down your stories of voyage - they deserve to be timeless. 
With its 140 pages and soft PU leather cover, you can take down all of your classic stories. Push yourself to explore the depths and widths of the world - not all who wander are lost. As the great Oscar Wilde once said, "I never travel without my journal. One should always have something sensational to read in the train." Write something sensational to read for yourselves. 
Regardless of what the circumstances may be, never forget that this too, shall pass. There is always light at the end of the tunnel - there is always dawn after dusk. It does not matter how slowly you go, until you don't stop. We only have a limited amount of time on the Earth - spend every moment you can through your best self.
---