Rakhi Gift Ideas for your Organized Sis!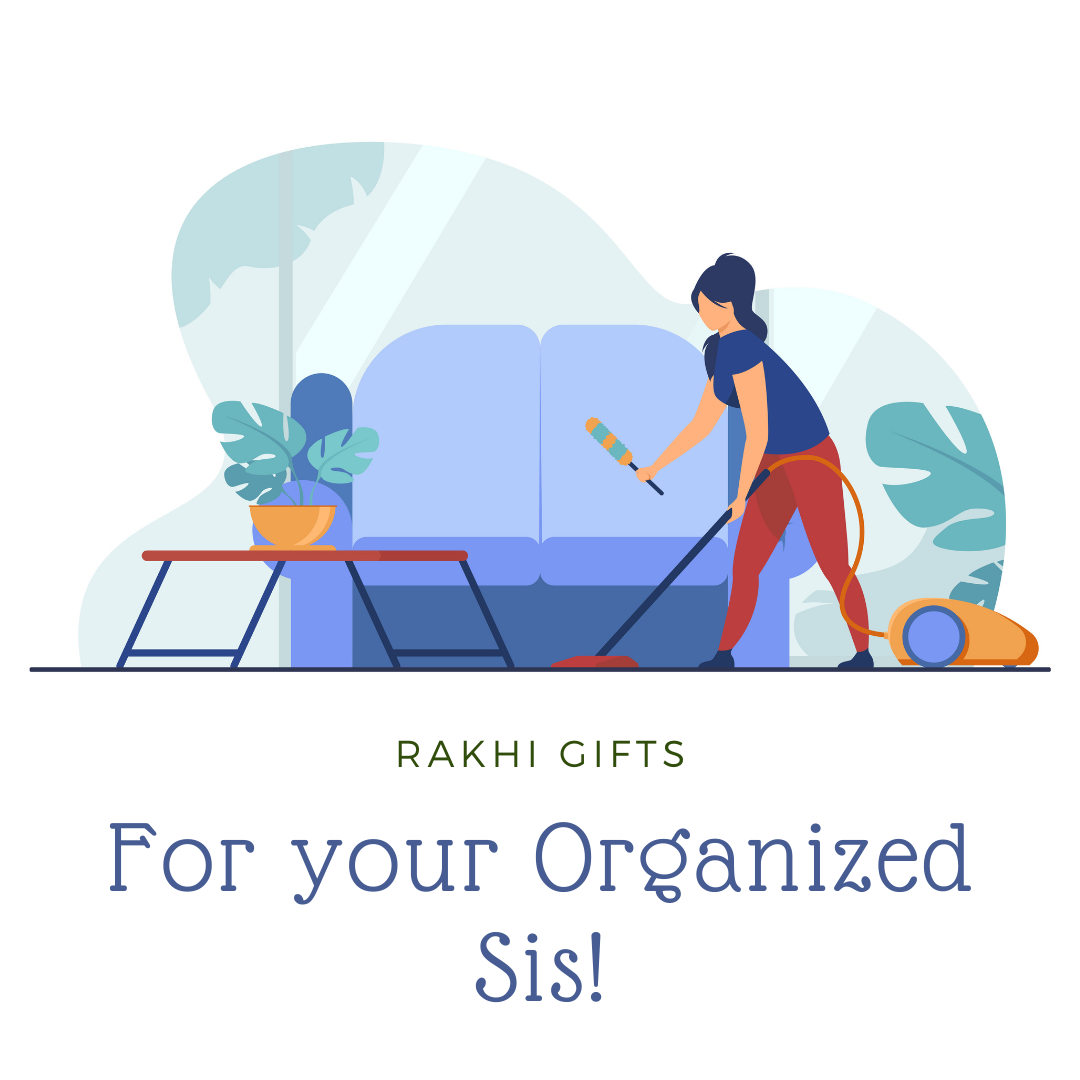 With Raksha Bandhan around the corner, we'd love to ask you if you have the organized sister or the lazy sister, or the hyper ever-excited sister? Well, all kinds of sisters are super-special but here, today, we'll help you out of the maze for what exactly do you need to gift your super-organized sister when she ties her roli of love around your wrist this Raksha Bandhan! And we're sure she has selected your rakhi gift set already. (Yeah, she has and you're late, as ever.)
To be more specific, (and do tell us if you can relate) do you have a sister who's ever curious vein consistently keeps her organizing your already organized room? Or are you the lazy one and she keeps having a hard time organizing the room? And what about your sock that has been beneath that rug for ten days now? Has she yelled at you yet for always messing up her ever organized masterpieces? Well, she's not wrong, you know.
She's the Monica to your ever-messy self! She's bound to be a little sulky. Nonetheless, she's got you covered with all your lazing around vibes, hasn't she? So, it's time for you to make her feel extra special with the best raksha bandhan gift for sister (yours, of course) because we do know how incomplete (and let's face it, messy, very literally), your life would be without her there to keep the fort intact!
So, presenting, gifts for her that she would love on her cleaning spree! A whole collection dedicated for the love of her storage organizers!
1. 3D Jewellery Holder Palette
This masterpiece is bound to make her put aside that annoyance over you that she rightly has for not helping her out and make her hug you for getting her this magical jewel organizer. A flamingo, a unicorn or a cactus, whatever she gets excited about, this customization would definitely be a plus. Also, go see some beautiful pendants to go with it.
2. Wonder Woman Wooden Coasters 
Well, there's no doubt she is, indeed the wonder woman who manages everything flawlessly. And secretly, you know it too. It only fits that you gift her the coasters to go with her personality. Go on, hype her up a lil bit, this Raksha Bandhan. What's more, you could always look for some kitchen essentials to go with these Wooden Coasters.
3. Wooden Watch Organizer
For her stylish watches, an elegant way to keep them organized. She's going to love it. Its matt black finish, gold specks, suede lining inside the box and the suede pillows would style her time in a trendy and luxurious manner! And she might even ignore your ever-always tardiness, you know. And you could pair the watch organizer with the timeless and vintage pocket watches we have! And we don't need to tell you how epic that's going to be!
4. Skyline Glass Desk Organizer
Be it for her stationery, or her endless make-up, this glass desk organizer would make her very excited because its a sleek and stylish way to keep her things or accessories in place! The bottom is mirrored and its brass edges give it that extraordinary touch. You could very well pair it up with a personalized gift specially curated for her and you're welcome, you just got a free pass for another week's sloth.
5. Teddy Canvas Organizer
She definitely needs a chic and nifty way to organize her ballerina socks, or her voguish strolls, now doesn't she? Gift her the absolute compact, lightweight and yet with incredible storage, the multi-purpose Teddy Canvas Organizer basket that would help her declutter her storage space, organize her belongings and it would fabulously serve as a great décor item in her room! 
6. Cutlery Organizer with Menu Board
Does she love her cutlery and her mugs? This Cutlery Organizer with Menu Board is handcrafted with mahogany wood with a black board on one side. Looking absolutely gorgeous in your dining room, this one would definitely make her laugh out loud and love it at the same time. And you could undoubtedly add one of our unique mugs with this to make the perfect gift for her!
7. Octagonal Photo Holder Grid
Gift her the memories organizer to keep those polaroid pictures and handwritten postcards decorated and put up in an aesthetic manner. The pictures could be hung by clips on this exceptional Grid. Those seamless and never-ending memories deserve to be given a home, you know!
If you're living afar from your dear sister, we do know she will send rakhi to you and you gotta be prepared! So go on, have a look at the unique gifts we have to be sure you have everything to make her feel loved and appreciated this Raksha Bandhan!
---