7 Mouth-watering Recipes to Try this Diwali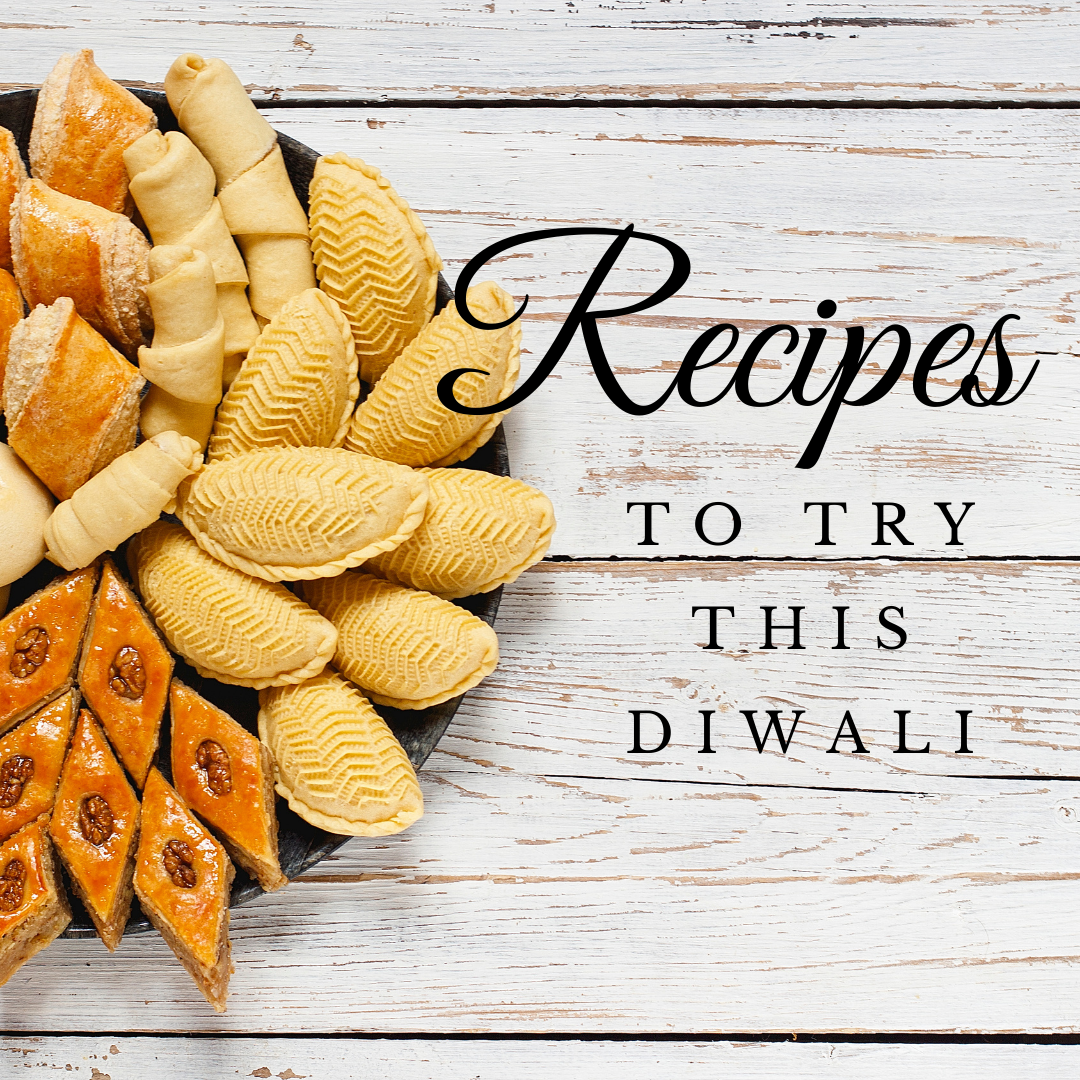 Diwali is undoubtedly one of the most celebrated festivals. The sparkles and heavenly sights of the streets of India in the celebratory week are breathtaking. I mean, have you seen how gorgeous every little street looks around this time of year? Homes twinkling with the glimmers of lights and lamps of different colors; oh it's paradise! I'm sure you must decorate your homes every Diwali too. Don't you? Of course you do. Starting right from the cleaning spree our moms undertake before Diwali with storage organizers to clean and organize our whole house to adorning our rooms and balconies with colorful rangolis to the beautiful lights and lamps we choose to beautify our freshly re-organized homes; it is a whole thing!
It is all so festive! And the most festive of them all, the special recipes we make on Diwali! I'm pretty sure you have some special Diwali recipes which your Maa makes every Diwali that you eagerly wait for. Well, even if you don't, here's to creating new traditions with us. The most amazing and delish sweets recipes to cook this Diwali are here for you to begin your new Diwali traditions!
1. Gulab (Rose) Choorma 
Originating somewhere in the alleyways of Rajasthan, the Gulab Choorma is a variation of the choorma traditionally served with Dal Baati thali, authentically cooked in Rajasthan. From the aromatic fragrance to its heavenly taste, it is a very distinctive and unique treat for your taste buds. All you need for this delicacy is:
A cup of rose petals 
Water 
Milk 
Flour (preferably, whole-wheat)  
Semolina or as we call it "Sooji"
Ghee
Dried rose petals
Cardamom Powder or as we call it "Elaichi Powder"
Powdered sugar
Saffron soaked milk
Pink food coloring
Rose water
Dry fruits: Almonds, Cashews, Pistachios and all dry-fruits you love in your sweets (of course this is as optional as your taste wants it to be!)
Mawa
Step 1: Take one cup of rose petals and add it to some water in a pan and let it come to a boil. Keep it on the flame for about 4-5 minutes to get the water all rose flavoured (and the magic begins!)
Step 2: As the color of the petals starts turning white and dissolves into the water, add milk to this blend and let it boil for about 5-6 minutes to get a slightly thick consistency of the mixture, then take it off heat and let it cool.
Step 3: Take a bowl and mix the flour, sooji, and ghee in it. 4-5 tablespoons of ghee would do good but you could always go according to your own taste.
Step 4: Add dried rose petals to the dry mixture in the bowl. Around one-fourth cup of petals would do.
Step 5: Now that we have two separate mixtures, it's time to mix them both to get us some dough! So take the cooled down mixture in the pan and gradually sieve it through into the flour mixture in the bowl. What you should get is a perfect dough. (Go on, make some extra effort to get that perfect dough!)
Step 6: Make round shaped patties of the dough you so enthusiastically just made. (It would be awesome if those patties are same in size, you know.)
Step 7: Now it's time to bake these majestic patties you made with all your might. So take a pan, add two cups of salt in it and put a stand on top of it. On it, keep a plate. And there you go. Your make-arrange oven is ready! Cover it and let it pre-heat for 10 minutes on high fame.
Or if you want to use your actual oven, preheat it to 175°C.
Step 8: Once the pre-heating fest is done, arrange the patties on the plate, cover them and let them bake for 20-25 minutes till their color shifts to golden brown on medium-low flame. Once they're done, flip them and bake them from the other side.
On the other hand, if you're using your oven, bake them for 30-40 minutes, that is, till they turn golden brown. (Your patience will be rewarded, my friend!)
Step 9: Break the patties into smaller pieces and blend them in a blender to get a powder like consistency and then sieve it to make sure the mixture is finely blended. Blend as many times as necessary to reach a smooth powder like consistency.
Step 10: In a bowl, add the fine powder we just made along with Elaichi powder, powdered sugar, some more ghee (around 5-6 spoonfuls), and pink food coloring. Mix all of this pretty well and then add the saffron soaked milk to it (that you must have soaked beforehand). 
Step 11: Once the mixture is thoroughly mixed, add some dry fruits (only if you love their taste in your sweet), rose water and mawa to it and again mix it well. 
Step 12: Well, transfer it to a serving plate and garnish with beautiful rose petals and dry fruits.
And your mouth watering Gulab (Rose) Choorma is ready to devour! It should look something like this. 
P.S. How enticing does this look!

Source: Pinterest
2. Gulkand Cake
If you love the flavour rose, this cake is made for you! Pretty simple to make, it's bound to satisfy that sweet tooth. Oh and you could make it for someone this Diwali too! It's truly delightful. So what would you need for it?
A cup of sooji 
A cup of oil 
A cup of sugar 
Two cups of maida 
Baking Powder 
Baking Soda 
Elaichi-dalchini powder 
Half cup of milk 
Two and a half cup of Gulkand
To feel like a high end chef, add that garnishing - Kaju, Poppy Seeds, Raisins, Tuti-Fruti or Chocolate (what ever gets you drooling over your favorite dessert!)
Step 1: Take a bowl and add two cups of maida, half teaspoon baking powder, and one teaspoonful of baking soda. Mix them well and keep aside.
Step 2: In a blender, add a cup of sooji, a cup of oil and a cup of sugar, two and a half cups of Gulkand and blend well. Once done, take it out into the bowl of mixture we prepared.
Step 3: Mix well and add a teaspoonful of Elaichi-dalchini powder to it. And then again mix well.
Step 4: Pre-heat the oven at 180°C.
Step 5: Gradually add half a cup of milk to the mixture to get a smooth paste like consistency.
Step 6: Grease the cake tin or bowl with butter or oil and pour in the batter.
Step 7: Garnish with dry fruits or chocolate chips!
Step 8: Bake the batter in the oven at 180°C for an hour or so.
Step 9: Take it out and voila! Your delish Gulkand Cake is ready! Add a beautiful layer of liquid chocolate to garnish if you don't particularly like dry fruits in your cake. Let the feast begin!

Source: Pinterest
3. Eggless Triple Chocolate Cookies
Do you love chocolate cookies as much as we do? There's something about the drip of chocolate that rolls over our tongue that we just cannot resist! These cookies are meant for chocolate lovers out there. You will absolutely love the crisp and crunch of these little balls of delight! And what's more, these are all the things for which you probably won't have to take a trip down to the grocery store. So you could make it whenever the craving strikes you! (Doesn't that make it so much better?) Now that we've made the point, without hyping it up further, shall we begin?
Chocolate chips - white and black (as much as you want!)
Dark chocolate
 All purpose flour
Cocoa Powder
Salt
Baking Powder
Baking Soda
Cream
Butter
Sugar
Oil
Milk
Vanilla Extract
Step 1: Take a bowl and add the flour, cocoa powder, a pinch of salt, half teaspoon baking powder, and one teaspoon baking soda through a sieve and mix them well.
Step 2: Pre-heat your oven to 180°C. Take a baking sheet or tray and line it with parchment paper or butter paper.
Step 3: Take another bowl and add the cream, butter, sugar, oil, and milk to it. Whisk it well until it turns smooth and fluffy.
Step 4: Now that we have prepared two separate bowls of mixtures, add the dry mixed ingredients to the butter mixture slowly. Add vanilla extract, chocolate chips (both colors, of course) and the dark chocolate chunks to it as well.
Step 5: It's time to make the dough, you gaiss! Work your magic, put some effort and make that firm dough.
Step 6: Time to make some chocolate balls out of the dough you just made. Some lemon sized round chocolate dough balls would be perfect.
Step 7: Remember the baking tray we organized in the beginning? Take that and place the balls we just made on it, a lil bit apart so that when the dough bakes, it has enough room to spread.
Step 8: Bake it for about 15 minutes. And yes, the center of the cookies will be a lil soft and gooey. 
Step 9: Leave the cookies as they are for 5-7 minutes and then shift to the plate you want them to further cool down upon. 
The super chocolaty chocolate cookies are ready to melt in your mouth!

Source: Pinterest
4. Turmeric Kulfi
If the creamy flavour of Kulfis calls out to you then this savoury taste will definitely be your cup of tea. All you need for this delicious treat is minimalistic. Dive with us, in the divine taste of the turmeric Kulfi. What are we waiting for, then?
One and a half litre of full cream milk
Sugar or Jaggery
Turmeric
Saffron
Step 1: Pour all the milk in a pan and bring it to a boil on high flame, keep stirring and shift the fame to medium-low.
Step 2: Grate the turmeric and add it to the boiling milk with saffron.
Step 3: After 5-7 minutes, add sugar or jaggery (to taste) to the boiling mixture.
Step 4: Keep stirring and let the mixture boil down to one-fourth of its original volume.
Step 5: Turn off the flame and let the mixture cool down.
Step 6: Pour the mixture into moulds (preferably, silicon moulds) and freeze for four hours straight.
Step 7: Take the kulfis out of the moulds and serve! You yummy delights are ready!

Source: Pinterest 
5. Almond Rose Rabri
A truly magnificent treat for your love for sweets and desserts, this simple yet tasty rabri is very easy to make and even better to satisfy that craving. The texture of almonds, rose and saffron make you want to make it again and again. Why wait, let's start then.
Almonds - Soaked and skinned
One litre milk
Sugar
Chopped Pistachio 
Cardamom Powder or as we call it 

"Elaichi Powder"

Khoya or dried milk
Rose water
Saffron
Dried rose petals
Step 1: Take a pan and pour a litre of milk in it and keep stirring. Let it come to a boil and then turn the flame to medium-low. (Do not stop stirring.) Let it boil till half the milk is left.
Step 2: Crush some strands of saffron along with a tablespoon of milk and add it to the boiling milk. Let it boil for another 5-6 minutes. 
Step 3: Once the saffron flavour is submerged into the milk, add sugar (to taste), three-fourth cups of soaked and chopped almonds, and two tablespoons of khoya to the boiling milk. Mix it all very well and let it boil for another couple of minutes.
Step 4: Add two tablespoonfuls of chopped pistachio, one teaspoonful of elaichi powder, and keep mixing and stirring. Let it boil for another 2-3 minutes.
Step 5: Take it off the flame, add some rose water, stir and mix and then let it cool.
Step 6: Bring out the chef in you and decorate the work of art you just made with chopped pistachios and dried rose petals, if you want. 
You could eat it warm or freeze it and have it cold, it tastes amazing both ways. There, a very tempting sweet for you.

Source: Pinterest
6. Coconut Ladoos
We don't know if you've tried these yet but let us have the pleasure of telling you just how irresistible these Coconut Ladoos are. They will melt in your mouth so soothingly, you won't be able to stop after just one of it. And the most delightful aspect of it all is that you can cook them with just three ingredients in just ten minutes! 
Condensed milk
Coconut Powder
Cardamom Powder or as we call it "Elaichi Powder"
Step 1: In a bowl, pour a can of condensed milk and add about a cup of coconut powder and a tablespoon of elaichi powder in it. Mix it really well to get a smooth mixture.
Step 2: Make small balls of the mixture (as many as you can, but evenly shaped). Make sure they're tightly shaped.
Step 3: Roll each ball in coconut powder and then keep them aside to set for about 15-20 minutes.
They're ready! Eat them as they are or refrigerate for a while, how ever you like it. How easy was that!

Source: Pinterest
7. Strawberry Shrikhand
Time for some awesome Shrikhand which is bound to leave you wanting more, so make a lot of it and then eat at your leisure!
One kg full fat yogurt
Powdered sugar
Ground Cardamom or as we call it "Elaichi"
15-16 Strawberries or one cup of strawberry puree
Dry fruits or chocolate chips for garnishing
Some sliced strawberries (also for garnishing)
Step 1: Take a bowl and put a strainer over it. Spread a cotton or a muslin cloth over it.
Step 2: Pour your yogurt into the cloth, strain it and then close the cloth's ends and put some weight over the top and refrigerate over night to remove the water content. 
Step 3: Take the strawberries and blend them in a blender to get the puree (and of course you'll skip this step if you already are working with strawberry puree instead of strawberries. 
Step 4: Take out your yogurt and put it in a bowl and add the freshly made Strawberry puree into it along with sugar and elaichi. Whisk it well to get a smooth creamy paste.
Step 5: Refrigerate for about half an hour to an hour and then serve as you please in glasses or tiny bowls or get creative and serve them in waffles! With sliced strawberries and chocolate chips or dry fruits, of course.

Source: Pinterest
Those were some of the most delicious and exquisite recipes to fulfill your cravings and to celebrate Diwali with new traditions! You could always give your cooked masterpieces the best presentation ever with our stylish crockery. And of course we cannot forget another very important aspect of Diwali that we love as well, Gift Giving! We love when people gift us awesome gifts but often we do get worked up with what to gift them. So here is the ultimate Diwali gifting guide for you to ease your experience of gift giving. To make your gifting experience even more hassle free, go have a look at the special collection of Diwali Gifts under Rs 2000, Diwali Gifts under Rs 1000 and Diwali Gifts under Rs 500 and thank us later.
Happy Cooking!
And even happier Gifting!
---