FIFA World Cup Week 2 - Things You Might Not Have Noticed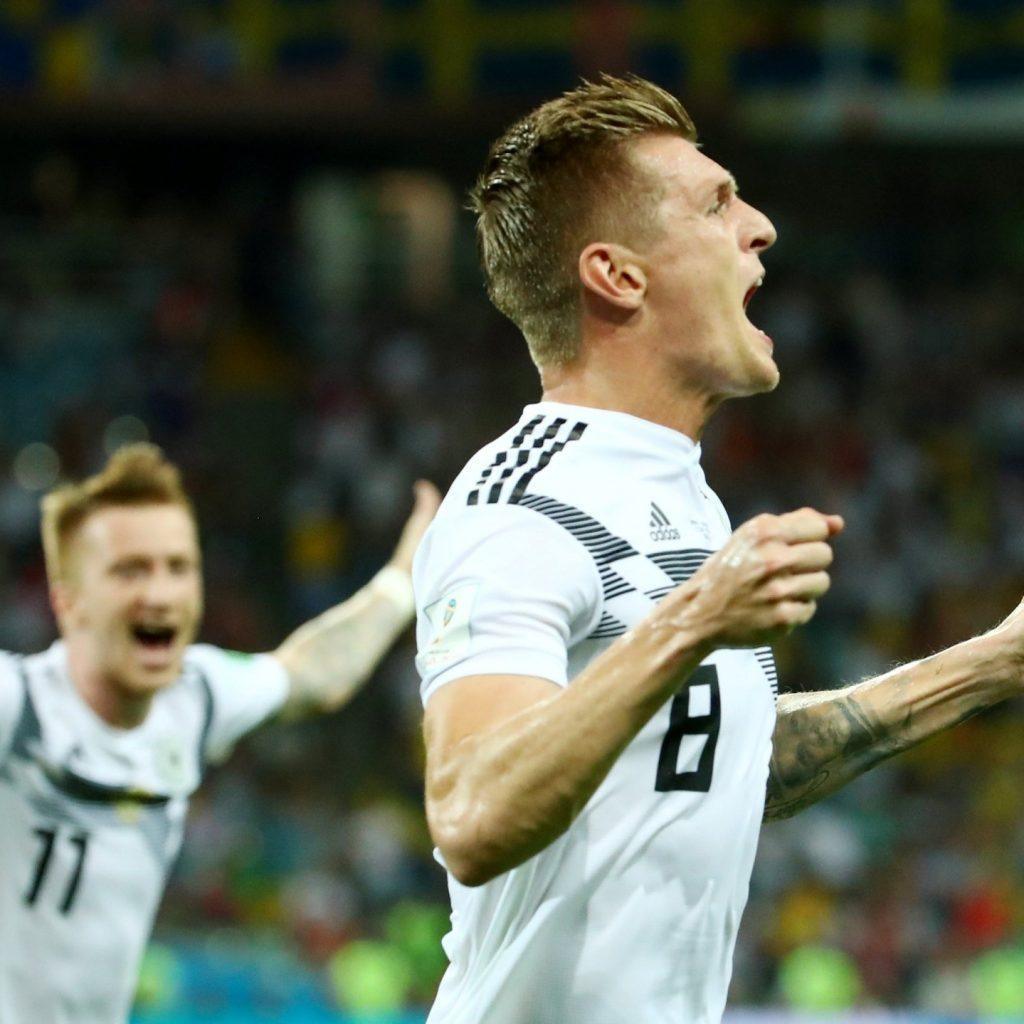 The FIFA World Cup bandwagon rolled into its second week, as we saw several more tense, hard-fought, yet entertaining clashes take place on the biggest stage of world football. 
3 games daily - it's hard to keep an eagle eye on every single incident that happens in Russia. Don't worry - Bigsmall.in have got you covered. Here are some of the funniest and quirkiest bits that took place, that you might've noticed.
1. England transition from inflated egos to inflated unicorns
Anyone familiar with the England side of the 2000s will have words such as prima donnas, overpaid egos, disconnected underperformers flash into their mind. The "Golden Generation" of English football, perhaps one of the greatest congregations of individual footballers ever, went to waste - they did not even make a semi-final. as there were always fractions within the camp - perhaps due to club loyalties.
But this England side is different in many ways. Not many big names, no big hopes, and there is a sense of camaraderie all over. They showed just that - after they were spotted swimming on inflated unicorns after their 2-1 victory over Tunisia. Yes, you read that right. England footballers swimming on inflated unicorns, not six-year-old girls. Even pro footballers are unicorn crazy, are you?
The closeness showed on the field too - as England routed Panama 6-1 in their next match, marking their biggest ever victory in World Cup history. Harry Kane scored a hat-trick - two penalties and a deflection, John Stones headed home twice and Jesse Lingard curled home a stunning effort as England fans went in delirium - their side had, after many years of upsets, lethally disposed off a weaker side.
Is it a bird? Is it a plane? No, it's football coming home, if the English are to be believed. Well, other than the fact that the victory came against a team who celebrated the result just as much as England - they were just happy to have scored their first ever World Cup goal, even though it might have come at 6-0 down.
2. GOAT watch - continued
In last week's article, we talked about the battle for the title of the Greatest of all Time (GOAT), with Cristiano Ronaldo and Lionel Messi having as contrasting starts to the tournament as any. The theme continued into week 2 - Ronaldo kicked off things, heading in an early winner as his side won 1-0 against Morocco. He, then, again pointed to his goatee, making fans think whether he was making a jab towards Messi again.
Later, though, he confirmed it was an inside joke with his teammates - he said he'd keep the goatee if he scored against Spain, and he scored 3. Or perhaps it's an inside joke - really a jab towards Messi, but he doesn't want to sound petulant?
Magic is a word associated with Messi, on almost a weekly basis. It's usually associated with his skills on the field, but this week, you could associate it with his clairvoyant abilities. Before the match against Croatia, as the Argentineans lined up for the national anthem, Messi was already visibly stressed.
Did he see what was coming? You could forgive him for his facepalm-like expression. Argentina suffered a 3-0 defeat, courtesy goals from Ante Rebic, Luka Modric and Ivan Rakitic - their biggest group stage defeat in 60 years. Messi was largely anonymous, and the Latin Americans now have a mountain to climb to avoid an early exit.
The GOAT debate is something that has caused fractiousness between football fans for a long period of time, and perhaps will continue to do so across multiple generations. Who's your GOAT? Show your support and affection for your choice of the greatest of all time - with the Ronaldo bobblehead or the Messi bobblehead.
3. Iran substitute tries a somersault - fun idea, wrong time?
Iran took on Spain in a feistily contested Group B encounter. A compact Iran defense was finally broken through by a Diego Costa goal. Iran, known for their defensive resolute, did give it a go - they tried hard for an equalizer, and even had a goal correctly ruled out for offside - via VAR intervention.
Deep into stoppage time, with time running out for the Iranians - Iran got a throw in. With only a minute or so to go, Milad Mohammadi, a substitute, was to take the throw in. He tried this.
 
#Iran defender fails with flip throw-in during World Cup match with #Spain...
Or was it just for the meme😀
#IRNESP #IRN #football #WorldCup #Russia2018 #mademesmile #somersault #mademesmile #soccer #atleastTried pic.twitter.com/kgK7xNupUP

— Aulty (@aulty) June 20, 2018
 With every second precious, Mohammadi thought it was a good idea to waste a few seconds kissing the ball and praying to the almighty to aid him. Clearly, he didn't get divine intervention - the somersault failed horrifically, and he went back to his mark to throw regularly, wasting another precious few seconds. Iran went on to lost 1-0.
4. Xhaka and Shaqiri let fly, and then let fly
Serbia took on Switzerland in a tensely poised Group E game. It had a political backdrop to it - several Swiss players had origins from erstwhile Yugoslavia, including 3 from Kosovo.
Serbia and Albania-Kosovo have had fractious relations ever since the Balkan war - the Serbians committed several war crimes, brutalities and ethnic cleansing against the Kosovars, which led several families to seek refugee in pastures new - including families of several footballers featuring for Switzerland on the day. Serbia still officially does not recognize Kosovo as an independent country, even though it became independent in 2008.
Amongst the Yugoslav players featuring for Switzerland were Arsenal midfielder Granit Xhaka, whose father was a political prisoner in Kosovo in the 1990s, and Kosovo-born immigrant Xherdan Shaqiri.
Serbia took the lead early, with an Aleksandr Mitrovic header. The Swiss - much like against Brazil - did not give up despite the goal, and fought on. They found their equalizer through a curling missile from Xhaka. After he let flew one of the goals of the tournament, he made an eagle sign in his celebration. He replicated the Albanian flag, in front of the Serbian fans who had made anti-Albanian and anti-Kosovan chants all match.
Shaqiri scored a winner late on, in a stunning breakaway move before calmly slotting the ball past the keeper. Shaqiri, who has the Kosovan flag etched on his right boot - he has the Swiss flag on his left - too followed suit with Xhaka, doing the eagle celebration again. Swiss captain Stephan Lichtsteiner - a Swiss natural, too joined his teammates.
Switzerland, Albania and Kosovo all celebrated the victory - but their celebrations were almost cut short. FIFA had investigated Shaqiri, Xhaka and Lichtsteiner for "offending the general public" with their celebrations, and the three involved could have faced a 2-match ban for their digressions. They were let off with a fine.
This was after the Serbian fans subjected them to boos and chants to the tune of "Kill the Albanians" and "Kosovo is Serbia" for 90 minutes. They could shout that all match, but got "offended" by an eagle symbol. They could do with an Anger Management mug, surely?
5. Neymar shows the fancy Samba skills
Brazil took on Costa Rica in their second Group E match, after a disappointing 1-1 draw against Switzerland in their opener.  They were to take on Costa Rica next.
Neymar and Brazil struggled to find a way through, and the first 90 minutes remained goalless. Brazil only found a breakthrough in stoppage time, as Philippe Coutinho tapped in his second goal of the tournament. 
But Neymar showed what he can do on the positive end of things, when he pulled off this - a rainbow flick which left the Costa Rican defender absolutely for dead.
Neymar Rainbow Flick 💉💉💉 pic.twitter.com/wyJXYzExHb

— InterYaSkriniar 🇧🇷🏴󠁧󠁢󠁥󠁮󠁧󠁿🇳🇬 (@InterYaSkriniar) June 22, 2018
Neymar endured a frustrating match otherwise and even had a penalty call given by the referee ruled out by VAR - a comical dolphin dive.
A win was required, to keep their progression to the next stage in their own hands. A stubborn Costa Rican defense proved to be a tough proposition. He followed this up with a late goal, in the 97th minute. Brazil emerged 2-0 victors, and Neymar broke into tears - perhaps it was the frustration he was letting out. 
Neymar fanatic? Show your affection for the samba skillster with the Neymar bobblehead.
6. Swedish reporter hands Khedira an early boarding pass
World champions Germany were to take on Sweden, in an almost must-win encounter after their defeat against Mexico in their opener. In the pre-match press conference, a Swedish reporter handed a fake boarding pass home to Sami Khedira, who endured a poor performance in the opener - for when Germany would lose to Sweden.
Khedira took it on the chin, handing it back and saying that he would not need it till 16 July - one day after the World Cup final. The Juventus midfielder was eventually dropped in lieu of Sebastian Rudy for the Sweden game. His claim might have come across as bullish, as Germany found themselves down at half-time. 
But like the Germans always do, they found it in themselves to overturn the deficit - a Marco Reus goal early in the second half, and a Toni Kroos curling missile in stoppage time saw them home. They lived to fight another day, from an impending embarrassing exit. Who knows, Khedira's prophecy might just prove right.
Die Mannschaft supporter? Show your passion for the efficient Germans with the World Cup sunglasses - flaunt your support, better times are here for Germany.
7. Ronaldo begs Iranian supporters to let him sleep
Portugal were to take on Iran in a crunch match, where the winner would go through to the knockout stages. Ronaldo had been unstoppable thus far - the Real Madrid superstar had amassed 4 goals in his opening 2 games. He was undoubtedly to be a thorn in Iran's bed, as they looked to progress to the round of 16 for the first time in their history. 
Carlos Queiroz, the Portuguese Iran manager and Ronaldo's old adversary - he brought Ronaldo to Manchester United as a teenager, where he was the assistant manager for 5 years over 2 stints and the Portugal manager for 3 years between 2008 and 2010 - would have beenup all night looking for plans on how to stop the forward. But the Iran fans themselves came up with a novel plan.
Ronaldo foi à janela pedir aos iranianos para o deixarem dormir em paz 💤

🎥 @RTP1 pic.twitter.com/UtYxZBbJF3

— B24 🇵🇹 (@B24PT) June 24, 2018
The Iranian fans crowded the Portugal team hotel on the night before the matches, and started making extremely loud voices - using vuvuzelas, horns and a giant drum to disrupt Portugal's sleep before the all-important encounter. It did work to some degree - Ronaldo was seen opening his window to gesture to Iran fans that the players wish to sleep.
Did it work? We can't say for certain, but Iran did hold a disjointed Portugal to a 1-1 draw as they narrowly missed out - on not just going through, but topping a group with Spain and Portugal. Ronaldo looked out of sorts and even had a penalty saved - not something you'd expect from him. Sleep deprivation?
Iran fans showed one way to be crazy about your team's cause - but for those not in Russia, another way is to sit back, open your chilled beverages with the Football Bottle Pops, pour your drink into the World Cup beer glass and enjoy the action unfold with unique FIFA World Cup gifts.
The teams will continue their battle for the World Cup trophy as they move into the last round of group stage matches. Want to skip the queue and lift the trophy already? Get the FIFA World Cup Trophy replica - it's just like the real one.
---