FIFA World Cup Week 1 - Things You Might Not Have Noticed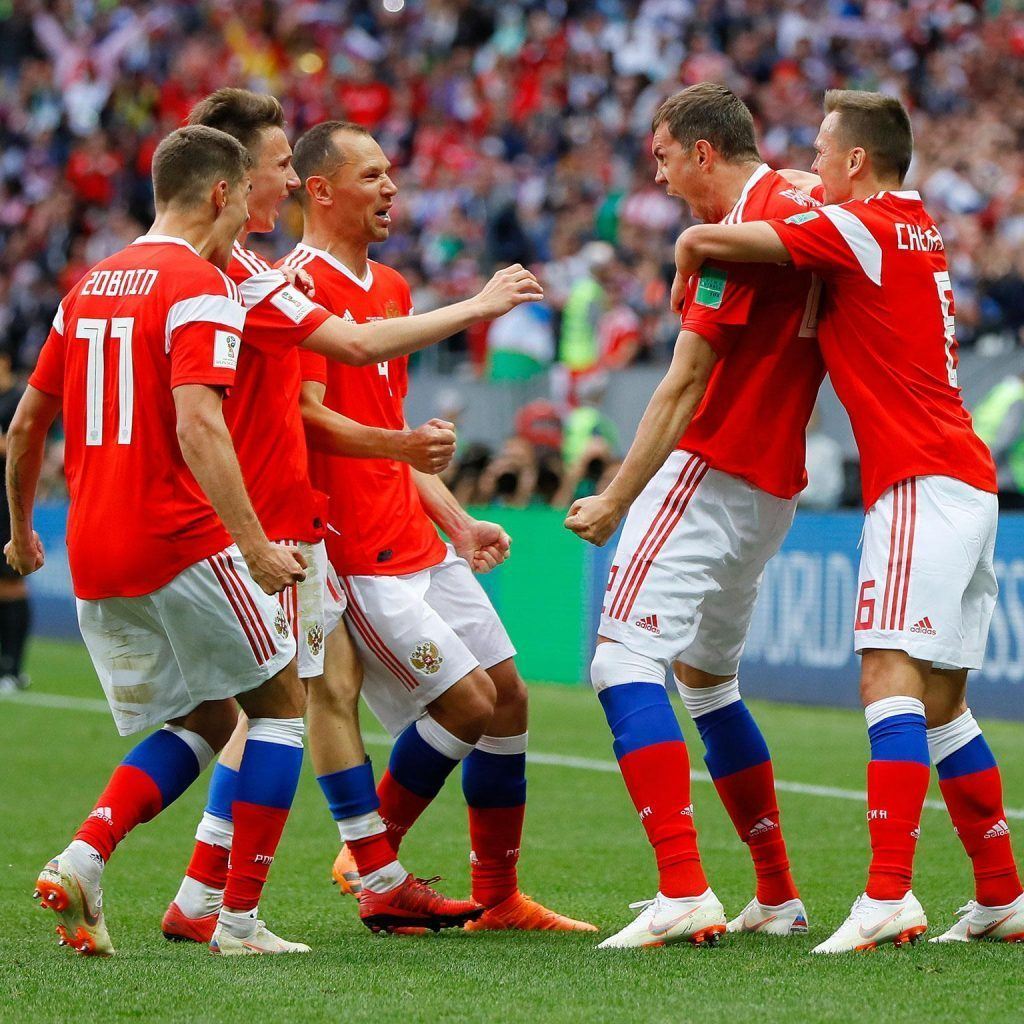 The FIFA World Cup kicked off in its full verve last week. Over the first week, we've seen some incredible performances, sublime individual shows, big upsets and much more. 
However, with so many games going on - it's hard to focus on each and every bit of action. Don't worry, Bigsmall.in have got you covered - with some of the funniest and quirkiest bits on and off the field in Russia that you might've missed.
1. Putin and the Prince share a laugh in the Oil Clasico
The World Cup kicked off with what was thought to be a sedate match - hosts Russia facing outsiders Saudi Arabia in the clash of the two lowest ranked teams in the tournament. 
The opening match saw many dignitaries present, no less than Russian president Vladimir Putin, Saudi Arabian crown prince Mohammad bin Salman and FIFA president Gianni Infantino amongst others. As Russian midfielder Iury Gazinsky opened the scoring with a well-taken header, Putin and Salman were seen sharing a laugh and shaking their hands, prompting a scurry of memes.
What were they discussing? Which country has the worse democratic setup? Fewer human rights? More oil reserves? Who's the better friend of Donald Trump? Did they go on to have a cuppa joe in a 3D Donald Trump mug? Only them and Infantino, sandwiched between them, can answer as to what was the topic of the golden conversation.
If it was who has the better football team, there remained no doubts by the end of the match. Russia emerged trumps 5-0, despite losing their star player Alan Dzagoev as Denis Cheryshev scored two, Artem Dzyuba scored one and Aleksandr Golovin curled in an ambitious free-kick late on two make it 5. Russia emerged trumps - without the need for US intervention.
2. El-Shenawy refuses the Man of the Match award, due to divine intervention
The next game in Group A saw Egypt take on group favourites Uruguay. It was a cagey affair till the very end, as Egypt star Mohamed Salah was benched - he had still not fully recovered from the shoulder injury he sustained in the Champions League final. Uruguay dominated, but were kept out by the heroics of Egyptian keeper Mohamed El-Shenawy, who produced an array of reflex saves.
Although the Egyptian resistance eventually broke down - Jose Giminez headed home the winner late on to clinch the game 1-0, El-Shenawy was still adjudged the Man of the Match for his sparkling display in goals. But he refused to accept it.
The reason was that the award is sponsored by the American beer brand Budweiser. El-Shenawy, being a devout Muslim, refused to accept it, as alcohol is considered haram (forbidden) in Islam. We have a feeling that the Zamalek goalkeeper will probably not visit our Party Shop, but you can...
3. Who's the GOAT? Round 32867...
Cristiano Ronaldo and Lionel Messi have, for long, been entwined in a battle for the ages - to prove who's the GOAT (Greatest of all Time). They've mesmerized us innumerable times on the club level in all sorts of competitions, but success on the international stage has eluded both.
While Messi came close to ultimate glory in 2014 - his Argentina lost narrowly to Germany in the World Cup final, Ronaldo opened his international trophy cabinet with success in Euro 2016 as Messi faced successive final heartbreaks in the Copa America. Probably the last World Cup with both near the peak of their powers, it was sure to have a big say in how both's legacies go down.
Messi set the ball rolling - posing with an actual goat for the cover of a magazine before the World Cup.
On the field, however, it was Ronaldo who laid down the gauntlet. Facing 2010 champions Spain, the Real Madrid star took no time to get going - earning, and then burying a penalty in the 4th minute itself. In celebration, he chose to stroke his chin - a message to Messi about who's the real GOAT, perhaps?
Ronaldo went on to make it a memorable night as David de Gea let in a weak long-shot before the stroke of half-time and struck home a sweet curling free-kick in the 88th minute to equalize the scores at 3-3.
Messi, on the other hand, had a completely contrasting start the very next day. He failed to impose himself and even had a penalty saved as Argentina were held 1-1 by Iceland.
The Argentinean wizard probably did not envision drawing by a country which as a population of 3.34 lakhs (for reference, 58 times fewer than the population of Delhi alone) and a grand total of 100 professional footballers. He probably also did not envision having a penalty saved by a goalkeeper who directed Iceland's entry to the Eurovision in 2012.
Don't let one match each cloud your perception of who's the GOAT, though. You can let the world know who you think the GOAT is - with Messi or Ronaldo Football Superstars Bobbleheads or Argentina or Portugal World Cup sunglasses.
4. Mexico fans shake up the world - quite literally 
Champions Germany opened their campaign against Latin American livewires Mexico. Mexico caused one of the biggest upsets so far, as they emerged 1-0 winners due to Hirving Lozano's first-half goal. Germany found themselves exposed at the back on regular occasions, as their marauding full-backs failed to live up to their defensive duties.
Fans on social media were almost cruel to the Germans - as many pointed out that it was not the first time that their defense had disastrously failed in Russia - indeed, it was a throwback of the time their defense let them down in eastern Europe 75 years back - however, in much serious circumstances, the World War 2.
Mexico's win didn't just send metaphorical tremors to other teams in Russia - it also caused literal tremors back home in Mexico. Lozano's goal was celebrated raucously, and it even apparently caused an earthquake in Mexico City. The Institute of Geologic and Atmospheric Investigations in Mexico concluded that the earthquake caused around the time of Lozano's goal was artificially caused, citing "widespread jumping" as the probable reason.
That's one way to show that they are the ultimate fans. Another is to enjoy the action - opening our beverages with Football Bottle Pops and pouring in the drink in the World Cup Beer Glass. Enjoy your World Cup experience with our collection of other unique FIFA World Cup gifts.


5. Neymar shows off his taste for Italian, while Alisson stomps on fun
Bookies' joint favorites pre-tournament, Brazil, took on plucky underdogs Switzerland in their opening encounter. All eyes were set to be on their Paris-Saint Germain star Neymar, who was making his return from a 3-month injury layoff. Neymar has shown himself to be one for the wacky haircuts in the past, and he didn't disappoint this time - showing off his taste for Italian as he came out with hair - almost resembling spaghetti.
We can't blame him though. Who can resist some Spaghetti Bolognese? Neither could French legend Eric Cantona, who put actual spaghetti on his hair. We can't say it looks all too dissimilar to Neymar, does it?
On the field though, Neymar disappointed. Switzerland, ranked #6 in the world, came out with a plan to neutralize him and executed it to perfection. Neymar was fouled 10 times in total, more than any player in a single World Cup game in the last 20 years. He was seen hobbling on the pitch in between, as he failed to make an impression.
On one occasion, the Swiss masterplan backfired as Neymar drew 4 defenders to him, which allowed Philippe Coutinho space on the edge of the box and he duly curled in a stunner in typical Coutinho fashion. Switzerland kept their composure, however, and Steven Zuber headed home the equalizer in the second half from a corner. Switzerland fans were having a good time.
Almost too good of a time. An inflatable balloon carrying the Swiss flag found its way on the pitch, in the Brazilian box, in the 77th minute as Brazil fought tooth and nail to find the winner.
Their keeper, Alisson, was having none of it. He duly stomped on the balloon, before disposing off the debris. Alisson was probably conscious of the time a beach ball was thrown on the pitch during a Liverpool vs Sunderland match in the Premier League, where Darren Bent's shot deflected off the beach ball, went into the net, and the goal stood, much to the dismay of Liverpool fans.
Neymar and his men were unable to find the elusive winner as Switzerland remained resolute - it ended 1-1. The Brazilians, however, always find a way to come back. Show your support for the Samba with the Neymar bobblehead. Unfortunately, it doesn't have the spaghetti hairdo, but you can DIY - take some uncooked spaghetti and put it on his head. Voila!
6. Midges provide roadblock to football from coming home
Perennial underachievers England finally came into a tournament with lowered expectations - with the last remnants of the Golden Generation well and truly gone. They took on Tunisia in Volgograd. However, before the northern African country, England had to contend with another, perhaps even trickier opposition - midges.
Located in the south west of the country, Volgograd owes its midge infestation due to its location on the river Volga and the nearby marshlands. It was an immense trouble for the players - they found little respite despite dousing themselves in high grade insect repellent. Not just the players - Sky Sports had to cancel their pre-match interviews after their reporter Kaveh Solhekol was almost eaten alive by the pests.


England, despite that, did put on a show - they were fast off the blocks and could have been 6 up in the first half itself. But in typical England fashion, they flattered to deceive - after Harry Kane's early opener, they struggled to pick the Tunisian lock. Kyle Walker's clumsy shoulder in the box gave Tunisia a penalty, and their equalizer. A dour second-half performance eventually bore fruit, with Kane heading home to make it 2-1 - from another set piece.
Is football finally coming home? That's a question that will be answered over the next 3 weeks - as the teams battle it out to fight for the World Cup trophy. Want to skip the queue and lift the elusive trophy already - yourself? Bring home the FIFA World Cup Trophy Replica - it's hard to believe it's not real.



Be the champion.
---