Geek Astro Mobile Stand - Bigsmall March 2021 Product Of The Month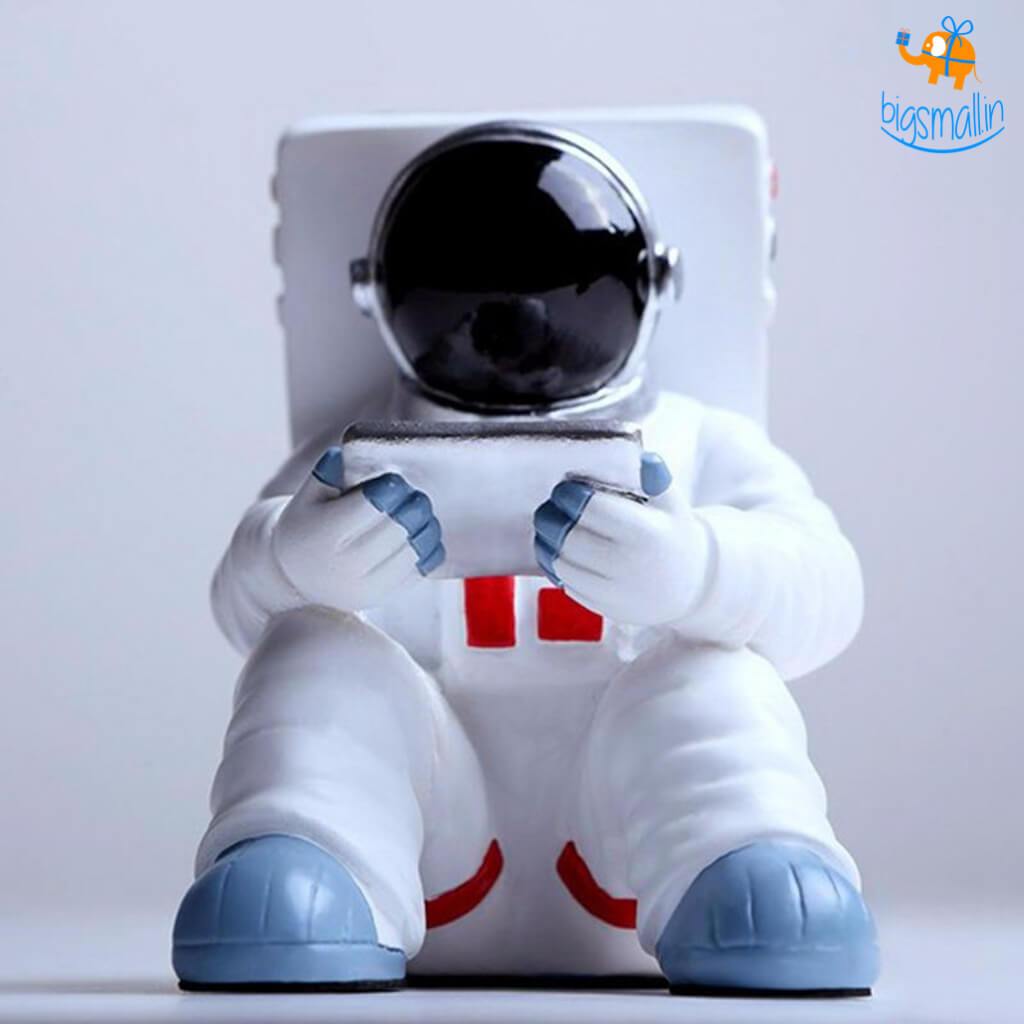 Geek Astro Mobile Stand Wins in March 2021!

The Geek Astro Mobile Stand is one of the best from our quirky mobile stands range. The cool astronaut chilling with its own phone is an attractive and fun addition to any collection! Do you remember that time when you were looking for mobile phone covers which had a stand in them? Those bulky, plain and boring covers which were not sturdy too? Well, why go for any of those things when you can simply go for a creative, space-world mobile stand? Why indeed.
Read the FAQs at the end to get some quick answers to a few questions about this product.
This awesome mobile stand holds your phone vertically as well as horizontally. You know what that means, right? Now you can easily attend video calls without your arms aching for long and likewise, you can conveniently watch your videos, series or films in any comfortable position, lying on your belly too! This level of comfort cannot be resisted!
The material of this mobile holder is poly-resin which means you don't have to worry about it deteriorating in quality any time soon. It is cute and comes with a completely relaxed astronaut to match your Netflix and chill vibe.
For all the times when you thought of using a pillow or the headboard as a mobile stand for your bed, here is the better and in fact best solution!
The Geek Astro Mobile Stand comes with ample space for your charger to also be plugged in while you rest your mobile on it, making this gadget stand quite useful! You can use it for your smartphone and your tablet as well! Its non-slip base protects your phone and is great as a chilled out astronaut mobile stand or also as an Astro figurine for your work desk or any tabletop!
One of our best products from our Astro collection, this unique mobile stand makes for the perfect birthday gift for friends and even as modern gifts for teenage boys or gifts for teenage girls who are always sitting in groups holding their phone while showing a video! Now, let our geek astro provide the support function and be the easy-to-carry mobile stand for you!
Like we said, this is a pretty amazing product and that is why it is the Product of The Month for March 2021 at bigsmall.in!
FAQs

Q1. Is the mobile phone holder bulky or breakable?

It is a compact mobile stand with the following dimensions: 11 x 10.5 x 7.5 cm and it isn't heavy. So you can keep it as a tabletop figurine at your work desk as well where it will not only be a cool desk mobile holder but also be a unique office desk accessory! It is made of poly-resin and is hence more durable than ceramic but it can break.
Q2. How is this mobile stand useful?

This astronaut mobile stand can also hold your tablet and has space for your phone to be connected with the charger as well as your earphones. So you do not need to worry about taking it off the stand for charging due to lack of a hole to get your charger plugged in. Additionally, this stand can hold your phone horizontally as well as vertically so you can use it for watching videos or even to relax and scroll away!
Q3. Can I use the phone holder during video calls?

Absolutely! With Corona making work from home a more common thing than before, we know you would be getting into meetings anytime during the day. You don't have to take out your laptops every time now and you can just get this mobile stand and place it on your table. Video calls have never been this comfortable on mobiles before! You can use your hands to write from now on even when you are attending meetings with your boss through your smartphone! This astronaut's got your back (of the phone)!
Q4. Is the mobile stand suitable for the car dashboard?

No. Due to its built and shape it would not act as a sturdy mobile stand for cars. It can be kept on tables or your bed or any other surfaces which are flat and stationary. You can explore our super cool action figures and bobbleheads collection to accessorize you car. Some of them double up as phone holders for car as well, like the Baby Bat Bobblehead or the Pikachu Bobblehead.
Q5. Whom can I gift the Astronaut Mobile Stand?

This mobile stand is the perfect gift for collectors of cool mobile accessories! If you're thinking of the top birthday gift ideas for tech-savvy friends then you can go ahead with this astronaut mobile stand easily. This is also one of the favourites of people who want to buy corporate gifts online for hard-working, fun-office-accessory deserving employees!
At Bigsmall.in you get unique gifts for every occasion and every person. This Geek Astro Mobile Stand is one such unconventional gift for birthday celebrations or as an addition to a corporate gift set as well! One of many creative premium gifts which you shouldn't miss out on. Buy it now for yourself or that friend who will surely love this!
---