Rakhi 2023: 07 Virtual Ways to Celebrate Rakhi this Year!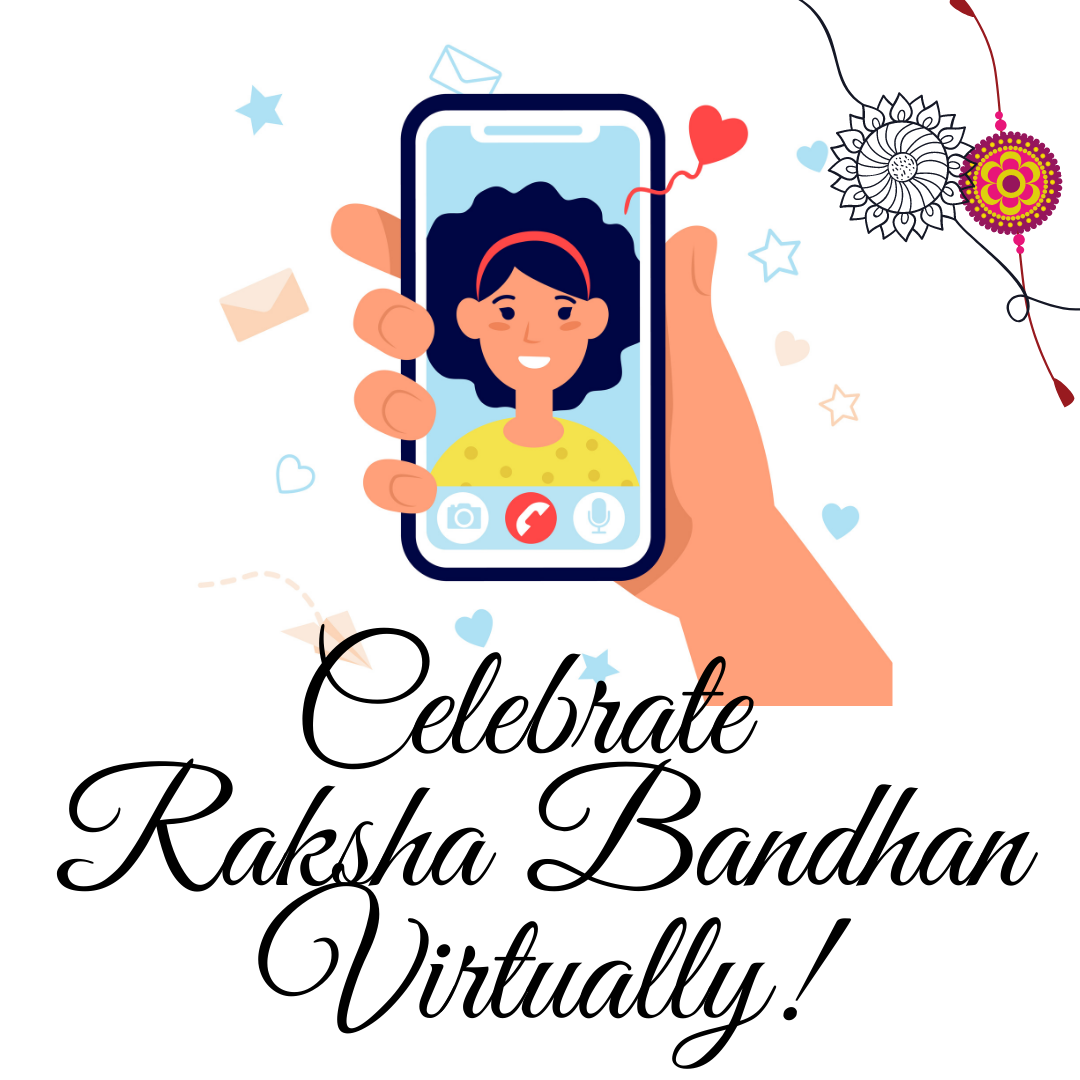 Wasn't life great when you could bicker and laze around with your brother who lives a little far away but this damned Covid made it feel like a gazillion miles away?
When it comes to siblings, even if you want to fight with them (which is like, always) and prank them, which you can achieve tremendously with our funny gifts collection, you still want them to be around!
A brother and sister have a unique bond that is hard to describe and incredibly strong. The relationship between siblings is regarded highly throughout the world. However, the bond is much more crucial because of a holiday in India called "Raksha Bandhan" which celebrates sibling love. But the pandemic situation has created so many restrictions in celebrating it. But with the upgraded technology, you can celebrate any occasion virtually. So why not adopt the virtual rakhi celebration to the next level with unique virtual rakhi ideas and gifts? Make this rakhi season memorable even if you can't be with your sibling. Search for virtual rakhi celebration ideas online and send rakhi to your brother. Try to choose rakhi gifts apt for your sibling's personality. If you want to select rakhi gifts for sister, you can opt for jewelry or accessories. You will also find unique products for your brother if you search for rakhi gifts for brother online.
They are that one person who is your fight-love-fight and life kinda seems boring when they're not around to bug. And I feel your pain! So you keep looking for ways to make sure they know that they're special. And nothing says that better than  personalised gifts you gift them that makes them grin wide. 
Weren't we looking forward to that long-awaited trip with our siblings, that movie we all wanted to go see together, the cake Bhaii finally agreed to bake together, and oh, we did plan that breakfast after the long drive, at Murthal!
Didn't all those plans go down the drain when God played God, and showered us with the mighty Corona we just can't seem to get rid of? Well, corona sucked, as it is, but when we add the upcoming Rakhi Celebrations to the mix, it sucks even more, BIG TIME! *sigh*
Now that we've established that Corona sucks, and we cannot hug our siblings (which we do once a blue moon, Raksha Bandhan being the blue moon here), I thought why not make the most of what we have and come up with astounding ways to celebrate Raksha Bandhan this year, virtually of course while you send rakhi to them that you bought with all your love. Keep searching for the best rakhi gift sets online and you shall conquer! You know, just because you are miles and miles apart, doesn't mean you have to stop enjoying those little moments, now, does it? That's the spirit!
We're all well versed with the Long-Distance love, but it seems like Corona-Distance Festivals and Celebrations are the new normal (which I sincerely hope blows over super soon)! So, without further ado, lets dive in the creative new long-distance virtual ways to celebrate Rakhi 2023!
1. Bake them a cake or bake it together!
So what if you cannot stand in the same kitchen bickering and blabbering over who will do what, you could always fix the day to bake a cake together over a video call! The sarcasm and ridicule will be the same, I promise you!  If anything, they'll just miss throwing flour at your face and them complaining to Maa about it. So go on, get those ingredients ready and tell them in advance! Have coffee together! It's a date! You could always go through our Kitchen Collection and send a gift that you feel is absolutely them! 
2. Make rakhi and an adorable little handmade card for him *happy tears*
I know, a little cheesy, but let me tell you, anything you do for a loved one (yes, even your siblings) will of course be cheesy; you're showing your love for them! So get your crafts hands on, and make them a beautiful Rakhi and a card to go with it. Post it to him so that he can unwrap you crafty goodness. Pair your love with something special from our DIY gifts Collection and guess what, he'll love it! 
3. Plan a karaoke night :)
You know how there's this one song your sibling would always sing, on repeat! In the park, when you're playing, in the bathroom, and every-where. Plan a night of singing and fun virtually, and have dinner together afterwards! Nothing better than a dinner filling us with their relentless loving bickering. Now, go on! Get that party stated and don't forget the quirky additions to your party essentials from our unique party props collection!
4. A movie marathon!
Oh, those fights over who will have the tv remote were endless, weren't they? Funny how thinking about them now makes you smile, it sure is making me smile right now. So plan that movie marathon, and watch those movies together taking you down that nostalgia lane filled with memories of childhood, be them the Harry Potter remanence or Shinchan or Scooby-Dooby Doooo! And you can find many of those epic movie characters and Harry Potter themed gifts in our special Harry Potter Collection! 
5. Videogame faceoff!
I always played Mario with Bhaii and we always ended up fighting because he never gave me the controller! Oh, remember GTA? Wasn't it fun to snatch the controller from Bhaii while he was about to win? *ROFL* There are so many apps that lets you play games together online! Now, that would be fun! Oh and did you see the adorable cartoon keychains we have?
6. Make them a video!
Oh, remember those gazillion pictures papa took of you playing together with that digital camera? Yeah, compile them! Make a nostalgic, memories stirring video of your life together and show it to them, with a posted Rakhi and chocolates! Who knows, they might even get welled up. You could send it with our special Rakhi Gift Hamper for that perfect touch! 
7. Write a handwritten old-school letter
You know how we never express our feelings to our siblings? I mean, who even does that, right? It would be super cool and kind of a shock for them to get a handwritten letter from you since ever. They might not say it, but they'll cherish and preserve it. Our creative gifts speak exactly that emotion you feel.
Well, those are some epic ways to celebrate your love for your siblings with them. I, sure, am going to do these! After all, it is these little moments of happiness we share that bring us closer, don't they?
P.S. Happy Raksha Bandhan!
FAQs:
1. Why is Raksha Bandhan important nowadays?
Raksha Bandhan is celebrated as a sign of responsibility between siblings. 
2. When you don't have a brother, how do you celebrate Rakhi?
Even daughters can tie rakhi to their fathers and couples to one another. It is merely because a rakhi is a thread that symbolizes a pledge of protection.
3. In what ways does Raksha Bandhan differ from other festivals?
Every year, Raksha Bandhan honors the bond between a brother and a sister. Similarly, Bhai Dooj brings all brothers and sisters together to commemorate the auspicious occasion and carry out the rites.
---