11 Unique Diwali Gifts for your Loved Ones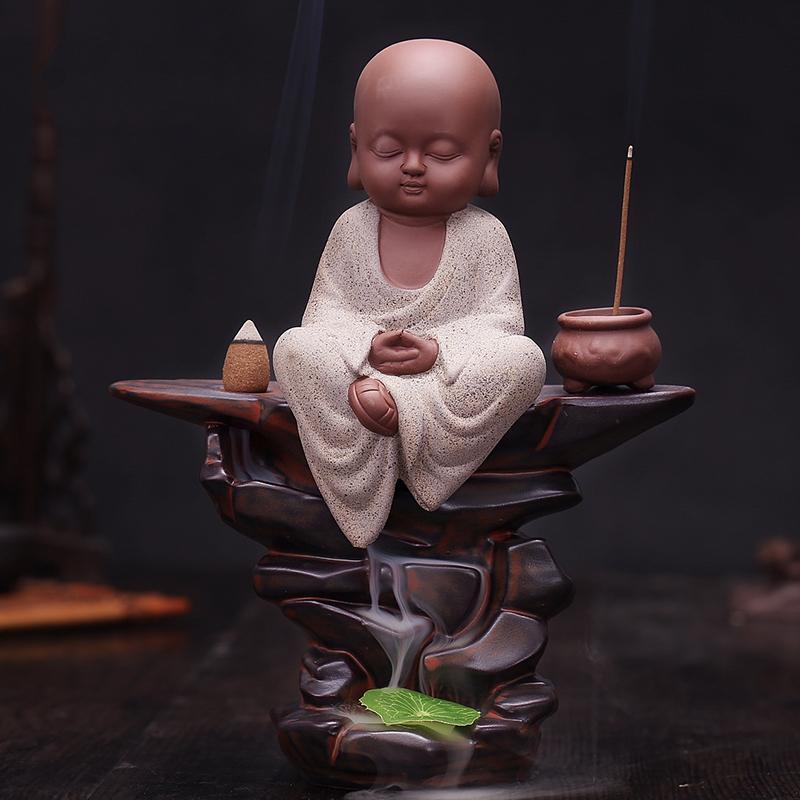 The Festival of Lights is almost here!
There are lots of things that make Diwali the super-fun filled festival that it is! Whether it's lighting crackers, drawing exquisite rangolis, gorging on sweets, dressing up in beautiful ethnic wear or decorating your home to its finest with unique lamps, everyone loves Diwali for their own reasons. But among all the festivities Diwali has to offer, one activity is a merriment that everyone likes- gift giving! Gifting creative gifts to your loved ones and unique corporate gifts to your colleagues. Young or old, who doesn't enjoy receiving that one perfect gift that brings joy to them?
This Diwali, find the perfect Diwali Gifts for your loved ones on Bigsmall.in!
Browse our collection of the Unique Diwali Gifts below:
1. Buddha Incense Burner
This finely crafted incense burner with its soothing scent is a gift anyone would love. With its healing fragrance, it is sure to make any room peaceful. Wanna have a look at the other unique incense burners? We got you covered!

2. Mosaic Candle Holder - Set of 2
One of the most intricately splendid and wholesome way to brighten up your homes. The ethereal mosaic lamp is handcrafted with love, just for you! We have the most beautiful lamps to decorate your homes, so don't forget to check that out.

3. Portable Japanese Teapot Kit
Wondering about what to gift to your artistic loved one this festive season? The Portable Japanese Teapot Kit seem to emerge right out of the awe and they have the superpower to light up your mood! (Yes, they do). So naturally, the artistic loved one will grin with happiness! Go see the unique mugs collection we have curated just for you to gift your loved ones.



4. Crystal Tree Table Lamp
A fascinating lamp, that'll leave you staring for moments, a gift that someone wouldn't ever put away! It entails the exquisite soul of Diwali as light adorns in a perfect way. Perfect for gifting any of your loved ones!



5. Ugears Roadster VM-01 Mechanical Puzzle
Thinking of that distant cousin who would come over in childhood only to raid your puzzle collection? Surprise him with the uber-cool, DIY Ugears Roadster VM-01 Mechanical Puzzle. Made of premium quality, sweet-scented wood, this is bound to keep him engaged for hours. And don't forget to scroll through the cool DIY gifts we have for you.



6. Ganesh Ji Incense Burner
Looking surreal and oh-so-wow, this one is very unlike the regular incense burners. The smoke mixes in the air to infuse fragrance and creates a divine feeling in the atmosphere enkindling a feeling of  positivity  with the God of new beginnings, Ganesh Ji! 



7. Personalized Harry Potter Themed Nameplate
This is not only a treat for Potterheads round the year but also holds special significance around Diwali. Welcome people home with this magical personalized nameplate!



8. Spiderman Plush Slippers
These plush, comfy things are sure to make your nieces and nephews adore you! Our Spiderman Plush Slippers provide comfort for all your crime fighting activities. Styled after one of the coolest superheroes, they offer loads of coziness and ease and are the perfect way to pamper their feet after a long day. What's more, you could check out some more adorable plush slippers to choose from.



9. Levitating Moon Lamp
Has anyone ever sarcastically asked you for a piece of the moon? Now, you can promise your loved one the moon and follow up. You can also ask for a text message to be added on the backside of the moon. For more of these unique gifts, have a look.

10. Classic Candle Tea Light Holder
If you have a sister who loves to adorn her home with the prettiest things possible, this makes the perfect gift! With its classy finish and ambient look, it is sure to make them smile wide.



11. Deer Storage Holder Decorative
Something unique and something special, the White Deer Storage Holder Decorative is one of the finest premium gifts for Diwali. Somebody said that geometric pattern makes everything classy and we agree.


---