10 Romantic First-Night Gifts For Your Wife That She Will Cherish Forever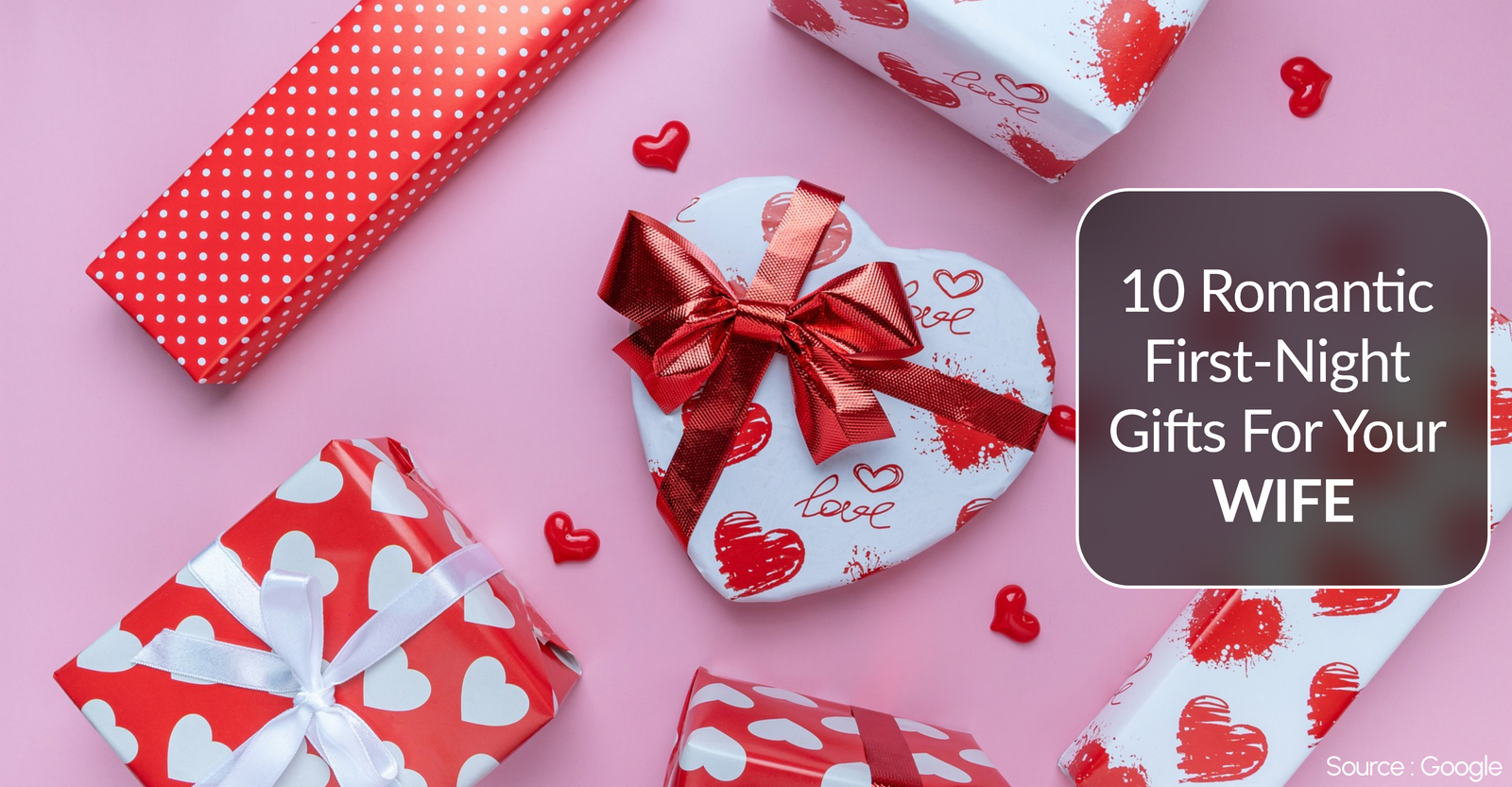 Giving your wife first-night gifts that she'll cherish can enhance the marriage night memories, which is a precious and private time in a couple's life. 
Exchanging thoughtful presents between spouses can elicit powerful emotional reactions and foster a closer emotional bond. The loving tone of the wedding first-night gift established a romantic gesture on the first night. Unique gifts for the first night for the wife received during this time form a part of the couple's history together. These presents serve as a reminder of the adoration and anticipation they experienced at the start of their journey together.
First Night Gifts - A Way To Show Love


The best gift for your wife on the first night reflects your thoughtfulness and effort in enhancing the situation. It demonstrates your concern for the emotions and happiness of your companion. It expresses your commitment to developing the relationship and ensuring your partner's happiness.
People may find it tricky to choose marriage first-night gift ideas for wives. Try to prepare something unforgettable that will cast a long-lasting impression. Gifts to give on the first wedding night may vary depending on the couple's personality and intimacy. Get recommendations online, and opt for some unique gifts. It can build excitement and anticipation, making the moment even more precious. Knowing a wonderful gift waiting for you on the first night will evoke love. It demonstrates your concern and regard for your wife's needs and wants that you took the time and effort to select a meaningful gift. Personalized gifts are heartfelt since they demonstrate how well you know your partner and have chosen a gift just for them.


Choose Personalized Gifts To Add A Personal Touch
Personalized presents frequently include a surprise component because your partner won't know what's inside until they open it. The experience of presenting gifts is made more exciting by this. Based on your partner's preferences, interests, or hobbies, create an exceptional piece for her. In this case, they are more likely to value and enjoy the gift. The present becomes a keepsake by adding a unique date, message, or inside joke.


Presenting the best gift for the first night, the Personalized Name In a Heart Wooden Ornament. You can also get it as an anniversary gift for your significant other. Celebrate your love with your wife, and get the ornament to always remember the special occasion. All in all, it's the perfect gift for the love of your life! Hang the super cool ornament on your bag or keys to keep it close to you.
Another wedding first-night gift for the love of your life is the very enchanting, Personalized Wooden Postcard, the oldest love language with a bit of a twist. Now you could give them a loving postcard that they could keep with them forever! That's the way to say how much you appreciate each other. The postcard is easy to hang up, or you can set it on a table. The image will be printed in black and white for that old-school look. Add to that your personalized message, and voila!


Do you and your wife love to travel? Then, plan more trips together with ease. Gift the Travel Set as a first-night gift for your wife. It is just what you need to express all that overflowing love. It includes the I Love You Wooden Rose, Traveller Photo Frame, and the Leafy Travel Journal. How could they not love it?
Thoughtful and Sentimental Gifts
A beautiful and memorable feeling can be created by selecting thoughtful and heartfelt gifts for your wife on your first night as a married pair. Think of creating a unique "Love Book" with your wife's name on it. You can make it yourself using handwritten notes or online. Or gift your wife a piece of jewellery that combines your initials, her initials, or both of your names. Always remember that the meaning behind your gift is the most crucial component. Whatever you decide, it will be filled with devotion, love, and a special relationship with your wife.
Gift something unique surprise that she will cherish. The I Love You Wooden Rose is made with precise craftsmanship. Gone are the days of delicate roses that wither after a couple of days. This rose will stay with your love forever. Nothing could be more romantic than a rose with the most spectacular twist.
Whether you're looking for a gift for your significant other or a gift for you, this romantic bed sheet is perfect for any pair in love! Super soft, super chic- it gives a whole new look to the bedroom. It shows the funny truth of who REALLY gets all the space! 
With a surge of all the love and spirit, gift something timeless. The 'Be My Love Gift Set' is perfect since it includes the beautiful Be Mine Mug, Bonsai Tree LED Lamp, and a box of assorted cookies. So what are you waiting for? Go make them yours!
Plan the Perfect First Night Gift Based On Her Personality



Your wife's interests, hobbies, and preferences should be considered while choosing the ideal first-night gift. A handmade love note or book of poetry conveying your thoughts or a personalized love letter will amuse her. Plan a surprise outdoor adventure, such as stargazing. Surprise her with private dining or a trip to a botanical garden.
Never forget to take into account what makes her feel loved and respected. The objective is to choose a gift that fits her hobbies and passions and demonstrates that you have considered her personality when selecting the ideal first-night gift. Add a meaningful letter or message to make it even more unique.
Surprise Your Wife With A Unique Room Decoration



A unique gift for the first night for the wife will be a special room decoration. Decorate the area with candles to foster a pleasant and romantic atmosphere. You can sprinkle candles of all sizes and shapes; and light them up on pillars, tables, windowsills, and bathrooms. Consider adding scented candles to add a sensory dimension to the ambiance. Use rose petals or fresh flowers to adorn the space. Make a trail to the bed or scatter petals on it. Put bouquets of her favourite flowers in vases and scatter them throughout. Think about framing mirrors or doorways with floral arrangements or garlands.
Pick a significant theme for your union, such as a favourite vacation spot. Put theme-related items throughout the room, such as vacation souvenirs, sports memorabilia, or objects of your common hobbies. It will help in showing your real emotions. To create a wonderful and captivating ambiance, hang string lights all about the space. They can be used to make a canopy over the bed, drape over the curtains, or twine them around the bed frame. The key is to make it a truly spectacular surprise to your love and the special bond you share with your wife.
Tips for Choosing the Perfect First Night Gifts For Your Wife 



Make the present suited to her character. Is she passionate, daring, imaginative, or realistic? 
Pick a first-night gift that speaks to her personality. Remember the comments on anything she desires or admires. 

Plan things, and don't choose a gift until the last minute. Experiences can occasionally be more lasting than tangible gifts. 

Think about organizing a surprise date or outing on your first night together. If unsure, seek suggestions from close friends or family members for gift recommendations. 
Unexpected gifts might be even more memorable. Think about hiding the present until the apt moment. Presentation is crucial. If you want to present the gift to her in a unique and romantic way, elegantly wrap it. It will represent your special relationship with your wife, so show your love, devotion, and gratitude uniquely.
Conclusion
Life can get busy, and routines can take over over time. A treasured memento from your first night together might remind you of the joy and love that inspired your journey together. Giving each other a romantic present at the beginning of your marriage will help you start off on the right foot. It creates a base of adoration and esteem. Confused about the perfect gift, search online and select the appropriate one. Romantic first-night gifts for your wife are significant since they evoke a sentimental connection, fond memories, and love. 
As a reminder of your enduring love and dedication to one another, these presents have the potential to be loved for all time. Always trust Bigsmall for all your online gifting needs. What matters most is not the gift's dollar amount but rather the thought and sentiment that went into it. We always ensure that the gifts you receive will make your celebration memorable.
FAQ - 
1. Do wives like receiving gifts on their first night?
Yes, the first-night gift for your wife shows her your devotion to her, and it's a technique to convey your intense love and commitment to the partnership. 1st night gift for the wife is a reminder of the adoration and anticipation they felt when they first embarked on their adventure as a couple.
2. What are some popular first-night gifts for my wife?
Some of the popular first-night gifts for wife include:
Personalised gifts.
Jewellery items.
A hamper with specifically curated products.
For more ideas and gifts, check out Bigsmall.in right away!
3. How can I impress my wife on my first night?
You can impress your wife on the first night by giving her gifts. It shows appreciation and love, which are vital in a good relationship. An unusual and unique gift serves as a representation of your devotion and love. It serves as a concrete reminder of your bond and the start of your journey as a married couple. It sets a caring and upbeat tone for your life together to begin your marriage with a meaningful present.
4. Can I give flowers along with a first-night gift?
Yes, flowers would not only elevate your gifting game but help you create a beautiful aura.
5. Do you also provide customization with first-night gifts?
Yes, we do provide customization with first-night gifts.
6. Can I add a message card with a first-night gift?
Yes, you surely can.
---