5 Unique Lamps for Moms Who Love To Read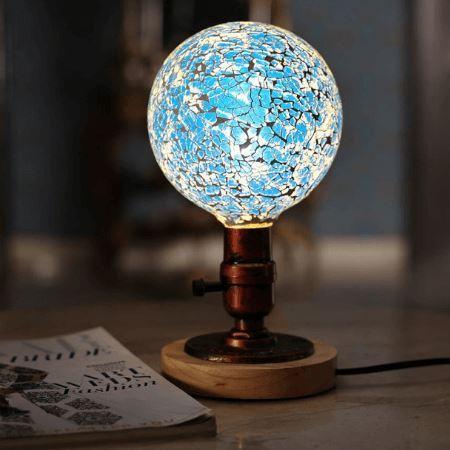 Does your mom love to sit by the bedside lamp, curl up on her favourite beanbag with her cup of cappuccino & a dogeared copy of Jane Austen in hand? Well, if we just drew your mother of you, you might want to buy unique lamps for her as a Mother's Day gift. Spice up her room's decor with creative lamps guaranteed to lend a soft glow & infuse great character into the room. 
Let's admit it no one really gets over soft toys. If your mom still loves hoarding them & is into DIY stuff, maybe you could consider making a gift of this super adorable lamp! The lamp comes in a disassembled form for you to enjoy some DIY time together with your loved ones. This cute Elly Table Lamp is guaranteed to steal hearts & infuse lots of warmth wherever it goes!


Well, this one is truly a revolutionary lamp! It looks as awesome as it is useful. The two balls of the wooden frame serve as switches of the lamp. As we raise the lower ball, the two balls are magnetically attracted. They float in the air and when they reach a static equilibrium the light is turned on. The novel medium of switching lights is something to be cherished. The design adopted here is such that the illuminating element of the lamp is embedded into the frame so that the light can find its way out. Make a gift of it to your loved ones & watch them break into a jig as they shower you with hugs & kisses galore!
How about a table lamp that can also be used as a pen holder or a mini planter while it spreads light? Your mum will go ga-ga over this cute lamp with its mountain lamp which does not need to be plugged in all the time. You can charge it and then use it anywhere! So be it the bedside table or even the quaint place your mum cozies up at night to read her book, she can now use this great Mountain Bedside Table Lamp according to her convenience!
If your mom appreciates mosaic art, then look no further amigos! This Vibrant Mosaic Lamp is the answer to all your antique gifting needs. Made of high-quality ceramic and the fine cut of colored glass by expert craftsmanship, the Vibrant Mosaic Lamp is a souvenir to be passed down from one generation to other.
Your mom was your first love & probably the one who taught you what loving someone unconditionally is all about! From changing your diapers to waking you up for work, she has done it all. Show her some love with this ethereal Neon Love Light. With its warm and surreal white color light, it will create a mesmerizing atmosphere wherever placed. This is one lamp she will probably hold close to her heart forever!

Gifting is an entire gamut of emotions & not just presenting the physical product itself, we at Bigsmall.in bring to you a delectable spread of fun, quirky gifts with the magic of handwritten notes to deliver heartfelt messages to your loved ones. 



---