4 Quirky Coaster Sets For A Fun House Party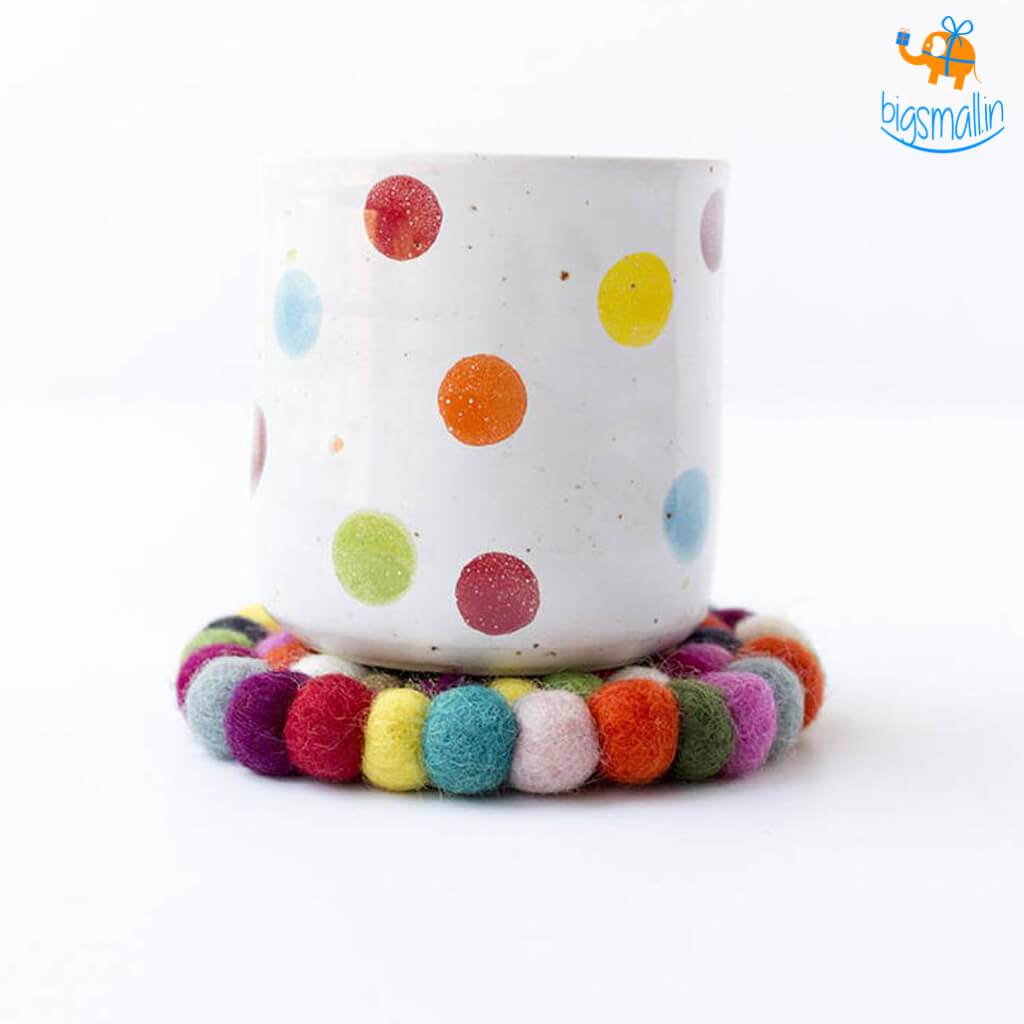 The new year ain't a new year without a house party with friends. Whether you watch movies and play charades or play beer ping pong with loud music in the background. With all the drinks (alcoholic or non-alcoholic) passing around, it is easy for a neat freak to lose it. Because after the party ends the host is left to clean all the stains left by the cups. Worry not for we have just the thing.
Say bye-bye to the bland and boring coasters and welcome these dashing beauties in your home. Presenting 4 quirky coaster sets that'll fit just right in your unique décor.
1. Rainbow Felt Ball Coasters - Set Of 4
These colorful ball coasters will add just the right amount of splash to your décor. As each coaster is handmade, colors and pattern mix may wary - and no two coasters are alike. These non-toxic and eco-friendly coasters will also be a wonderful gift for somebody who loves surrounding themselves with colors.
2. Wooden Owl Coasters - Set Of 6
 Something cute, something practical! This coaster set has it all. Keep your tables tidy with these finely handcrafted wooden coasters. They can hold coffee mugs, wine glasses or teacups easily. Perfect for the dining table or side table, now enjoy your drink without worrying about the coffee stains.
3. Kabir Dohe Coasters - Set Of 4
Add a wholesome learning experience while sipping your beverages with these glorious Kabir Dohe coasters. These dohas are legendary - each one is a story, words to live life by and lesson itself - enrich your mind while drinking your morning cup of joe! Extremely durable, these coasters are just as timeless as Kabir's works. They will surely bring in the old warm charm in every home they grace.
4. Marvel Wooden Superhero Coasters - Set Of 6
Protect your furniture from condensation rings, add fun to your drink time with these coasters. The bottom of the coasters is covered in felt so they are anti-slip and you can keep your drinks carefree on them. They are also coated with thin matte-finished lacquer spray to avoid ruining the wood and also, the colors won't fade away.
Throw a party like never before with our party essentials, talk about the year gone by over drinks and plan about the time yet to unfold. Buy these quirky coasters and enjoy drinks without worrying about the tedious cleaning afterward or giving a stink eye to anyone who stains your tabletops.
We hope you had a splendid year and wish you an adventurous year ahead!
---