Check Out These Amazing Decor Ideas For Anniversary Celebration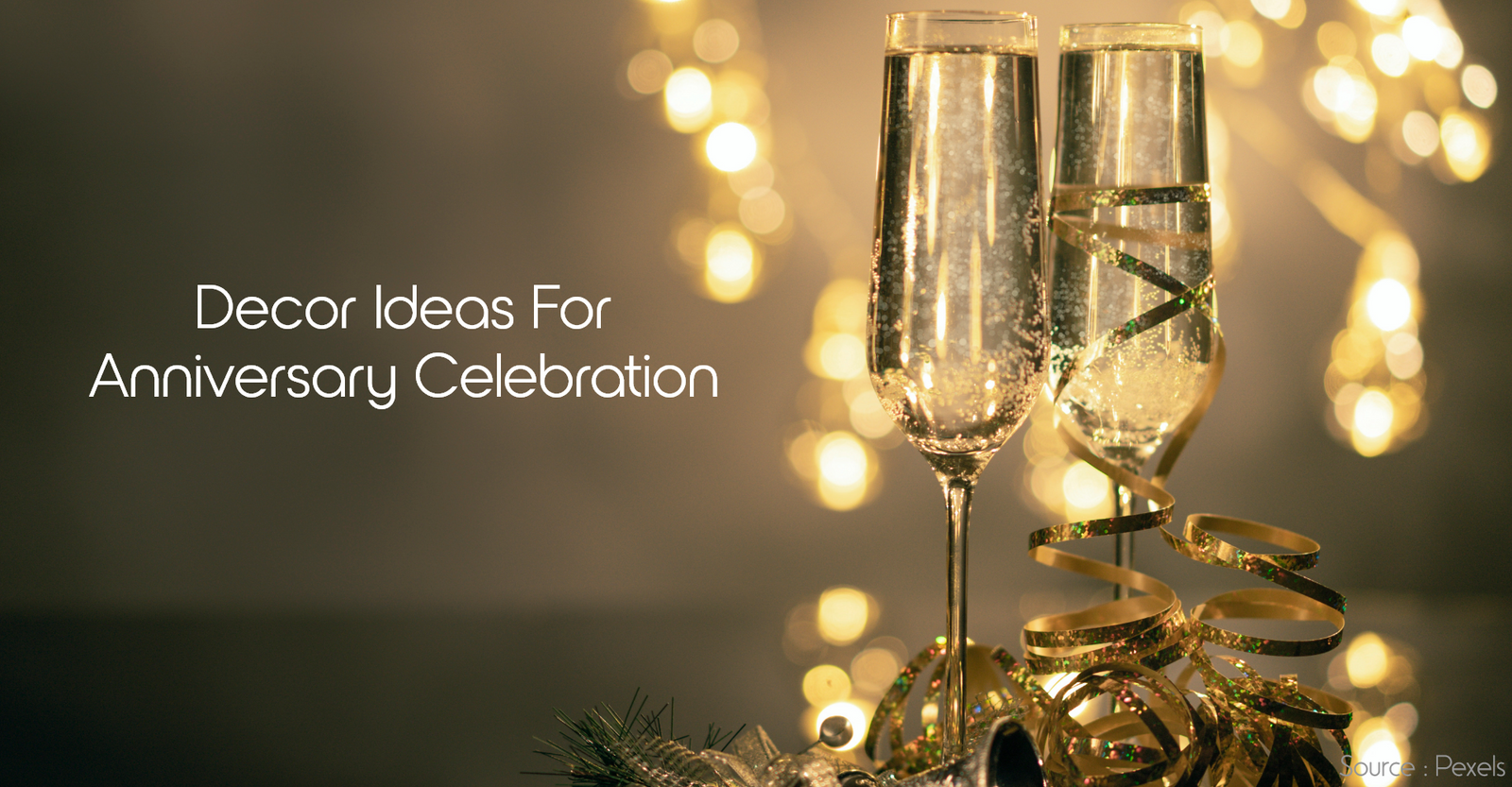 Wedding Anniversary - Celebrate Your Love
We get a myriad of days to celebrate but the most pious of all is the celebration of a wedding anniversary. It is a celebration of two souls for successfully making it through thick and thin while adjusting to a hundred habits and quirks of each other with a common goal of staying together in the journey of love and life! To make this occasion special there are tons of decor ideas for anniversary, gifts to give to each other, and other small tokens of affection that can make the day memorable and cherished. Going out on an anniversary is too typical, do it differently by surprising your partner with some unexpected surprises that don't require money but your effort and of course time! Trust me, nothing like it!
So, stick around to dig out some of the best
decor ideas for the anniversary to be celebrated at home.
Unique Decor Ideas For Anniversary Celebration


So, if you are going by the idea of celebrating an anniversary at home, you should also know some of the extravagant and simple anniversary decoration ideas at home. Here are the types of decoration ideas for anniversary at home:
Simple Anniversary Decoration: A simple anniversary decoration ideas at home includes minimal decor items like flowers, candles, and an aesthetically pleasing aura. With roses spread around the bed, or the shelves, or a trail that leads to a candlelight dinner setting with scented candles infusing the romantic vibes, this sure is gonna make your partner sweep off their feet.
Balloon Anniversary Decoration: There is an abundance of so many anniversary room decoration ideas with balloons. They symbolize celebration and are an indispensable part of any decoration. Here are a few Balloon wedding anniversary decoration ideas:

Helium balloons are quite a thing now. Not only do they make the decoration look complete but also are more than enough to be the only element used in the decoration.
Another idea calls for some of the best and most memorable pictures attached to the string of these helium balloons coming down.
You can also opt for balloons with messages that reflect your journey as a couple, like "Best Friends," or "Forever Together."

Customized Anniversary Decoration: What if I say to try to build a scrapbook? Too special and a bit more of an effort, right? Okay, well-customized wedding anniversary decoration ideas have now more to do with personalized elements than some mere decorations. This type of decoration includes filling the space with something like this personalized wooden frame or caricature wooden portrait that you can buy from Bigsmall, the ultimate destination for exceptional online gifting options.
Anniversary Decoration with Lights: Be it for marriage anniversary decoration ideas or any other occasion, every celebration is incomplete without a dazzling display of lights. It can be done by draping the string lights over the wall displaying the "Happy Anniversary" message in a shimmering glow that sets the perfect mood. Lights help create a magical and intimate setting which is why they make up one of the best anniversary room decoration ideas.


Follow These Kind Gestures To Make Your Partner Feel Special



Beyond marriage anniversary decoration ideas, let's dive into some other essential aspects of making your anniversary memorable. Here are some of the kind gestures that will make the day truly special and unforgettable.
Cook a meal: Cook one of those meals that you have been saving on Instagram or prepare the one that your partner enjoys having. With YouTube and other platforms in your reach, you can cook a delicious meal for your partner and level up the celebration by adding a personal touch to your anniversary.
Have a quality conversation: Do I need to mention this one? I think, yes. With so much going on at individual levels in each other's lives,sometimes a deep heart-to-heart conversation takes a back seat. It is the best moment to speak your heart and mind out to each other and cherish some of the precious moments, laugh, yada yada!
Arrange a candlelight dinner: I can already hear the background music. Set up a candle-light dinner, light a scented candle, offer a bouquet, dim the lights, and play a lo-fi background music.



Tips To Make Your Anniversary Celebration Extra-Special



Here are some of the best anniversary celebration tips that will add an extra-special touch to your special day, creating memories to last a lifetime:
Love Letter: Call it old school, but it holds more meaning than a mere WhatsApp status or Instagram post.
Longing to do: There are a certain number of things that each one of us wants to try or explore but push it some other day which never really comes. Hence, this is the perfect occasion to plan an experience or an activity that your partner has been meaning to do.
Unplug: Your partner will thank me for this. Consider having a technology-free celebration to focus on each other and be fully present in the moment.
Renew or add vows: This also has been happening a lot lately. Reaffirm your commitment and love for each other. Add a few vows that deeply resonate and strengthen the bond between you two.



Conclusion

With these decoration ideas for anniversary at home in your back pocket, you can set out to make this special occasion a joyous and memorable one.

FAQ - 
1. Is it easy to decorate your home for an anniversary celebration?
Yes, go through the blog to explore and take some of the best ideas for anniversary decoration at home. It's easy and affordable.
2. What is the average amount that I have to spend on basic decor?
The basic anniversary decoration at home would cost you around a rough figure of Rs. 2,000 to 3,000/-.
3. How can I impress my wife on our anniversary?
Apart from exploring decor ideas for the anniversary, you should also dive into Bigsmall to find the best gift for your wife that will top off the celebrations and make the day truly unforgettable.
4. Which color decoration is most loved by the wives?
Since the occasion is your anniversary, you can opt for red and white themed colour decoration.
5. How to make your anniversary celebration special at home?
There are various decor ideas for anniversary and ways to make the celebration special at home. It includes:
Decoration
Gifting
Some additional efforts like building a scrapbook together, etc.
6. How can I celebrate my parents's anniversary at home?
Here's how you can celebrate your parent's anniversary at home:
Decorate the house.
Cook their favourite meals.
Invite all close friends and family
Give them thoughtful gifts.
Present to them some heartfelt notes or give a speech expressing gratitude.
---