Instagram Captions For Bro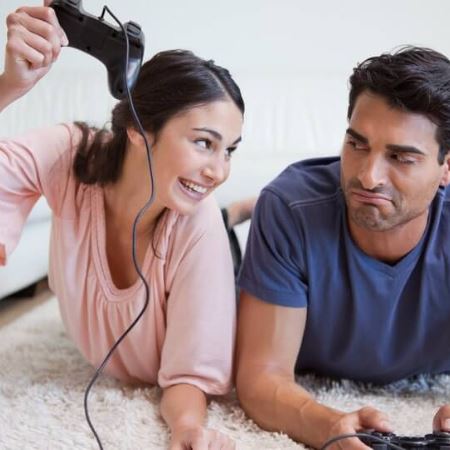 When it comes to thinking of Instagram captions for pictures with brother, it can be one helluva head-scratcher. Come rakhi, & the pressure of posting pics with brother dearest is so gonna shoot up! So you scroll through the repository of about 10,000 pics in your gallery & finally zero in on one picture in which you both are looking passably decent. Then comes the Herculean task of choosing an apt caption that is funny, yet strikes a chord. Wait up, people! Team Bigsmall decided to pen down a few creative captions for brothers this Raksha Bandhan. If you haven't decided the rakhi you will be tying him, we can help you with that as well! You may now send rakhi to your brother, no matter which corner of the world he might be in. If you wanna pick out a really cool rakhi gift for sister or brother, view the entire collection here - Unique Rakhi Gifts For Brothers & Sisters.
1. For the "candid" picture in which you are seen pulling his hair...
"I hated Chris, my brother. I would pull his hair and kick him, until one day my father gave him permission to fight back. I'll be apologizing to him for the rest of my life."
– Stevie Nicks
2. If you decide to post a picture of you guys back in the younger days...
" There is a little boy inside the man who is my brother… Oh, how I hated that little boy. And how I love him too."
– Anna Quindlen
3. For the rare pic in which you guys are seen sharing food...
"Not always eye to eye, but always heart to heart." 
- Unknown
4. If you are packing of your baby brother to college soon & posting a picture of his high school graduation day...
"Once you're grown up you can't come back." 
- Peter Pan
5. If your brother is on another continent & you are missing him like hell, post a cute picture of you two & watch him book tickets for home soon!
"I miss you. I miss you telling me I'm dramatic when I say my life is falling apart. I miss you calling me names and telling me I'm cute. Come back, bro!"
- Unknown
Selecting the perfect rakhi gift for brother or for kid sister can be a tough nut to crack. Generic gifts are so not gonna make the cut. Delight him with personality-specific rakhis & awesome specially curated gift sets for him. View the entire collections here: Rakhi gifts for sister, Rakhi gifts for kids, Rakhi gifts for Bhaiya Bhabhi & Rakhi gift sets. 
---