Ultimate Pocket Tool- A little gift for your Engineering maniac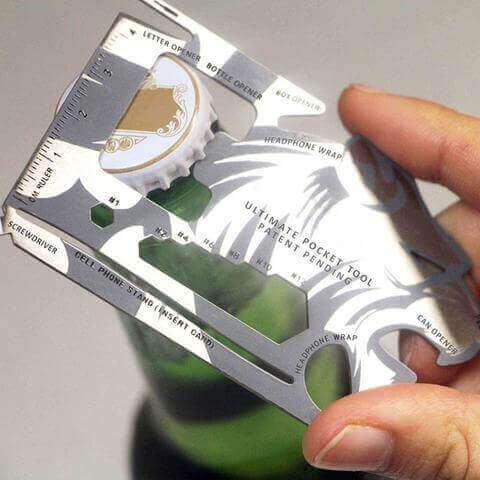 Many times you are stuck in situations where tiny tools are what you need, but obviously, you don't have them in the need of the hour. A beer opener, ruler scale, letter opener or a cell phone stand; there are moments when the adrenaline is high and in its influence, you forget to keep the tools together. But hey, you are not at fault here. After all, a person can never carry all these things with them all the time. The collective baggage would be so much to carry around. But what if we said you can have 18 tools for your everyday use with yourself in your wallet without occupying much of your space, would you agree?



The ultimate pocket tool is that special card tool that is an amalgamation of 18 tools in a single steel card. The card is as thin as your credit and debit card and hence can be easily kept in your wallet. So, every time your friends decide to have a beer party while enjoying their favorite landscape, you needn't have to trouble your dear teeth. Pick out your little tool and let the fizz overpower you. Besides, there are a lot of things that you can do with it. Wanna know? Read on!


A multi-utility tool, it consists of 18 tools of your daily routine in one. Use it as a scale, screwdriver, scratching tool, can opener, letter opener, beer opener, phone holder, knife, headphone wrap, box opener, etc. to help you in all the difficult situations you might find yourself stuck into.


Whether an important letter is stuck to the periphery and you want to open it carefully, or even when you are watching a movie on your phone and want a holder to keep your phone at the suitable angle, the ultimate pocket tool is one product that would make every situation easier.



Thus, it forms a perfect gifting option for all the jugaadu people in your life who have a knack for finding a creative 'jugaadu' solution to any problem in the world. This, in fact, is a perfect gift for those who always get into weird situations and are clumsy enough to find a solution on their own. Something broke down and you need a screwdriver or you are at your word and need a ruler immediately, you'll get it all in one ultimate utility tool.

So, if you or your people are travelling around or need to keep some tools with them, the ultimate pocket tool is one such gift that saves both time and energy for the main task. Gift it to your father, husband, brother, sister or friend and get them to do the chores they have been running away from. A creative gift or a perfect birthday gift, it is bound to make everyone happy. What's more, you can even team it with different products to make a complete gift set for your brother or sister for Diwali, Christmas gift or an anniversary gift for your loved ones!
Happy gifting!
---