Bucket List Gift Box - Start Recording Now!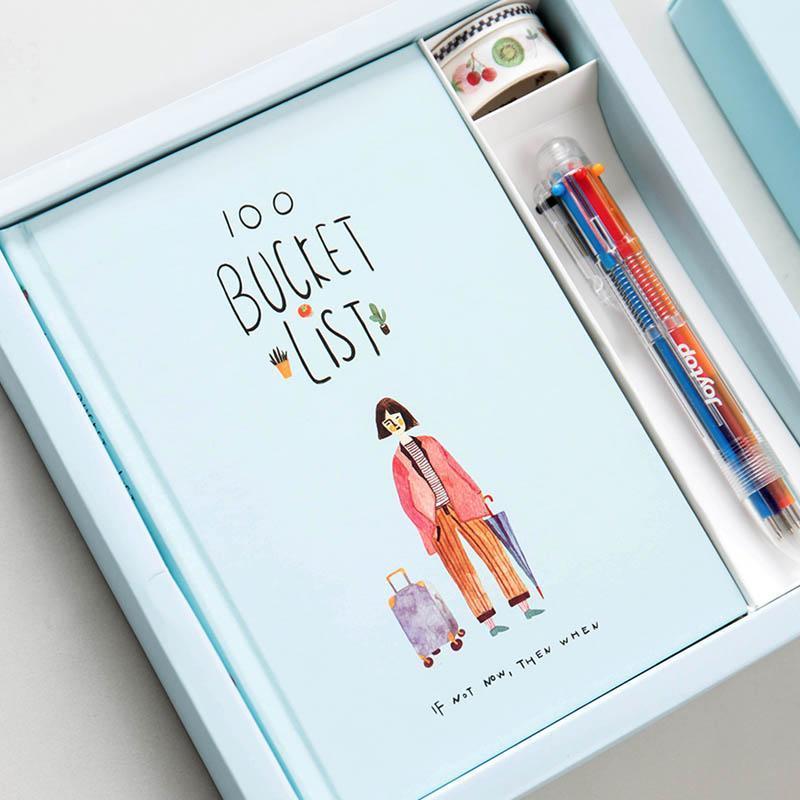 Every person has things that they want to do or the places they would want to visit in their life. But, due to varied reasons, they are unable to do it at that time. And so, it occupies a place at the back of your mind. But, what if there is a thing that could remind you of all the dreams you had and encourage you to take that voyage and fulfil them? What if you had a bucket list to keep a track of all of your wishes that need to come true and at the same time records all the things you've done on your bucket list?
A Bucket List Book would be one such possession that would help you keep track of your life and its ambitions as you battle the world and forget to live life. The package contains a Bucket List Book, coloured pens and decorative masking tapes. So, add your dreams into the book and decorate it with your memories after the successful completion of the task.
Is it already accelerating your excitement? Well, then let's explore and see the happiness the bucket list book set offers.
 

1. A book that has a list of your dreams.
When something comes up on your bucket list, it is not because it is something extravagant. Rather, it takes this place because that induces in you a spirit to explore the world and the life it offers. Thus, whether it is a tiny thing like attempting to dance or a desire to explore an unknown land, put all of it on your bucket list. With 100 entries, you could definitely keep a track of little things that make your life great.
2. Every memory and task of the bucket list are important. Thus, it must have its own space.
After you complete your wish, you'd want to retain its memory. After all, that's one task off the bucket list. And that's why this book has 100 pages, where you can keep your record of the task separately on each page! So, when you open your book to have a look at that you've accomplished, you'll have a plethora of memories to look at!
3. Decorate it with coloured pens that come along!
Bucket list books can bring all your different dreams together. Thus, they can't be embedded with just one colour of ink in your book. The kit, therefore, contains a set of coloured pens for you to add your entries in a vibrant way and preserve them for the lifetime.
4. Add a unique appeal to the book with the various masking tapes that come in the packet.
Yes, masking tapes around your pictures, on the different parts of the page make it beautiful to preserve and this, in turn, makes your travel diary as unique as your list. So, decorate it with cute designs of the tape and give your bucket list book a look no one could render.
A bucket list box is, thus, a brilliant way to remind yourself or the person you intend to gift it to, about the beauty your heart wants to explore. Getting along with the daily schedules that you can't compromise with, you often forget that you need to explore yourself and your wishes. The bucket list book hence does it for you and reminds you continuously to do what you always wanted to.

So, what are you waiting for? Get the bucket list gift box at bigsmall.in and start the journey you always wanted to take.
Explore numerous unique gifts and if you have any queries, drop us a message!
---