5 Cute stationery items you must have on your desk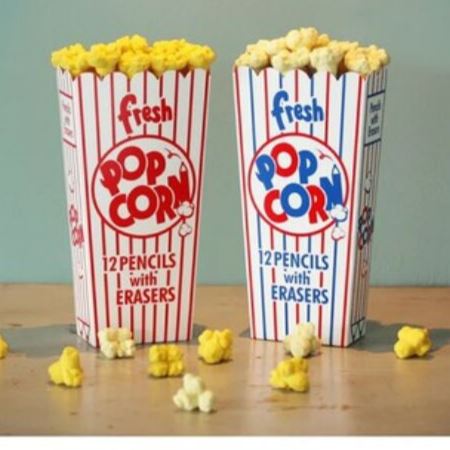 Coming to think of it, the major portion of one's day is spent on the work desk typing out furiously on the keyboards, in the mad rush to meet deadlines. Chill out a little bit and add the much-needed fun and quirky element to your work station. The best way to do that would be to invest in some really cool office stationery products that are not only going to make heads turn but also will turn up the "awwwww" element! Be it quirky pens, cute pencils with popcorn toppers, unique stationery holders, we have got it all! All you need to do is log on to the quirkiest online gifting store and browse through the catalogues, chances are that your cart won't stay empty for long! Team awesome decided to do some digging and chalked up a list of really cool stuff that could brighten up your work desk. Drumroll!
Check out this ultra cute set of pencils people! At first glance, it seems like a pack of freshly popped popcorns, but once you unwrap it, it is actually a set of 12 really cute pencils with popcorn eraser toppers. Pick up a box of Plain Salted or one loaded with Extra Butter, it is anyway a really cute stationery gift item. 
On the days when you don't really feel up to making decisions, sit back and relax. Let the Decision Maker Paper Weight sort things out for you in a fun way. Take it for a spin and go with what the "red ball" points at!
Is the boss hollering at you for not having submitted that report which was due last week? Or is your mom still sulking for the missed annual shopping fare she was looking forward to?! Sort out your goals and to-do lists and have them right in front of your eyes with the Desk Chalk Board. Draw doodles, chalk out lists or maybe just scribble away, this would surely bring back memories from school!
 Relieve that work stress of attending totally un-needed, unwanted boring meetings that a mail could have easily sorted out, with the cool fidgety Thinking Fidget Pen.  The box is inclusive of 3 rare earth magnets, one metallic spring, a bendable pen, and a black ink refill. Fidget with it all you want, bend it into weird shapes and basically just goof around with this fun fidget toy.
Now that you have acquired some really cool pens and pencils, you might wanna store your acquisitions in an equally cool pen holder. Keep your pens and markers together in these freshly sliced pineapple pen pots. Stack the pen pot on your workstation or gift one to that colleague who keeps losing pens & staplers.
Pen down to-do lists in personality-specific notebooks with equally unique pens. View the entire collection here: Notebooks & Pens. 
---