Diwali Celebrations Done Right à la Bigsmall Style!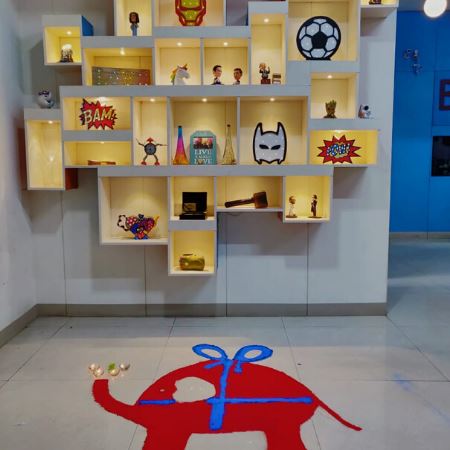 Hey peeps! With Diwali festival of lights, and gaiety just around the corner and every corner of the house glittering and sparkly, one can't help but feel all festive. Team Awesome@Bigsmall sure knows how to throw one helluva party! This Deepavali 2023 have a blast with your office buddies and let them know how much they brighten up your lives with their never-ending flow of creative ideas and witticisms. Check out how we had our Diwali celebrations and celebrated the auspicious Diwali day - Bigsmall style!
Unique lamps have the uncanny ability to transform the vibes of any place. Dim the lights for a soft romantic effect or maybe turn them all on at once for a glittery, sparkly & festive effect. Team Bigsmall decided to make the best of both and surely had a blast coming up with the best Diwali office decor ever!
With gifts as quirky as the decor, you can pick up some seriously awesome last-minute Diwali Gifts from the office. 
2. Quirky floor art
Quirky is our middle name, so regular rangoli designs weren't our cup of tea... After a fun brainstorming session, we decided to give the epitome of cuteness our Elly the Mascot a Diwali makeover. With a string of lamps upheld by his trunk, Elly promises to bring the gift of joy and light this festive season. 
3. Play a game of cards
Gather your colleagues, roll out a mat and bring on the fun card games with a deck of playing cards.
As the evening draws nearer, wrap up your work as soon as you can and haul ass to the most lit party stop in your locality. Team Awesome decided to visit a cozy corner hidden in Hauz Khas Village with some great culinary options, live music, and unending booze. #WorkHardPartyHarder
5. Enjoy a cup of chai together and play classic games!
If for some reason you all can't go out and have fun together, why not bring the party to the conference room? Order your favorite beverage, chai, coffee or something a little stronger and play classic games like charades, antakshari etc. It all about having fun with your loved ones after all.
Glass Tea Pot With Wooden Lid
Deepavali greetings from our office family - Team Awesome to you all!
PS: CNBC Awaaz paid a visit to the office of awesomeness for a feature on startups offering quirky gifts for every occasion.
---