FIFA World Cup Fever Grips India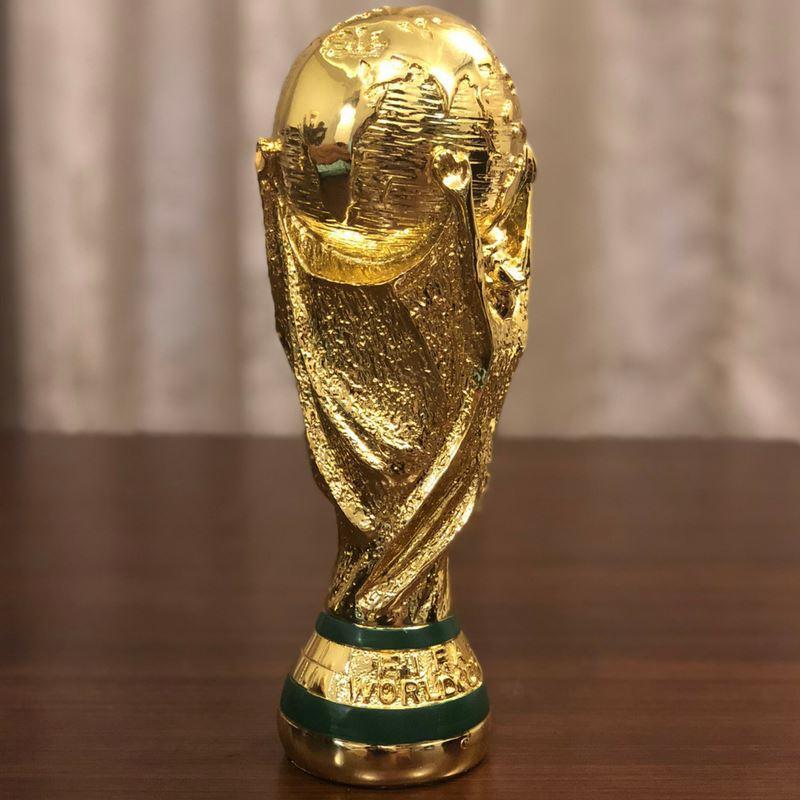 As Indians, we pride ourselves in our patriotism and unity for a country of such distinct, yet immense diversity. 
We will go to great lengths to defend not just our country, but also for our culture, our ethnicity, our city, our language, and other sociological groups we belong to. However, every 4 years, for a month-long carnival, we experience a phenomenal shift from this. For a month, we shift our feelings of patriotism to a completely alien country, for an event occurring almost 5000 kilometers away. Indeed - the FIFA World Cup bandwagon is about to roll in town, and the World Cup fever is about to go viral.
Even in a cricket-crazy country, Indian football fans are just as, if not more, passionate as any other set of fans. We see unheralded patriotism on action in cricket - the Indian cricket fan has a vastly wide range of emotions. Indian cricket fans can go as far as literally worshiping cricketers, and can also go as far as stoning cricketers' houses. The passion of a typical Indian cricket fan is undoubtedly unbridled and knows no bounds on either end of the spectrum. The Indian football fan, however, is fast catching up.


These days, it is not an uncommon sight to see the walls and work desk of a fan with posters and memorabilia of Lionel Messi, Cristiano Ronaldo and some of their other favorite football stars, as their means of showing their devotion. When Messi visited Kolkata in 2011, he got an absolutely rousing reception, putting a whole metropolitan city to a standstill - something which even most cricketers can only dream of. The whole city turned blue and white for a while, as fans poured out with flags, jerseys and chants of their idol, in a bid to get a once-in-a-lifetime glimpse from close range.





Indian football fans may not have had a homegrown hero to look up to when they grew up, something cricket fans have had more than an abundance of. They may not have had a local club to speak about, to associate themselves with, and feel passionate about. Their national side has never been on the precipice of anything big - and did not even receive major coverage till very recently. They've never had the opportunity of watching the world's best live in a stadium near them, in a serious match.
The fickleness of an Indian football fan's loyalties is even considered a laughing stock, among foreign fans. Despite all this, the Indian football fan remains as passionate as ever - and its effects are showing - Indian football is growing as much as ever.
It's true - Indian fans, for the larger part, only support the big and successful teams. Often termed as "glory hunters", fans often support the team most successful during the period they started watching football in. And why wouldn't they - who would want to support a nondescript team, who have no success, whose matches are hard to catch, without any social, emotional or geographical connect to a side.
Yet, fans often stay up till as late as 3 am to watch their favorite stars in action - something no European fan has to do on a regular basis. They tune in with bated breath, in late hours, just to show their passion for a side they have no tangible connect to.
Fans buy Fifa World Cup Football Merchandise and themed products to show their loyalties. They buy gifts. They paint their walls and line up posters of their favorite footballers and football teams. They throng malls, bars, pubs and other public places to watch the matches in a festive atmosphere, to be with other like-minded football freaks, especially during big tournaments like the World Cup - go to any mall or a pub during a big match, and you will scarcely find one not bitten by this fever.
Screenings, where fans congregate to watch their favorite footballers battle it out on a big screen, are especially popular in big cities these days, with specialized fan clubs for the teams involved organizing them. During big matches, even footballing legends from European countries are flown in for certain official screenings - just to get a taste of the Indian football-crazy vibe.

Even the powers that be have taken note of the football-craziness of Indian fans, and Asian fans as a whole - both Premier League and La Liga, two of the if not the two biggest leagues in the world, have actively changed their fixture timings to cater to the Asian fanbase - shifting them earlier to account for the time difference. While the Premier League also hosts a pre-season tournament - the Premier League Asia Trophy - to satiate the hunger of the Asian fans, La Liga are shifting more and more of their fixtures as early as possible.
This is where the World Cup fever steps in. For a month, all Indians put their patriotism aside and superimpose it upon a completely alien country. They adore their players. They treat them like their own. They show their passion. They learn other country's culture. They shout slogans in their languages. They frame their schedules around the match timings of our favourite teams. They don their jerseys, as proudly they would don their own. They celebrate their wins, just as gleefully as they would in their own. They mourn their losses, just as despondently as they would in their own.
This is further magnified in traditionally football-crazy zones in India - such as West Bengal - a state which terms cricket as their religion, but football as their faith - Goa, Kerala and the north-eastern belt, but also in other big cities, where football is fast becoming the go-to sport.
There, the World Cup is celebrated like a carnival - a festival of fun and frolic which only comes once in 4 years, so they cherish each day it lasts. Brazil and Argentina, the traditional Latin powerhouses, dominate the majority of the frenzy.





In a couple of weeks' time, don't be surprised to go to a Kolkata market and find Neymar graffiti on the wall. Don't be surprised to go to a Goa street and find Ronaldo sculptures around. Don't be surprised to go to a Delhi bar and see chants of Messi, Messi, much like we heard Sachin, Sachin in the days of yore. Don't be surprised to go to a Mumbai mall and see World Cup trophy structures all around. Don't be surprised to see slogans of Die Mannschaft (German: the team) around the roads of Bangalore. Expect to see more Brazil, Argentina and Germany flags in the cities than the tricolor. Expect them to wave just as boldly as it.
It comes just as well that India is in the midst of a bit of a footballing revolution, as the World Cup rolls by. Termed as many by an eternally sleeping dragon with regards to football, it seems as if the dragon may finally have started waking up. Of course, with regards to the grander scheme of things, India still reflects nothing more than a mere drop in the ocean. But it is a drop that has come a long way, with regards to the standards it has set in the past.
Inspired by the successful hosting of the FIFA U-17 World Cup last October, Indian football finally got the global exposure it had longed for - in terms of all 3 aspects - media, fans and squaring up against the best in the world, instead of facing similarly ranked lowly teams. Be it at the age group level, the players that featured were still the future generation of not just India, but world football.
Indian players got their first trial-by-combat in front of large crowds - as the U-17 World Cup comfortably broke the attendance records for any events of its ilk. And they didn't fare too badly - they may have lost all 3 matches, but they certainly won hearts and it did not look like the youngsters were fish out of water at any stage - they looked as if they could belong on the level with the proper training and guidance. With the successful hosting of a major international event, India has proved that it is a reliable host for the future - and it will spark more investment in infrastructure and training facilities, something that will bear fruit in the long-term.
The winds of change have also been encouraged by the successful reception to the Indian Super League. Although the quality of football may not be at par yet, the attendances have been - on par with some of the top 5 leagues in the world, giving players the invaluable exposure. They have also gotten to rub shoulders with some of the biggest names in the world - players and coaches alike. They may be past their sell-by date, but the legends still remain one of the biggest knowledge banks in the world to tap into and pick up a trick or two.
The results are there to see - the progress of the ISL has directly correlated with the upsurge of the form of the national team, as it has seen players raise their game - as well as new hidden gems being found, such as Sandesh Jhingan and Romeo Fernandes. Once the I-League-ISL tussle is resolved, things are only looking on the up for domestic football. It seems to be paying dividends for the long-term too - the ISL's grassroots campaign, aimed at enabling boys and girls between the ages 6 and 14 to play football, already has over a million enthusiastic children using the improved facilities and guidance.
With the cash infusion in the ISL - although it is nowhere close to the levels of cricket's Indian Premier League - football is seeming like a more viable career than ever. This is reflected on the youth of today as well - more and more youth, especially in the big cities and the traditional footballing belts, are taking to football on the streets and the parks, even more so than cricket in certain places. With a financially sound career in football finally a prospect now, the participation numbers will naturally increase. But for now, the youth only want one thing - to see their country line up against the world's best in a senior World Cup. It may be a long way away still, but we dare to dream. Until then, ersatz home countries and patriotism will have to do.





The FIFA World Cup is one of the biggest showpiece events in world sport. Even a country like India, who have always languished in football, who have not even come close to even a glimmer of qualifying for this tournament, is not exempt from this fever. It's time for the beautiful game to take its shape in its most regale of forms.
The stage is set, the gladiators are ready, the ball is about to roll, the battle lines have been drawn - which side are you on? How are you showing your passion for your adopted home for the summer?
---