FIFA World Cup - Week 3 - Things You Might Not Have Noticed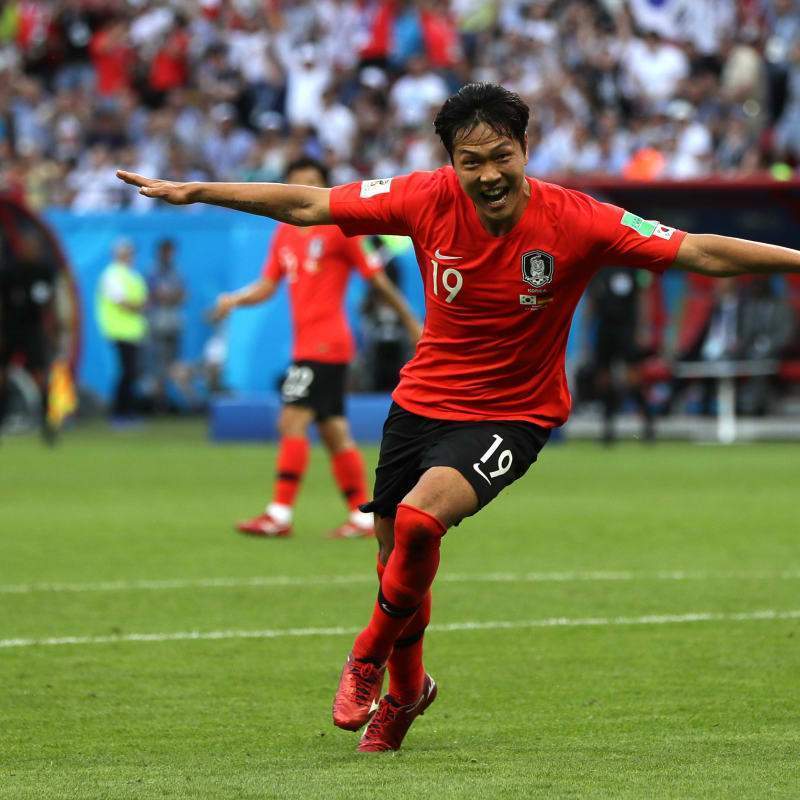 The tensely fought group stages of the FIFA World Cup finally reached their conclusion. The third round of game saw many sparks fly around as half the teams went home.
The last round of fixtures of the group stages is always the most congested - 16 fixtures over 4 days, with two matches at once. You might've followed all the scores, but it's hard to keep up with all the incidents. Don't worry - Bigsmall.in have been keeping an eagle's eye on all the funny and quirky incidents that happen on and off the field in Russia.
1. Morocco wideman makes "heartfelt" confession
Morocco took on northern neighbors Spain in a Group B encounter. Morocco had already been eliminated, while all Spain needed to seal their progress was a draw. Courtesy defensive blunders from the Gerard Pique and Sergio Ramos led backline, Morocco led first up, before an equalizer from Isco. The Africans fired back in the second half.
The end saw momentous controversy, with Iago Aspas' slickly taken backheel finish to make it 2-2 in the stoppage time being ruled out for offside on-field. VAR was consulted and the goal was eventually given. Morocco winger, Nordin Amrabat, was having none of it, letting his thoughts out in the open.


Amrabat sums up VAR 😂😂😂👍🏽 pic.twitter.com/vQsmxV9MwR

— World Cup ⚽️ (@TrueSccrLife) June 25, 2018

Amrabat made the VAR sign and branded it as "bull****" on live TV, as Morocco ended the World Cup winless as a result of the call. Nordin, if you're reading this by any chance, maybe you could wear our F Off Socks and barge into the VAR room to make your point better.
Until then, we're just going to have to disagree. Aspas' effort was clearly onside, and VAR made the correct call. Even if Morocco had won, they'd still be going home as the bottom side of the group. Maybe Amrabat can have some fries with that salt.
2. Indian fan cycles to Russia.. only to witness the worst match imaginable
Social media was set abuzz as reports of the story of an Indian fan, Clifin Francis, emerged. Francis had flew from his hometown in Kerala to Dubai, and bicycled from Dubai to Russia - yes, that's right, bicycled.
It was a 4 month epic journey, from Dubai to Iran, to Azerbaijan. From Azerbaijan, he went to Georgia, where he was refused entry despite having all the documents - he spent a day in the no-mans land in Azerbaijan, before finding his way into Russia through an unsafe detour from Dagestan. Francis took off on 23 February. He entered Dagestan on 5 June, fighting language, customs and accommodation issues on the way.
A football freak, Francis only wanted to see his favorite stars in action in the biggest football carnival. However, he could only secure tickets to one match - France vs Denmark. Yes, the France vs Denmark game which was the only goalless draw in the 48 group stage matches so far. The France vs Denmark game which France took as a warm-up match, resting 6 players, including Kylian Mbappe and Paul Pogba.
It must have been tragic for Francis - a 2,954 km flight, followed by a 4,728 km bike ride, to witness the only game which has seen no goals. Even Antoine Griezmann admitted that Denmark were playing for the draw, which was what they needed to progress, and France didn't press because they did not want any injuries - they had progressed.
Our condolences, Francis. After that long journey, maybe you could use some spa socks for relaxation.
3. Sweden do ex-legend a big favor
Sweden were to take on Mexico in a Group F clash, where only a win guaranteed them progression to the next round. Former Sweden legend, Anders Svensson, the most capped player in Sweden history - having turned out for them 148 times, set the gauntlet down for his countrymen.
Svensson, nicknamed "Taco" for his love of the Mexican dish, promised to never eat tacos if Mexico knocked his homeland out of the World Cup. He posted a video of him eating tacos, for perhaps the last time.
Sweden did the business for Svensson - they ran out 3-0 winners, goals from Ludwig Augustinsson, Andreas Granqvist and an own goal from Edson Alvarez. The Scandinavian country progressed to the round of 16, where they will now take on Switzerland.
Svensson will now live happily ever after - he can now enjoy his favorite Tacos without any guilt. How about this Taco Keeper, Anders?
4. Neuer's absolute moment of madness
Champions Germany took on South Korea, in a must-win clash to avoid the ignominy of being dumped out in the group stages itself. After a Toni Kroos set-play move in the 95th minute handed them 3 points against Sweden, their confidence was on a high. It would be a canter against point-less Korea. Or so they thought.
Germany tried everything in the book, but failed to find a breakthrough due to keeper Cho Hyun-Woo's inspired effort. Their hopes almost ended when Kim Young Gwon turned in a corner in stoppage time. It was ruled out due to offside, but VAR confirmed that it was indeed onside.
Their hopes, though, ended after captain Manuel Neuer had an absolute moment of madness. He thought enough was enough - he had to take matters into his own hands, or feet. After Korea's first goal, Neuer charged up into the midfield - like an outfielder. This was unprecedented. Neuer has made his name as a "sweeper-keeper", but that was only to dispossess attackers in front of the box - or on the counter, when he was the last line of defense. 


Here, Mats Hummels and Niklas Sule were defending behind Neuer. Neuer was duly dispossessed on the left wing, a Korean player launched a long-ball forward and Heung-Min Son scored the easiest goal he ever might - walking the ball into the net. Neuer probably thought it was over anyway, but funnier things have happened in football - surely a team with so many Bayern Munich players remember the legendary 1999 Champions League final well.

5. Messi gives reporter a story for a lifetime 
We've seen Lionel Messi show plenty of magic on the field over the years. This week, he showed magic on and off it. An Argentinean reporter, after Argentina's 1-1 drab draw to Iceland, asked Messi if he would take a good luck amulet from his mother - who loves Messi more than she loves her reporter son.
After Argentina's hard-fought 2-1 victory over Nigeria - courtesy a moment of magic from Messi and a Marcos Rojo late goal, the same reporter encountered Messi again. He asked if he remembered the ribbon. Messi proceeded to blow him away.



The little genius revealed that he had worn it on his leg all along, giving the reporter a mini-heart attack. He proceeded to ask if Messi had scored the magical goal with that leg, but alas, it was from the other leg. This is what makes the World Cup even greater - not just the action, but also the feel-good stories.
It's perhaps impossible to make someone as happy as Messi just made a reporter and his mother, but you can try. Gift a Messi fan the Messi bobblehead and the Argentina fan sunglasses and you might just put a smile on their face, as their hero tries to write Argentina's redemption; and another page in his own legacy. 


6. Japan go through on Fair Play.. in the biggest irony of the World Cup
Before the World Cup even started, Group H was touted to be one of the most open groups - with Colombia, Japan, Senegal and Poland all being sides with little to separate them. In action, it was the same - Poland were the only side knocked out with no points in their first 2 games, while the other 3 sides were separated by just a point.
Japan took on eliminated Poland in the final set of games, requiring a draw to go through regardless of what happened in the other fixture - Colombia vs Senegal. In the 75th minute, Poland found themselves 1-0 up, while Colombia were leading by a similar scoreline. As it stood, Japan were going through - but there was nothing to separate them and Senegal.
They had the same points, goals difference, goals scored and head-to-head. Japan were going through on Fair Play - on the basis of having received fewer yellow cards than Senegal. Japan manager Akira Nishino had already dropped all his four goalscorers in the World Cup - Shinji Kagawa, Yuya Osako, Keisuke Honda and Takashi Inui, for the Poland clash.
In the 75th minute, he chose to go all out defense. Nishino instructed his team to pass the ball around the back, relying on Senegal not scoring a goal against Colombia. If Senegal scored, Japan would be out. If Poland scored another, Japan would be out. But that was not to be - Japan saw out the final few minutes, eliminated Poland, already winning, did not bother pressing, and Senegal failed to find a goal. The game ended at walking pace as the Volgograd crowd booed in anger.
Japan became the first side ever to go through on Fair Play, ironically, with an act of ungainly sportsmanship.


The World Cup action now shifts into the knockout stage, as the stakes become higher and higher - one mistake and a country could be out of the reckoning for the World Cup trophy. You don't have to worry about that though - you can enjoy the FIFA World Cup Trophy Replica from the comfort of your home. Enhance your World Cup experience with the best collection of FIFA World Cup gifts and more unique gift ideas. 
---