Fridge Magnets - A Cool Gift Idea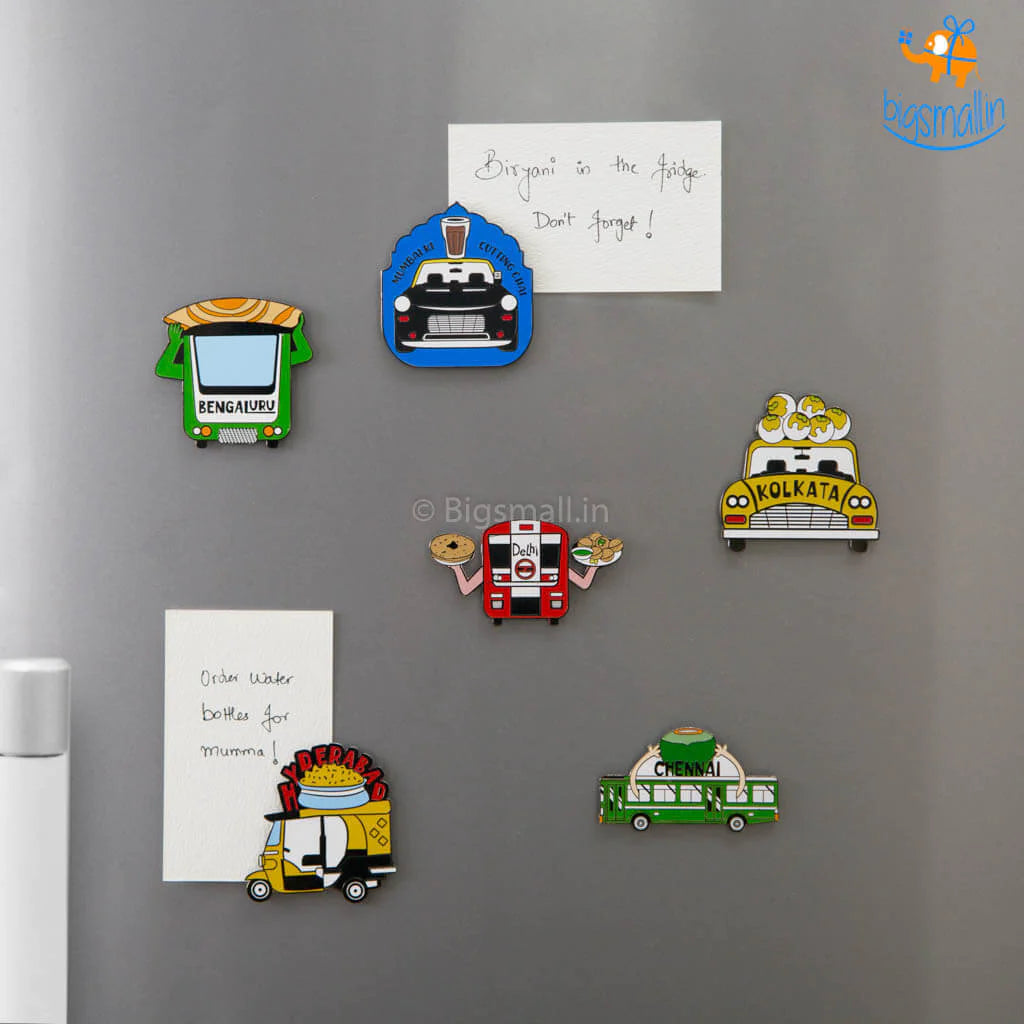 Who doesn't enjoy getting presents? But giving gifts calls for genuine feelings and competent abilities. The effort to choose the right present for the occasion may stump some people. Fridge Magnet Gifts by Bigsmall are one of the perfect present suggestions to clear up your uncertainty.
Unlocking Creativity: The Charm of Fridge Magnets as Gifts
A magnet is one of the most lovely memories you can save for yourself. Not only can you tape vital messages, but you can also attach them on metallic surfaces; see them daily and give your memories of that specific individual a dynamic feel. Why not choose the quirky fridge magnets instead?
It will be a lovely present if you have any unique memories with your spouse or even your parents. You could think it is a pretty modest and ordinary present, but it is not. Let's examine how.
Comes in a Variety of Designs and Styles
As we all know, cute fridge magnets come in different forms and patterns. You may choose the perfect one based on who you are giving it to. Choose a panda design or one from a place you have traveled to with your child if you're searching for a fridge magnet for kids. Additionally, it has superior alloy high-quality metal with etched patterns. Now, you may enter via the metals made of wood and crystal glass.
This gift is perfect if you're seeking presents that may express your emotions while fitting into your budget. When your loved ones are apart from you, and you still miss them, you may still communicate your love and care for them. Additionally, no one will ever care how affordable these magnets are since they are so captivating.
Takes Far Less Room and Weighs Considerably Less
Magnets' relatively low weight is one of its finest qualities. They don't take up a lot of room in your suitcase. Therefore, carrying these magnets as gifts won't add weight to your luggage while you travel or return to your location.
Creative Ways to Use Fridge Magnets
You don't necessarily have to utilize the refrigerator magnet on the refrigerator alone. There are several other uses for them, particularly if you have children.
Let's find it out.
If you have unique fridge magnets for kids, you may use them to show the youngsters the patterns and teach them new phrases. Development at a young age is crucial for children and accomplished in this way with the finest intentions.
You may be familiar with the magnetic fishing letters that come with a magnetic wand. Spreading the fridge magnets out on the floor and catching them with the fishing wand makes for a pleasant pastime.
Personalise in Various Forms
You may choose from different forms for the magnets for couples, such as the heart or the home, and attach your family or couple photos on them to put a fresh spin on your love. These magnets will stick on the refrigerator or any other metallic surface in your home.
9 Unique Fridge Magnets For Your Loved Ones
Bigsmall has the best fridge magnet ideas for your loved ones.
1. Personalized Caricature Wooden Fridge Magnet
The caricature wooden fridge magnet is the ideal choice if you're seeking customized presents for him. You may engrave the Wooden Magnet with your partner's face to make him treasure your love forever.
2. Paise Fridge Magnets
How about paise-shaped refrigerator magnets? Well, this appears to be fascinating and unique. This time, the best birthday presents are these quirky fridge magnets. It will transport you back to those delightful school years when you could buy quirky treats on the streets with
these pennies.
3. Personalized Couple Wooden Fridge Magnet
Do you think that love is truly a match created in heaven? For your loved one, you may choose a personalized pair of wooden fridge magnets to show your love.
4. Wooden Superhero Fridge Magnets
Do you not believe that the wooden magnets are the stars? Well, they are so flawless that they have created designs ideal for followers of Marvel.
5. Personalized Puzzle Pieces Wooden Fridge Magnet
Is your relationship strong enough to withstand your partner's outbursts? We are always in love with our relationships, regardless of how much we argue or struggle. So you may use this collection to solve the mysteries of love. It shows that people are constantly connected, no matter how far apart they may be, making it a perfect gift for him.
6. Personalized Heart Name Wooden Fridge Magnet
You may customize this adorable heart-shaped magnet with your name or a nickname to express how much you cherish that person in your life. Well, this would be a perfect gift for her.
7. Kitty Fridge Magnet
We offer this cat fridge magnet for all animal lovers to hang up your shopping list or photos you never want to lose.
8. Manchester United Wooden Fridge Magnet
There are quirky options available to football fans than simply hanging posters in their rooms. This Red Devils fridge magnet will be in your kitchen for always, representing your beloved team.
9. Personalized Best Dad Wooden Fridge Magnet
You won't ever forget everything your father gave up for you! This time, you may offer your dad a wonderful present with your memorable photos and thoughtful notes engraved on a wooden magnet.
Shop - Fathers Day Gift
We at Bigsmall are constantly ready and ecstatic to deliver something fresh for you and enhance the excitement of your experience. You may buy a selection of fridge magnet gifts online for yourself and others.
FAQs
1. How do fridge magnets benefit you?
Fridge magnets are handy for pinning critical notes or your to-do list, which you can put on any magnetic surface.
2. Why is a fridge magnet the best gift to choose?
Fridge magnets highlight how they may make your life easier by helping you keep track of your to-do list or commemorate your special moments.
3. What is the history of the popularity of fridge magnets?
The fridge magnets, first designed as attractive and practical cartoon magnets, gained popularity as plastic letters and numbers with magnets attached to the reverse.
---