Make this Rakhi Season Memorable: Exciting Surprises For Bhaiya and Bhabhi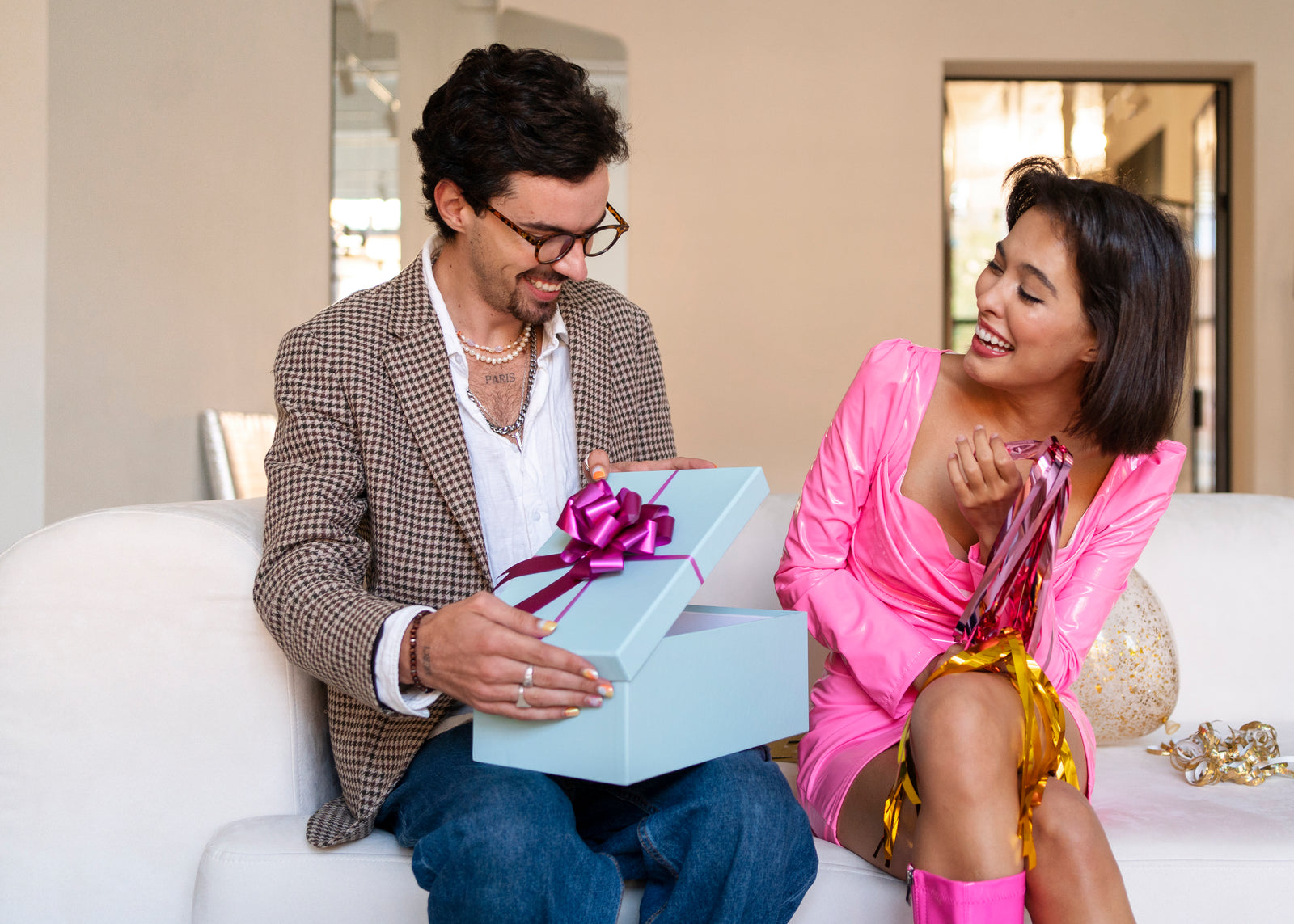 Rakhi celebrates the unique connection that exists between siblings. Sisters tie Rakhi on their brothers' wrists as a sign of love, respect, and protection during traditional Raksha Bandhan celebrations. The link between brothers and sisters symbolize through the Rakhi ceremony. Its importance varies according to geography and cultural traditions. To indicate the bond between them and to ask for their protection and well-being, sisters in various parts of India tie rakhis on their brothers and sisters-in-law. This tradition demonstrates the festival's inclusivity by treating the brother's spouse as a part of the family.
The unique experiences and dynamics that each year presents have the potential to make the Rakhi celebration extra meaningful. Families may add new customs, rituals, or themes to their Rakhi celebrations to vary them from previous years. It's also possible that the distinction results in siblings interacting and how household dynamics change.
Tying a Rakhi to Bhabhi
In some parts of India, it is customary to give a rakhi to one's sister-in-law or bhabhi on the occasion of Raksha Bandhan. Although the link between brothers and sisters is the main focus of Raksha Bandhan, some families also include the sister-in-law in this celebration. The motive of tying a Rakhi signifies the promise of protection, and people can protect each other despite their age. 
Often a brother ties a rakhi to his bhabhi, though it is not a widespread custom. This action demonstrates the brother's concern and acceptance of his sister-in-law as family. It highlights the relationship between the brother, sister, and sister-in-law and supports the notion of harmony and closeness within the family.
You can choose traditional designs or look into more modern alternatives on her preferences. Create a religious ambiance by lighting the diya. Tie a rakhi around your sister-in-law's wrist and seek a blessing on this auspicious occasion of Raksha Bandhan. The best surprises are heartfelt. To show them how much they mean to you, tailor your surprise to their interests and preferences. It is vital to make them feel loved and valued. Cherish this unique occasion of Raksha Bandhan with love.
Some best gifting ideas for Bhaiya and Bhabhi:
1. Personalized Caricature Round Name Plate
If you want to surprise them, why not make it peculiar with quirky and unique products? Present gifts that may depict their bond and personality that are super exciting. The Personalized Caricature Round Name Plate is one such product that will be special and exciting. Gift it to your Bhaiya and Bhabhi and make them realize the respect, love, and care for them.
2. Bonsai Bluetooth Speaker Lamp With Wireless Charging Pad
Celebrate this rakhi by gifting unusually. Choose products that are useful, exciting, and quirky. The Bonsai Bluetooth Speaker Lamp With Wireless Charging Pad is a perfect option. This multipurpose Bluetooth speaker will ease your life skills. Use this product as a wireless charger, speaker, light, and table accessory. This item will play as a nice decor and grabs people's attention.
3. Happy Hour Flask And Shot Glasses Set
Another suggestion for the surprise is the Happy Hour Flask And Shot Glasses Set. If your Bhayya and Bhabhi are best drinking buddies, present this set. It's perfect for a couple since it comes as a set. Celebrate this rakhi with this unique shot set and enjoy happy hours with your loved one.
4. 3D Acrylic LED Message Board
Want to gift something creative and fun item to your Bhayya and Bhabhi, then the 3D Acrylic LED Message Board. If they love writing sticky notes or messages, it can replace all. The color pen and the light give an awesome vibe and will grab everyone's attention. Celebrate this rakhi with light, color, and love. Now, fall in love with scribbling.
5. Light Up Wall Art
If you have an artistic Bhayya and Bhabhi, this product will excite them. All your visitors will undoubtedly be impressed by this lovely image and the various light-up features. The wall art is changeable depending on the time of day. You can put the frame on a shelf or bookshelf or hang it easily. It will make a wonderful decorative present or a unique nightlight. Let them light up their world with this unique lamp. 
Surprises are special whether it's in the form of gifts or not. Let's see the other means of surprises! 
A perfect surprise is only possible when you truly understand a person. To induce happiness, one should know the trigger that can lead to the ultimate destination. Surprises prepared with your loved ones' interests and preferences in mind are the most considerate. The most crucial thing is to offer them a sense of value and specialness, so take it seriously. Below are some such surprises that will induce excitement:
1. Bake Their Favorite Snack
 When you know the daily stress and tension of your Bhayya-Bhabhi, why not give them a sweet stress buster packed with love? It becomes even more unique if you make it yourself. Prepare their favorite snack and uplift their mood with pure love. Nothing is more valuable than the effort you put into relationships. Start expressing your emotions from this Rakhi season onwards.
2. Surprise Spa
Everyone loves some pampering despite their age. The feeling of getting care and love itself is a different vibe. Make the pampering session refreshing too, and surprise them with a spa treatment. Give them a day to unwind and regenerate at a spa or other wellness facility. A relaxing spa package or a therapeutic massage will make the ideal surprise for them. It will be a perfect surprise that will make them happy and refreshed.
3. Quirky Coupons
Make a coupon book filled with redeemable gifts, such as "cooked meal," "night drive," or "massage night of their choice." Allow them to use these coupons whenever they want. This act will make them realize that you care for them. You know their likes and dislikes. That's how you maintain the family bond.
4. Letters
Let's be a little nostalgic and spread care and love differently. Imagine a day after completing your stressful working hours, sitting on your couch for relaxation, and then love arrives on paper! Isn't it amazing to receive handwritten letters as a token of love and care? When you are on the edge of stress, one word of love can motivate you, then a full-length letter can do wonders.
5. Gadget Free Day
When you have already decided to surprise, why not the rarest way? We live in a world dominated by technology and almost forgot face-to-face interactions. On this rakhi season, why not change this scenario? Surprise your Bhayya-bhabhi with a gadget-free day. Create a space where families can interact like, in old times. Technology is good, but it's good to revive the old. This festive season, create a wonderful space to express the feelings of your Bhayya-Bhabhi.
Unexpected events create moments that strengthen interpersonal emotional bonds. A sense of intimacy and closeness enhance the bond between the people. It fosters trust and reveals your awareness of their needs and desires. It keeps things fresh and prevents relationships from growing stale. Knowing someone loves and supports you can give you the drive to endure. As a result, interactions become funnier and more lighthearted. So make this rakhi memorable with surprises, uniqueness, and love. Let's just spread happiness!
Image by pikisuperstar
on Freepik
---