Creative Rakhis According to Zodiac and Sun Signs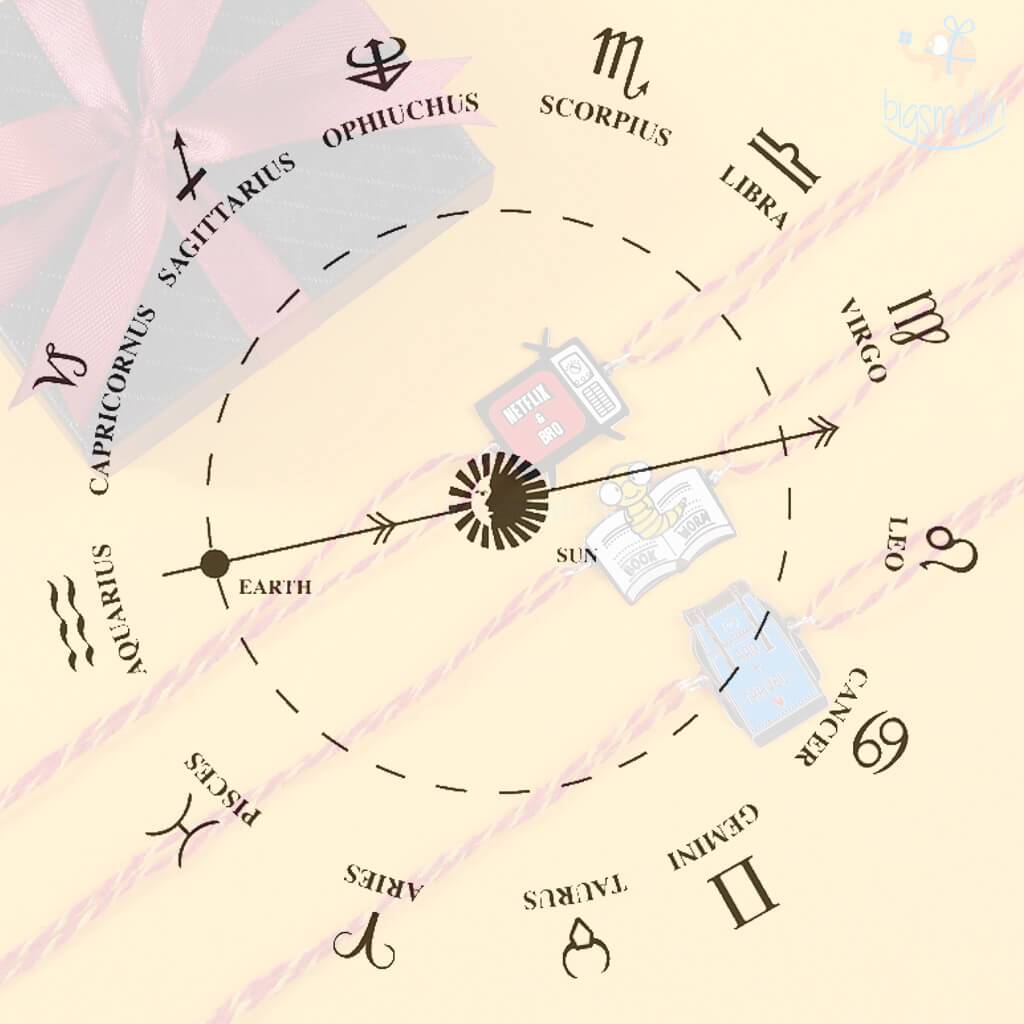 Wondering which rakhi would be suitable for your brother according to the zodiac sign he was born under? Team Bigsmall decided to live up to its promise of stocking cool rakhis for every type of brother by doing some digging in and dishing out zodiac trait-specific rakhis. So note down your siblings star sign colors and check these zodiac sign related gifts out. Send rakhi to your sibling in any corner of the world with our express delivery system. 
1. Aries Bro (March 21 - April 19)
Those born under Aries, the first of the zodiac signs are known to be numero uno in any and every field they choose to grace with their presence. The Bro#1 rakhi would do justice to the Arian Bro. Second to none being bold and ambitious they dive headfirst into even the most challenging situations.
2. Taurus Bro (April 20- May 20)
Taureans are known to be steadfast and prioritize consistency and reliability in all areas of their lives. Trustworthy and devoted to family, the Protector Bro Rakhi is tailormade for such a brother.   
3. Gemini Bro (May 21 - June 20)
The social butterflies of the zodiac, they are constantly juggling a variety of passions, hobbies, and careers. Such a brother can be found buzzing between happy hours, dinner parties, and dance floors. Gift him the Superman Bro Rakhi because he is no less than the DC superhero himself!
4. Cancer Bro (June 21 - July 22)
Cancerian brothers love playing the perfect host and enjoy entertaining with comfort food and free-flowing libations. (Cancer rules the stomach, so there's nothing these crabs love more than a home-cooked meal.) Such a brother would probably eat stuff from your plate too, gift him the personality-specific Bhukkad Bhai Rakhi and watch him break into an elfish grin! 
5. Leo Bro (July 23 - August 22)
Governed by the Sun, the dazzling celestial body that governs life and vitality, your Leo brother is quite the dude and achieves whatever target he sets, be it life goals, relationship goals, etc. The Dude Rakhi is tailormade for such a brother. 
6. Virgo Bro (August 23 - September 22)
Such a brother possesses a perfectionist approach to everything in life, be it, family, relationships or work. He believes in striving to provide workable solutions and improve broken systems. Honour his impeccable swag with the specially curated Swag Wala Bhai Rakhi. It is one of the best gifts for virgo man. 
7. Libra Bro (September 23 - October 22)
Quite the charmer, such a brother can effortlessly navigate any social situation and can resolve conflicts by just turning on his charm. Gift him the Iron Man Rakhi, because he is worth it!
8. Scorpio (October 23 - November 21)
Ruled by Pluto, that governs both destruction and transformation, scorpions tend to be slightly misunderstood.  On a good day, Scorpionic energy is ambitious and enticing. On a bad day, however, the shadowy side of Scorpio is fueled by a relentless desire for control. Tie him the Devil Bhai Rakhi and share a few laughs!
9. Saggitarius (November 22 - December 21)
Associated with adaptability and flexibility, this perfectly reflects the archer's deep-rooted desire for change. Born to explore they rarely stay put in one place, surprise him with the Traveler Backpack Bro Rakhi. 
10. Capricorn (December 22 - January 19) 
Having endured their fair share of hardships, they become increasingly youthful, optimistic, and playful as they mature. Your bro may seem a bit conservative and restrained at first, but you know how much he loves to party! Gift him the Dj Bro Rakhi and watch him flash that million-dollar smile. 
11. Aquarius Bro (January 20 - February 18)
Aquarians are one chilled out tribe, free-spirited and eccentric, they can often be identified by their offbeat fashion sensibilities, unusual hobbies, and nonconformist attitude. Delight your Aquarian bro with the funky Cool Bro Rakhi. 
12. Pisces Bro (February 19 - March 20)
Pisceans are kind and gentle souls who are invigorated by shared experiences of music and romance. Any relationship be it fraternal bonds with mystical Pisces is guaranteed to involve deep spiritual exploration. Surprise your Piscean sibling with the Bae Rakhi. 
Once you have zeroed in on the rakhi for your dearest sibling, don't forget to mention any message you might want to convey to your brother at the time of checkout and we will incorporate that on a personalized handwritten note which will accompany the chosen rakhi. You might also wanna check out really cool Rakhi gifts for brothers and sisters because sometimes one gift is just not enough for someone you love and care about so much!
---