Scratch World Map - A Revolutionary Way to Track Your Travels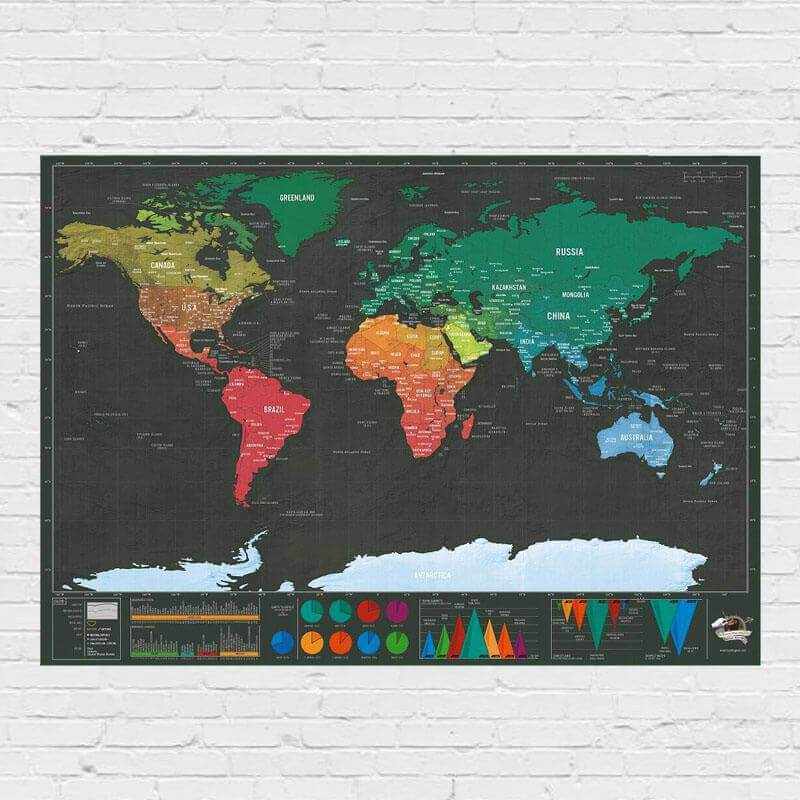 Henry David Thoreau once said, "not until are we lost, do we begin to understand ourselves."
The Earth is a vast marvel - it has several intricacies where we can be lost, and then find ourselves. In today's day and age, it is all the more essential - and alluring - to widen our horizons in this fast globalizing world, by travelling, and witnessing more and more of the wonders the world entails.
Once you start becoming avid traveller, you might be sleeping in one city and waking up in another. As you satiate your wanderlust backpacking from one place to another, it may become harder and harder to track your travels. Enter the Scratch World Map - a fascinatingly interactive way to track all the countries you've set foot in, and a unique gift every traveller would love to have on their wall!
The Scratch World Map is a magical map which truly befits the spectacular sights the world possesses. You must be wondering though, how exactly does it work? Fret not - we've got you covered. All you need to do is watch this video.



First, open up the matte black tube containing the map. Then, all you need to do is hang the map - you can hang it either on your wall or your door. A Bigsmall tip is to frame the map - it looks even better framed (frame not included). As a default, all the countries will be colored brown.
Once you travel to a country, take a steel ruler - and use the semi-round side of the ruler to gently scratch the country's location on the scratch map. After you scratch a country, it will magically reveal a different color from underneath. Each continent reveals a different color upon scratching. Once scratched, Africa reveals differing shades of red and yellow, Antarctica reveals white, Australia light blue, Eurasia green, North America orange and South America red.



Not just countries - below the world map, it also includes other important landmarks, fun facts and important tidbits about the Earth for you to scratch. Important landmarks include each continent's highest peak, the world's highest peak and the deepest trench, largest lakes - with comparable countries by area, to scale - scratch them in as you visit them too! With other important geographical information about the Earth also enlisted below, this map will enrich you with invaluable knowledge.



This map will not only track your travels and let you know which countries you've been to, but also serve as a constant reminder, on your wall, of which countries you're yet to set foot in - and spur you on to conquer the rest too! Like your things dark? Check out the Travel Scratch Map - Dark Edition - with a dark background and brighter colors upon scratching, it looks all the more beautiful!
So, what are you waiting for? Get travelling and conquer the world with the Scratch World Map. As the legendary Mark Twain once said, "20 years from now, you will be more disappointed than the things you didn't do than by the ones you did do. So throw off the bowlines, sail away from the safe harbor. Catch the trade winds in your sails. Explore. Dream. Discover." Don't regret what you didn't do 20 years down the line - start catching the trade winds, chasing your dreams and touring the world right now. This Scratch Map could be the perfect Gift for Guys or Gift for Girls, if they love travelling.

You can buy the Scratch World Map here, and the Scratch World Map - Dark Edition here.
Is touring the world on your bucket list? Add it - as well as your other adventurous fancies - on your bucket list with the 365 Bucket List Gift Box! With detailed and informative prompts, maintain and check off activities from your bucket list on the fly - while scratching out countries on the scratch map.
Dread those long journeys? The J-Neck Pillow might be your knight in shining armor. With its distinct J-shape, it provides for a headrest, chinrest and neckrest - all in one go. Travel comfortably and put jetlag to bed!
Check out some more extremely unique and practical Travel Essentials to make your journeys hassle free.
---