SockSoho: Colorful and Dapper Socks to Gift this Christmas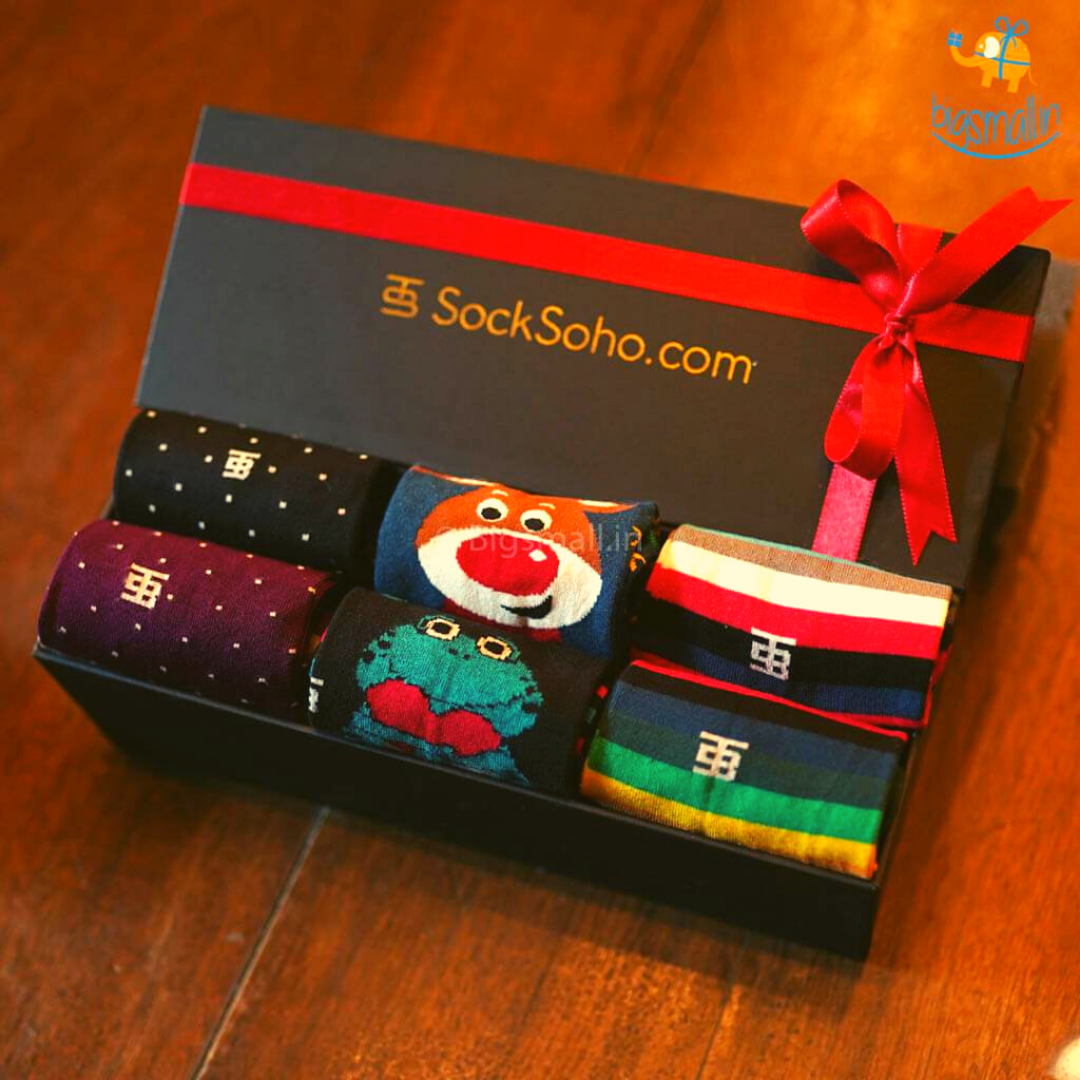 Have you ever wondered what makes you, you? You know, different than the other gazillion people in the world out there? Well, I think our personality, the way we carry ourselves and the way we express our selves makes us stand out tremendously.
No, no. This is not a random rant. It's about gifting our loved ones something they'll cherish more than any other gift because it will speak to their personality. But then you're at Bigsmall, of course it all comes down to out of the box gifts! Gifting someone something in itself is such a contagiously happy process but when we add the most awaited celebration of the year, (yeah, I'm talking about Christmas here!) to the process, it becomes so much more exciting and simply put, magical. Whether it is Christmas gift for friends, Christmas gift for boyfriend, Christmas gift for girlfriend, or trying to find Christmas gifts on a budget, here at Bigsmall, you'll find it all. Isn't that amazing? 
With our everydays being oh-so-busy with work and whatnot, often we are not able to find the space to express ourselves, even dress up the way we would if we had some time on us, or if we could ever catch up on our long lost sleep. So express the inner you in a minute manner with this one. We bring to you, one of the best gifts you could ever gift someone, especially on Christmas! Be it their Secret Santa gift, or their Birthday gift, it'll be equally heartwarming, we promise you.
Now you must be wondering, what exactly is this thing? So we reveal...
Socksoho Socks! Yes, socks. Think about it. In the monotony of everyday life, the kind of clothes we wear, even more so, the kind of socks we wear speak so much about us. (No matter we are unable to find the left sock of the one we want to wear in the morning.) There are people who wear black and white socks, then there are those who wear mismatched socks, the ones who wear colorful socks, the ones who love stripes socks, the ones who wear socks with holes in them and well, it could go on and on but you get the idea.
So! Without further ado, let's get into the best kind of socks you could gift your loved ones, especially this Christmas, because the tradition of Christmas and socks go way back, doesn't it?
1. Stripes! Stripes! Stripes! 
When it comes to colorful stripes, they look so creative and at the same time, organized, somehow. The Blueberry Stripes Socks, Hawaii Striped Socks, or the Yellowstone Stripes Socks would be a perfect fit for that friend who loves stripes. 
2. The Classic Black and White
You can never go wrong with the classics. Put on these incredible socks to match your elegant personality as you set off to work, to school, on a business trip or simply for pleasure! Dance away your worries or simply chill on the sofa, these fun pair of socks have got your feet covered. Made of cotton, they ensure that your feet breathe easy and feel great throughout the day. One size fits all! So go on, experience this luxury piece of artisan craftsmanship on your feet. Or gift this incredible experience to a loved one. Try the Classic Black Socks and it will not fail you.
3. Christmas Themed Socks
There isn't any better time to gift colorful socks than Christmas. The tradition of hanging socks, the Christmas spirit, the gift wraps! Oh, it's a fest, alright. If you're looking for a Christmas present for someone who lovesssss Christmas, then this is it, my friend. Oh, and the Happy Reindeer Socks could not get more Christmassy.
4. Artistic Socks
Well, if you love a pop of colours and are inspired by art, then these ones are definitely for you. Bring a pair home for yourself while you bring along one for your artistic brother. The best choices would be Steve Jobs Socks, Bold Vikings Socks and Silicon Valley Socks.
5. Sock Gift Boxes! 
By now, we're pretty sure, you've made up your mind and you love these socks almost as much as we do, so we'll tell you what. Buy yourself (or that special someone) a gift box inclusive of these gorgeous and super comfy socks and you'll definitely thank yourself. A mix of quirky, luxury, and everyday socks that can cheer anyone and bring a smile on their face, these gift boxes are the best of them all to cheer up a low day. You could choose the Happy Socks Gift Box, the Luxury Socks Gift Box, the Power Socks Gift Box, or the very ultimate, Ultimate Socks Gift Box.
There is nothing left, my friend! This is all you need!
Go on and order those socks and rock your everyday!
P.S. Your Christmas presents 2022 are sorted, that's for sure.
---