The Inception & Journey of International Women's Day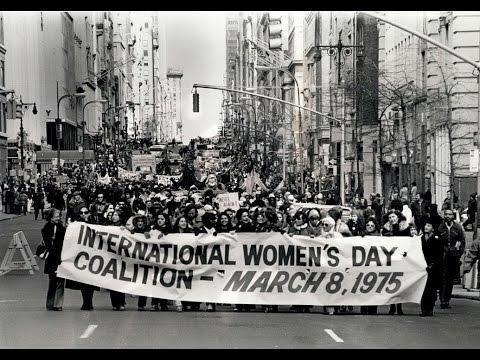 Why do we celebrate International Women's Day?
It is an incredible fact that a woman plays a number of roles in their lives with the same care and compassion. A woman is a daughter, a sister, a friend, a wife, a mother and is also one amongst the most dedicated employees at her workplace. She gives life to another life and happily takes the onus of the entire existence of mankind as a blessing. The strength and zeal she brings to your life without seeking for anything in return make her the strongest living creature on the planet. The International women's day is the day when we celebrate every little sacrifice a woman makes in order to create a happy surrounding for all of us.


When is International Women's Day?
International Women's Day is celebrated on the 8th of March, every year. The first Women's day was observed on February 28, 1909 in New York and was called the "National Woman's Day". This event was organised by the Socialist Party of America at Theresa Malkiel's suggestion. Inspired by this event, a renowned German Socialist Luise Zietz proposed the idea of the establishment of annual International Women's Day.
This idea was proposed in the general meeting of the Socialist Second International in Copenhagen, Denmark in the year 1910. Their delegates along with 100 women from 17 countries joined hands together to promote the equal rights and suffrage for women around the globe. Later on March 19, 1911, the International women's day was observed in Germany, Austria, Denmark and Switzerland for the very first time in the history of mankind. Millions of people participated in rallies, demanding for the right to vote, to hold public offices, to vocational training and to end discrimination on the job.
During the World War I, the Russian Women observed their very first International Women's Day as an integral part of the peace movement. On that very day in 1914, the women of Europe held rallies to protest against the war and to express solidarity. Again on 8th March 1917, the Russian women protested for "Bread and Peace" along with the end of World War I and called for a strike. This marked the beginning of Russian Revolution and the end of Czarism. After 7 days, the Emperor of Russia, Nicholas II was abandoned and the provisional Government granted the right to vote to women.
In 1975, the United Nations started observing the International Women's Day on the 8th of March. Later in 1977, the General Assembly of the United States invited the member states to proclaim March 8 as the UN Day for women's rights and world peace. And then, all the various countries around the globe started accepting the concept of International Women's day and celebrating it slowly and gradually.
In countries like Afghanistan, Georgia, China, Cuba and many more, this day is an official holiday. In Cameroon, Romania, Serbia, Chile and Montenegro, this day is not a public holiday but the women's day celebration takes place on a large scale. In many countries, there is a custom of giving flowers to women and sometimes the women receive gifts from their employers. School children often bring gifts for their female teachers on this day.
Just like the other countries, women's day in India is celebrated with a similar zeal and enthusiasm. Many public and private organisations gear up for this day and participate in various activities like seminars, mass rallies, TV shows and documentaries.
There are various NGOs working towards the upliftment of women in the society by organising gender sensitive plays to create awareness about gender equality and sufferings of the women. Several other organisations are working in order to promote girl child education, eradicate dowry system and reservation of seats in local panchayats for women so that more and more women become self-dependent. Still, a lot of work is required to be done in both the public and private sectors.
Women's day in India is also celebrated to make people aware of all the progress that has been made till date and all that still needs to be done. Gandhiji said, 'Intellectually, mentally, and spiritually, a woman is equivalent to a male and she can participate in every activity'. India is a home to a number of Mother Goddesses and women in India have always been honoured and respected. From Sita in Ramayana to the Rani of Jhansi, there are so many women who are celebrated from the historic times. Their contribution in bringing social changes and awareness has been immensely great. In India, women are worshipped as Shakti (Strength), Saraswati (Knowledge) and Lakshmi (Wealth and Prosperity).
In the modern era, women are playing a stupendous role in every field, be it in politics, family life, society or academic careers. They are standing neck-to-neck with the men by emerging out of their conventional roles and realising their unlimited potential. Women of today are unstoppable and extremely committed to taking up major roles and are contributing towards a significant change in the society.
These days, women have started speaking up about their personal mishaps from the past which gave birth to the 'Me Too Movement' which was later termed as 'The Silence Breakers'. This movement had taken the internet by storm and shook every single soul from inside because no one knew about the violence women have been going through and still keeping quiet.



In an ever-changing world, puzzled with globalisation, digital revolutions and technological improvements, the difficulties a woman faces have become manifold. So this women's day, let's give a shout out to every woman in the world to be fiercely bold in the name of change, to take risks and stand firm on their grounds, to be brave and to push the world towards an inclusive, gender-equal future. Let us take the world towards a future where there is no violence against women and where no woman has to say a "Me Too" again. And I strongly believe that there is no other idea for women's day celebration, better than this. Let us make this women's day a 'Happy Women's Day' for all! For surprise gifts, visit women's day gifts collection at bigsmall.
---