Why a Travel Scratch Map is a Great Gifting Idea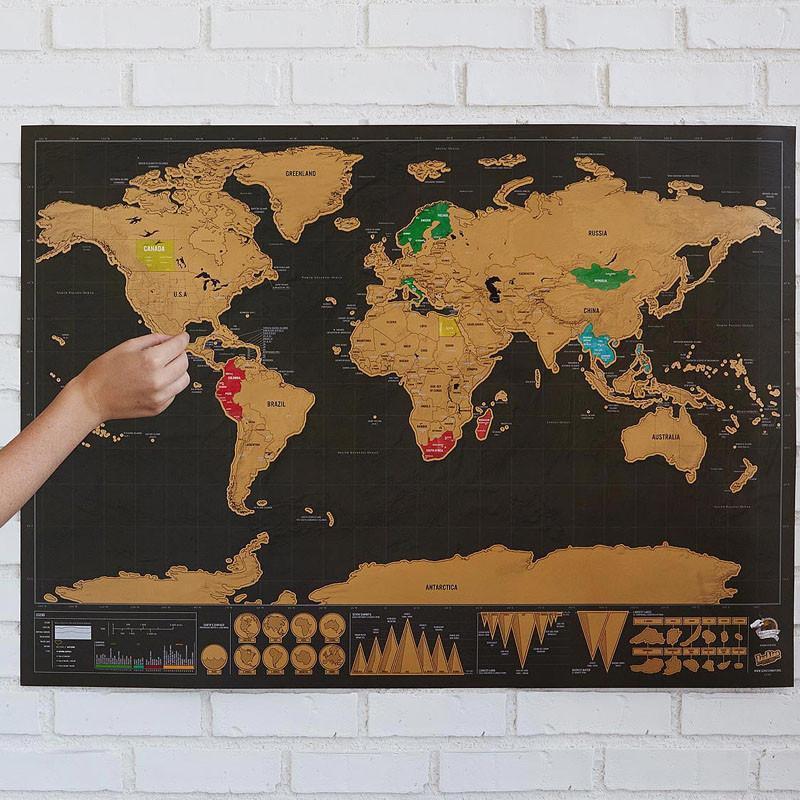 The world is too big and almost everyone in today's age and time has a desire to travel. People like to explore new places because of various reasons, be it getting away from the "boring" town one has always lived in or simply because of the adventures and thrill.
We've all got that one friend whom we rarely see in person because they're always off to new places. Have you ever found yourself in a pickle thinking about what to gift a friend whose love for travel knows no bounds? Well, fear not, there's a perfect gift for every traveller, one that is definitely going to make them happy. It is something of infinite importance to them and they'll be thanking you every second of the day for picking up such a wonderful gift. A Map! We all know how important a map is to a traveller. They will forget their partner's birthday but never a map. So, what better gift than that? Oh, not your regular, mundane map but one that comes with a surprise- a scratch map!
A Travel Scratch Map is a great gift to give to anyone who adores travelling. You can scratch on the map all the places you have ever visited. It's colourful, beautiful and undeniably fun.


Bigsmall Tip: This Scratch Map looks best when framed (without the glass, of course) and hung up on a wall.
1. Record Your Colourful Adventures
A Travel Scratch Map is an outstanding gift for a travel enthusiast. It allows a person to tell a unique story of their expeditions. The complete personalization that this map offers is what makes it such a special present. Scratching it will unveil various colours as each continent has different colour underneath. Seeing a colourful, personalised map will not only add to the fun of travelling but will also make one realise how lucky they've been to have travelled so many places.
2. Ignite Wanderlust
It could be a nice gift for someone who perhaps doesn't travel as much as they'd like. We also have that one friend who's always talking about their passion for travelling but never really move from their couch because they have got no motivation. A Travel Scratch Map is a fantastic way to ignite the wanderlust in them and create an itch so bad that it could only be rid of by travelling and then scratching. After all, who doesn't love a good scratch when it itches?
3. Make Your Room as Special and Unique as Your Ventures
They can start by sticking this on the most noticeable part of the wall or on your door. Every time they will look at it, they'll think about how much of the world they've seen and how much they've yet to explore. This map will be the first thing that anyone will notice in their room. That makes is pretty special, right? It is also the perfect way to show off all the cities and countries they've been to while brightening up their wall with a vibrant and interactive map.
4. Get yourself acquainted with geography
Hey, you can also gift your friend a free geography lesson along with the map. So what if they never paid attention during the geography class in school? Learning about the physical features of the world has never been more interesting! Travel, scratch, learn and repeat!
5. It makes coming home fun even for the nomad in you.
For someone who is always jetting off to new places in search of adventures, there's hardly anything that makes coming back home a thing to look forward to. But, the feeling of accomplishment one gets while scratching off the top layer and revealing the vibrant, colourful place you just left your mark on is truly a feeling to cherish. If a thing can make someone experience this kind of feeling, then it, without a doubt, makes for a splendid gift.
6. Share and compare
Now then if you decided to gift a Travel Scratch Map to your globetrotter friend, why not buy one for yourself? Imagine the fun that you and your friend will have sharing and comparing your adventures! It could make way for a healthy competition so as to see who has conquered how much of the world. What a great way to share your experiences and the stories you made along the way, isn't it?
So, stop scratching your head for gift ideas and let your travel addict friend do the scratching instead!
Get this amazing Scratch World Map at bigsmall.in right now!


At bigsmall.in, we send along a steel ruler with this amazing scratch map. Use the blunt side of this ruler to scratch the part of the map that you would like to. Although you could choose to use your nails or a coin to scratch it, it is more suitable to use the ruler to do so, at the same time being better for the map.
---