5 Unusual Bhai Dooj Gifts for Your Sister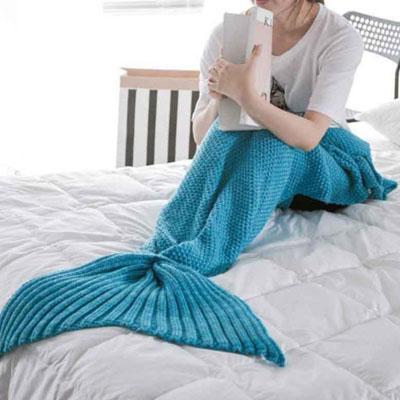 Bhai Dooj comes and goes every year, with the same story- you know you have to get a present for your sister, you search for gifting ideas, you get overwhelmed with the abundant options online and ultimately, you get her a mediocre gift that she barely remembers for the rest of the year. 
Well, this year...let us help you change that! Why not invest in a gift and put some thought into getting her something she'd cherish for a long time? Something she would actually get
Why not invest in a gift and put some thought into getting her something she'd cherish for a long time? Something she would actually get some use out of and keep thanking you for. 
So put away that chocolate hamper and take a look at our 5 top picks for Unusual Gifts for your sister this Bhai Dooj.  
Nothing expresses your love for your sister and how you'd like to pamper her the way this super comfy mermaid blanket does. Its design is extremely unique, in the shape of a mermaid tail. It is also snug and will keep your sister cozy, whether it's for curling up with a good book on a rainy evening or settling in with some hot cocoa to binge-watch her favourite show on a winter night.  
If you guys are a big fan of the HBO series, she would surely appreciate the GOT Pocket Watch Keychain. An official licensed HBO merchandise, this has the makings of the perfect Bhai Dooj gift for a GOT crazed sister. Oh, and do see the vintage GOT collectibles we have.
This one is so friggin' cute that you will be tempted to order two instead of one. One for yourself, of course! For all those unicorn crazed people, this one's simply epic. The sweet pattern and the subtle color will fit right in your sweet sis's room. She would wake up to the sweetest creature ringing the alarm. You could also check out the unique watches and clocks we have to find your favourite.
If your sister is the kind of woman who likes her drink, she's going to love this Four Shooters Ice Shots mould. Un-mould the shot glasses designed to keep a shot of your favourite drink on ice.They work wonders at keeping one's drink chilled and make the whole experience much more enjoyable. A super unique gift that is a major problem solver- what's not to like? 
This Power Nap Pillow is just what one needs to make a quick nap or an entire night's sleep even better. It is extremely soft, comfortable and can make anyone fall asleep easily. Get your sister this super handy Power Nap Pillow and she'll be left beaming with delight. You could also have a look at our super cute travel essentials and choose another one of gifts to go along with this one.
We hope you loved our gifting ideas!
So go out there, take part in the festivities offered by the Festival of Lights, gorge on the delicacies and make everyone around happy with the best Bhai Dooj Gifts & more Diwali Gifts. Have a look at the best Bhai Dooj quotes and wishes we've assembled for you too.
Happy Gifting!
---