Funny Gift Ideas to Tickle the Funny Bone - July Edition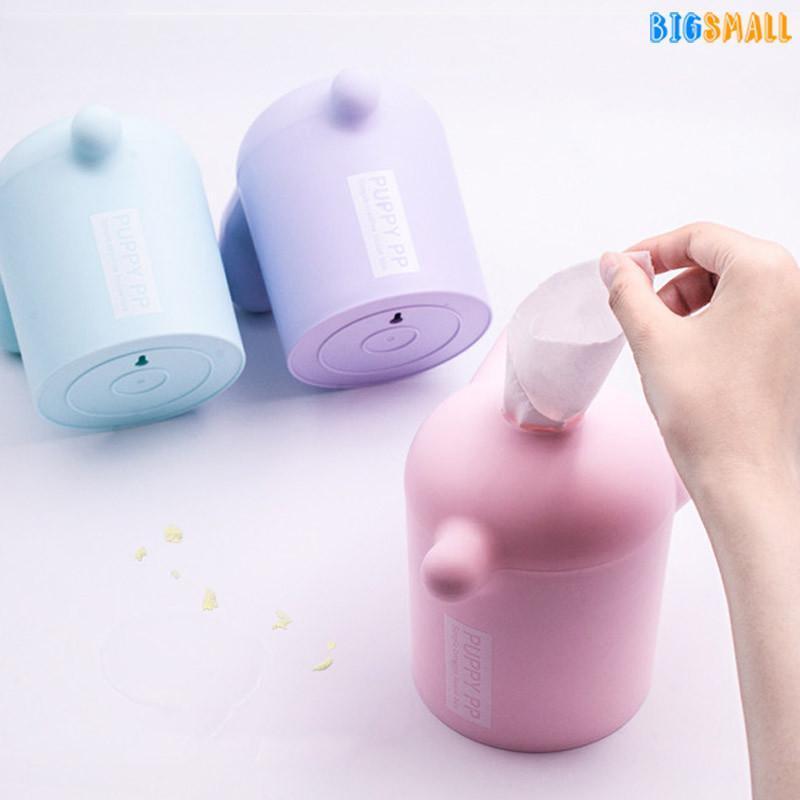 Life these days is getting too monotonous. In the haste of following a boring routine between home and work, you forget that life's essence is in enjoying every day and not just living it for the sake of living. And so, a little break from your usual work refreshes you and keeps alive in you a childlike spark even during tough times.
The question, however, is how to turn your mundane schedule into an enjoyable one. Well, happiness often comes in small packets. And so, we at bigsmall.in have brought for you and your family funny gifts in these small packets to brighten your mood every day!
Browse through them and select your favourite funny gift!
Yes, it indeed is what you think it is. Shaped like a puppy's bum, it lets you pull tissues from the puppy's butt hole! Put it on your table or shelf or just hang it on your wall, and every time you reach it to withdraw a tissue, you'd be unable to resist the smile that would lighten up your mood.

There is nothing wrong in flaunting your currency notes for the purpose to humour. That's what this ₹2000/- denomination money wallet does! With it's exterior printed like a currency note, it draws a unique reaction from all those who see it in your hand. A little funny trick, it would give you priceless expressions to look at while you hide your real worth behind this denomination wallet.
If you don't like the dull office uniform you've got to wear every day, you could add a little accessory to make it funnier at times for yourself as well others during your breaks. Bring a smile on their faces with your pigeon mask appearance over a formal dress! Office, a family gathering or just spending some time with your family, it would brighten everyone's mood in a jiffy!
Start your day by looking at this cute giraffe curtain that welcomes you as you go to take a shower. A waterproof curtain with the matching mat would bring forth the beauty of nature's creation and boost your spirits from the start of your day. Giraffe Curtain is a funny gift idea to give your friends and the kids in the house and make them euphoric with the uniqueness of your gift.
Finding the right switch during the night can get difficult. You are already sleepy with your eyes reluctant to play along and then you've got an entire wall to search for the switch to turn the light! Well well, it won't be a problem once you put this cat sticker on the switch. It is a reusable luminous sticker that's visible in the dark. So, the next time you wake up in the middle of the night, glance at this adorable cartoon sticker, turn ON/OFF the lights and part away with your cribbing!
There are times when some things take over your brain and you stress about the most trivial things. And since there is no way to let that out, it comes as a foul mood in front of the people you love. But hey, you can avoid this situation by letting out all your anger, stress, frustration on the stress sausage and keep a light, loving ambience for your family!
What do you do while the other person sips his coffee? Avoid looking at him for you too want to drink one! Well, now you can actually have a little laugh by gifting him a pig mug to drink from. A ceramic mug like any other, it has a secret at the bottom. So, once a person raises the mug to sip his share, a pig nose gives him a new appearance, a funny one, for you to laugh at especially during work!
Wear the unicorn mask along with your friends and enter the dreamland full of magical creatures with your pals! A party gift, it's fun to wear around and become a part of the exotic species! Oh, and yes, don't forget to give the elixir of happiness with a pinch of laughter to your kiddos with this cute mask!
Choose the funniest gift and relive the good old days of comic books and cartoon channels with bigsmall.in. Browse through our shelves for funny gifts and get a large variety of unique presents to transform a mundane life into a fun frolic one!
Happy Gifting!
---