6 Friendship Day Gifts for Your Health Conscious Buddy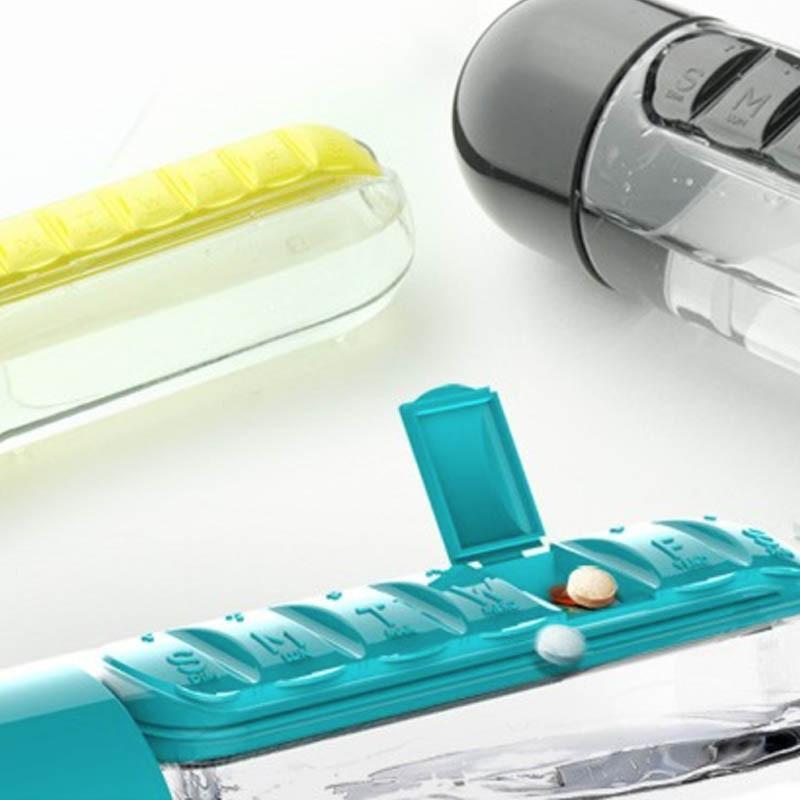 We've all got a friend whose obsession for health and fitness takes up their whole life. You know, the one friend who'd pick a leafy salad over a red velvet cake, who probably drinks tulsi green tea twice a day, who's always trying to convince you to check out the latest diet fads and most definitely swears by the wonders of yoga. Yes, that friend. Sure, the constant talk about Surya Namaskars and detox juices might be a little annoying at times but, at the end of the day, you know it's all out of love and care for you. Well, this Friendship Day, why not give your fit buddy a present that would show your admiration for their mindful habits? 
Whether your friend is an intensive runner, a spiritual yogi or even a CrossFit obsessed gym freak, these 6 friendship day gifts at bigsmall.in are sure to leave any health nut 100% delighted:

Every fitness freak knows the importance of staying hydrated. But drinking plain old water can get a little boring, can't it? This Infuser bottle is just right to spruce things up a bit, in the constant quest they're on for complete hydration! Unlike an ordinary bottle, it has an infuser within to give regular water a fruity touch. Whether it's lemon or mint leaves, your friend can add any such much- needed 'spice' to his bottle. Refreshing and healthy- what more could one ask for?

We've all got our preferences- coffee, tea, milk and so on-, even the gym beasts among us. What would flatter a gym buff more than this brawny mug? With its rock-hard abs, it's sure to find a place right in front on the shelf at your friend's kitchen. Its 3D design and intricate detailing provide the added effect to make it looks as realistic as possible. Not only does it look amazing, it'd serve as fitspiration to anyone!
 We're all aware of how those long hours sitting at work or studying in the library can get extremely exhausting. This is the perfect gift for all those hard workers who want to stretch those muscles just right, no matter where they are! Just one quick stretch is all it takes to release all the built up tension. This cord works both ways, it is perfect for stretching before or after an intensive workout too.
You know those hurried days when you've to squeeze in a 7 AM cardio session and have an office at 8? This shaker gives the perfect quick fix for the issue of managing to have a hearty breakfast to fuel oneself in a matter of seconds. Those pesky protein powders which take ages to dissolve in water or milk can now mix well instantly with the built-in mixer in this shaker bottle. A major problem solver for when one is on the go, isn't it?

Whether you have a mindful friend careful about taking her vitamins every day or a buddy who just wants to stay healthy with the right medicines at the right time, this bottle makes the ideal present. No effort will have to be put into store tablets and put reminders to take them on time anymore! The cap serves as your very own portable cup. Say goodbye to fumbling around in medicine cabinets from now on!

Do you even lift? Well, this multipurpose bottle is perfect for those gym freaks who're always on the go! Whether you want to relieve those cramped up muscles at work, or just want to get in a quick, light work out while travelling, this unique water bottle is sure to leave anyone satisfied! With its effective design, it is sure to become a staple in one's life.
This Friendship Day, cheer up all your friends with the most amazing unique and quirky gifts at bigsmall.in! For more unique gifts for friends, visit bigsmall and find the friendship day gifts category under the "What's Trending" tab. A little thoughtfulness could go a long way. 
---