Give Yourself The Attention You Deserve - 50 Unique Gifts to Gift To Yourself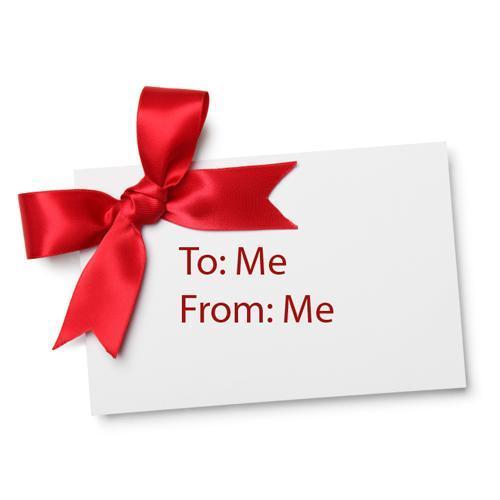 Today's world can be extremely hectic - in the hustle and bustle, we often forget to take care of our very own selves.
Take gift giving for example. We put in so much time, so much thought and so much effort in giving gifts to our family, friends, peers, colleagues and acquaintances. However, we barely put in any effort - or even buy, any gifts for ourselves. It's time to put a change to that - it's only fair if we pamper ourselves the way we pamper others with gifts.
After all, that's why we work so hard all day - to ensure a better life for ourselves. At Bigsmall.in, we've curated a special list of 50 birthday gifts to gift for yourself - for all occasions. You deserve the most of your attention - get your credit where it's due.
Make those arduous journeys comfortable with this enchanting Unicorn Hoodie Neck Pillow! You can now get a peaceful sleep anywhere, any time with the Unicorn Hoodie Neck Pillow. Put this on, and let its plush and soft pillow help you slip into the world of sweet dreams, while the unicorn-themed hoodie will keep you warm and cozy.
Whether it's a power nap between exhausting work hours or whether you want to shut out all the distractions around you while you travel, this will be your saviour. What can be better than the gift of recharging your batteries? It makes you look super cute as well!
Girls, this one's for you! We know how difficult it is to keep all your accessories at one place, and how it is almost impossible to find them when you actually need them. This jewellery storage box has 8 small compartments, to fit in all sorts of ornaments and cosmetics you have. 
There's also a mirror in it as well so that you can always check out how you look, even on the go! Available in 3 variants - Cactus, Flamingo and Unicorn, you can get yourself the one which describes your personality the most and master the art of organisation with it.
They say planning is the key to success. If you love planning, 365 Daily Planner is made for you. Save yourself from the mini panic attacks that you get, when you realise the submission is due tomorrow.
Plan everything - the daily, weekly and yearly planner pages will help you map out all your deadlines and assignments for the year - brush out the chaos in your life easily! The planner is available in 4 color variants and looks chic too. Make your life much smoother and easier with just a click.
This bottle helps you carry the pride of you being a health freak everywhere! Storing upto 550ml of water, the Dumbbell Water Bottle comes in 3 colors - Red, Blue and Green.
As the name suggests, this water bottle comes in the shape of a dumbbell weighing about 650 grams when full - perfect for your mini workouts! Gift this to yourself and boost the inner gym freak or sportsman in you.
Flasks are back in trend! If you love taking pictures, what could be a better flask than the one which itself looks like a camera? Made of stainless steel and faux leather, it comes in two colours - black and brown, and can contain liquids upto 325 ml. It has a detachable strap to it which lets you carry it around your neck if you please to.
Not a photographer? More of an outdoorsy guy? Drink like a fish with the hilarious Fishy Hip Flask - a stainless steel flask in the shape of a fish. Easy to carry, you can stow it anywhere - even in your pocket.s  Carry your favorite tipple on the go with the hip flasks back in vogue!
Kickstart your day with a blast of emotions with these incredible 3D emoji mugs! These days, emojis can say just as much as words. Make every sip of your drink expressive with these 3D emoji mugs.
Available in the shapes of some of your favorite emojis, choose the emoji which think describes you the most, or get all of them and choose the mug according to your mood! Made of ceramic, these mugs can also make a great stationery holder.
Bring out the traveller in you with this Scratch World Map! Almost all of us have wanderlust engulfed in our hearts. This map will remind and push you to check all the boxes in your travel bucket list.
It will also make your room look super cool, with all the different colors hidden beneath each of the continents. Explore your heart out around the world. Scratch the map back in your room for every place you cover and let it remind you of all the exciting memories you made there!
Let's face it, we are on our phones almost all day. Our whole world seems to be confined in our phones. Why not give rest to your hands and let a mobile stand do the work. This Astronaut Mobile Stand will take charge of your little world, just like the real astronauts take charge of the space.
This mobile stand comes with a shock-resistant and non-slip base and is compatible for all kinds of phones. You can keep your phone either vertically or horizontally on it and watch movies, surf social media and even text people - without having to actually hold the phone.
If you are a stationery lover, you probably want to have a lot of unique stuff on your desk. This Shoe Stationery holder would just add up to your list of favourite stationery.
Made out of superior quality canvas material, it comes in 4 different colors, each having different designs on them. Add that extra sparkle to your desk with this eye-catchy and out-of-the-box product.
This notebook screams its name - "Foodie". If anything and everything you do connects you back to food, you are a foodie. If one of the major reasons for you to get out of the bed is the exciting breakfast, you are a foodie. If food is what defines a lot about you, you are a foodie!
Flaunt that foodie soul of yours with this notebook! Rather than making you feel drowsy, this notebook can spark up your mood when you are about to study with the excitement that it will trickle down your mind with food that's drawn all over it. Available in four different designs, this Foodie Notebook is of 8 inches and is perfectly compatible for all your ventures!
For all the love birds out there - this bed set is the ideal foil, to either remind her about how she leaves an unfair amount of space for you, or to show him the copyright on your side and space. Made out of pure cotton that gives a super soft feel, this bed set comes with 2 pillow covers, 1 bedsheet and a quilt cover.
Put this on the bed on an occasion of fight and see his/her angry face turning into a smiling one. In other words, this could be the peacemaking bed sheet that can save you from big fights with the significant other.
How often do you find your keys missing? Ever faced difficulty in looking for a particular thing that you kept somewhere and forgot? The All Things Storage Organizer is here for your rescue. Containing multiple pockets of different sizes, this organizer will help you keep and sort things in the right way.
Hang it anywhere on the wall, drop things in it whenever you want and find it easily when you need it back. Save time, effort and a lot of panic with this storage organizer, which is available in 2 attractive designs.
We all have compromised on a few sets of clothes while packing, just to make enough space for our shoes, haven't we? And then comes the tedious process of wrapping up all those shoes in a paper of plastic bag to keep the clothes from getting dirty.
Now pack all your stuff, especially your shoes in a hassle-free manner with the Travel Shoe Bag. This shoe bag is compartmentalized, spacious and waterproof to accommodate your footwear and keep it safe. If you are always on the go, gift this to yourself and make your life easier.
Most of us have things in our mind which we would want to do at a point in life, whether it is scuba diving in the waters on Andaman, attending the La-Tomatina in Spain or walking the exciting streets of Amsterdam.
Note down all the desires of your heart in this 365 Bucket List Diary and level up the adventure in your life. It comes along with a multicolor pen and a masking tape - basically everything you need to maintain your special little creative journal.
Superhero and comic lovers, add this poster to your wall and give a whole new classy and vintage feel to your room. Can't decide which superhero you like the most?
No worries - this poster has them all, with an antique touch to it. Flaunt your timeless love for the fascinating world of superpowers through this Superhero poster, which is a collage of 105 greatest superheroes and villains of all times.
Have a 9-5 desk job and are tired of sitting on the chair and working for long hours? Relax your body a bit while resting your feet on this Foot Hammock. You can put this under your desk on a lazy day when you feel like reading or simply basking in the sun in your balcony.
This Foot Hammock is made of a very soft material, and its strap system enables you to rest your feet in the manner you want.
Now always be ready for any situation with this all in one Ultimate Pocket Tool! Made out of stainless steel and is the size of a credit card, this pocket tool will be there for your rescue in all times of need.
This can be your phone stand, your bottle opener, your headphone wrap base and so much more. Thin but strong, get this magical pocket tool and be the hero in the emergency situations.
Hassle free, neat and quick packing comes in handy with these Travel Storage Bags. These bags are ziplocked, which prevents it from getting mixed up with the rest of your stuff.
You can now segregate all your things to your convenience, and you will see how packing becomes not just easy, but fun as well. Coming in sizes medium and large, these bags are waterproof - to keep your clothes safe and sound.
The Power Nap Pillow enables you to take a comfortable and cozy nap, wherever you want. Its soft jersey-like fabric is stuffed with silicone-coated microbeads, that creates a breathable compact cushion.
Washable, it is also extremely portable - it can be carried in a purse. It's extremely versatile too - you can wear it on your elbow, on your forearm or as a glove - as per your convenience.
If you consider yourself as a die-hard fan or either Game Of Thrones or Harry Potter and often find yourself wondering about those mystical, magical world- this is how you can channelise all your thoughts.
These music boxes can soothe all the rush and anticipation in your blood when you are busy wondering what happens next.
The Game Of Thrones Music Box comes in 2 colors - rustic blue and vintage brown and the Harry Potter Music Box comes in vintage brown. Made out of wood, it will be a perfect gift for the inner GOTer or Potterhead in you!
Have an organised life with the help of the Weekly Storage Organizer. Arrange your bills, medicines etc. in this organizer making them easily accessible, saving a lot of time.
It is made out of Oxford cloth, and can be washed easily. Just hang it anywhere on your wall and get ready to have hassle free weeks!
Perhaps one of the greatest superhero and villain of all times would be Batman and Joker respectively. Show off your fandom with a set of Batman gifts. Want to share what you're listening with others? Try out the Batman Audio Splitter, which enables 3 people to listen from the same channel at the same time. It comes in 4 colors - Black, Blue, Green and Red.
Light up your dark and dreary nights Batman Night Light which level up your night time reading or typing game. It makes things very easy for you by being a USB light as well. Not enough fandom yet? Try out the set of 5 Superhero Cartoon Socks. Made out of cotton, these socks are ankle length. Let your feet do the talking now.
Every hero deserves a villain - try out the Joker Action Figures which come in a set of 5. If you see Joker more of a hero than a villain then commemorate your desk with his cool figures and let him put a smile on that face!
If you are obsessed with royalty, this jewellery holder could be right there at your desk to make you feel like a princess of your own world.
Put all your precious jewellery, which you love so dearly in this and let the crown take care of them! Gift this pristine Queen Jewellery Holder to yourself and let its royalty serve you right.
Too much furniture and too many appliances in the house not letting you sweat yourself out? Worry not, because lack of space isn't a problem anymore! You can get your workout session in the confines of your own home with this wireless skipping rope now.
With a very comfortable sponge handle, it is also integrated with time, calories and jump counter in it which enables you to keep track of your workout session. Perfect for the fitness freak who is always on the go!
Is your desk messy? Bring it in shape for lights, camera and action with this Camera Wooden Stationery Holder. Cherish the inner photographer in you with this holder that has a smooth surface finish, and comes in two different designs.
Arrange everything neatly and make a statement with a clean desk and an artistically crafted stationery holder.
We all know how if our feet is not at comfort, the whole body starts to feel uneasy. Say goodbye to that uneasiness with this Inflatable Foot Rest. On the go, at home - you can now give rest to your feet anywhere.
Portable and comfortable, it is also improves blood circulation in the body. Carry it anywhere and make any flight, road journey or your work hours comfortable in a jiffy.
There is no doubt in the fact that onions are the kings of the kitchen. You can add them to literally anything, and they turn groceries into food. But this magical ingredient comes with a price to pay, tears; and lots of tears.
But worry no more, there is solution to save your pretty eyes from shedding any more drops of tears. Put on the No Tear Onion Goggles and shield your eyes against the onions! Along with protection, these glasses offer you comfort and style as well.
Give your room a patch of cuteness with this Panda Shaped Rug. Land your feet in comfort, every time you step out of your bed.
Made out of handmade wool, 42 cm ×70 cm in size, this rug is handmade for your comfort and style. If you love eating and sleeping just like a Panda, this is the perfect rug for you!
If you like documenting your thoughts, through sketches or doodling, this sketchbook will help preserve your favorite memories. Made out of high quality paper, it has 192 pages and comes with a hardbound cover.
It is very handy, given its compact size - therefore, you can carry it with yourself anywhere you go and sketch down whenever and whatever you draw inspiration from.
No matter how old we grow, exams never actually tend to leave our side. From school tests and exams, to college entrances and several exams for various competitions after that. Be prepared for all your exams at all stages of your life with the 6 Months Study Planner.
It doesn't just help you organize your time table accurately - but also scares away the inner procrastinator in you. It comes with a hardbound cover, has 134 pages and also includes to-do lists in it,  to keep you on the right track.
31. Gift yourself a movie ticket
Take yourself out for the movie you have wanted to watch for a long time. Grab a box of popcorn, book a nice seat and enjoy the movie by yourself.
Wouldn't it be nice to watch a movie in a theatre with no distractions from any company, taking a step outside the real world - just for a few hours. After all, who can give you better company than you yourself?
32. Take yourself out on a spa day
Spend a nice afternoon at some spa, getting yourself pampered. Relax yourself because after all the hard work you do in your daily life, you deserve it.
Refresh, re-energise yourself and have a great week ahead! While you're at it - check out some spa accessories to keep you comfortable at all times - the rejuvenating spa gloves and spa socks will keep you refreshed at all times.
33. Go out on a date with yourself to your favorite restaurant
Is there anything that can make you happy in a way food does? Absolutely nothing! So treat yourself with the food you love at your favourite food joint.
Eat all your worries away! Make sure you leave the restaurant with a bloated food belly. In the end, food is all we live for.
34. Take a nice scenic walk with music
There are times when you need to be alone. Just you, music and solace. Peace can do magical things to our mind. It helps us get a hold on our perceptions on a lot of things, it helps us clear our doubts and helps us make significant decisions.
Take a nice, long walk on scenic route with your earphones on and you will see how rejuvenated you will feel.
35. Binge watch your favorite movies
Get your favourite munchies from the grocery store, make a list of all the movies you love, lock yourself up in your room and binge watch all those movies back to back!
It's alright, sometimes it's okay to bring our inner introverts to life. It's your life and you have all the rights to be all by yourself if you feel the need to.
36. Go shopping for yourself
What better therapy than shopping? There is barely any sorrow than shopping can't get rid of! Spoil yourself a little bit and shop your heart out. It is completely okay to update your wardrobe.
After all, new clothes can put you in so much better mood and give you lots of confidence.
37. Go on a solo long drive
We all crave for long drives, be it the romantic, wild or the quiet variety. Put on your favourite playlist, lower down the windows, let the cool breeze brush against your face and freshen you up as you take a drive around the places you are fond of.
Need a companion in your journey? Document your legend with the Travel Journal - the only companion you need in your long drive. 
38. Get yourself pampered in a salon
Book an appointment in a salon and get your face, hands and feet pampered. Get a haircut, get a facial massage or clean up, get a pedicure or manicure; whatever you please.
Life is too short to not do things to please yourself.
39. Go to a pet centre and play with animals
Animals bring real joy to life! Spend a day at the pet centre playing with cats and dogs or feeding them. It sure will make your soul happy.
We all are very busy in our respective lives, but we should not miss all these little pleasures the world has to offer us.
40. Start a morning with yoga
"Yoga is the journey of the self, through the self, to the self". Explore more of your inner depths doing yoga on an early morning.
There is no better way than this to give a rejuvenating start to your day!
41. Give your room a makeover
Your surroundings determine a lot about how you feel. Reposition all the furniture in your room, change the curtains, the wall paint, and give a whole new vibe to your room.
Put up pictures of your favourite memories on your wall or cupboards, and save yourself on the days you would feel low or upset.
42. Read a book by a lake/river
Reading a book is always a good idea. It can teach you so many things about people, about society, about emotions and above all, about life.
Sit by the bank of a river or a lake on a cool and calm day and read a book. When you leave, you will leave with satisfaction and contentment in your heart.
43. Sinfully indulge in satisfying your sweet tooth
Go out by yourself to your favourite bakery and hog on all the pastries you love. We all know, everything is on one side and the love for sweet things is on another.
You can commit this sweet sin once in a while without worrying about calories, weight and all the fitness crazy stuff. We have limited time on this planet - why be miserable only to extend it, to be miserable again?
44. Cook yourself your favorite dish
There is no food like homemade food. And when you put so much effort, precision and love in a particular dish, aren't you going to savour it the most? 
Pick up a recipe that excites you, get the groceries, get to the kitchen and start working. You know it's going to be worth it.
45. Go through some old albums, pictures
Nostalgia has the power of triggering so many emotions at the same time. It is good to visit the old times every once in a while.
It helps us remember who we were, who were there in our life and helps us connect to the present. Going through old albums and pictures can do so much more to us than just triggering old, lost memories.
46. Get a new haircut or hairstyle
If you want some excitement in your life, changing your hairstyle or hair color would be a great idea.
For once, even you would like to see a new person in the mirror, wouldn't you? Change is inevitable, change is the only constant, so why stay with the same boring hairstyle?
47. Talk to some old friends
We all are moving forward so quickly in our life, that little do we realise how many people we are leaving behind.
Take out time for people who mattered once, who were always there for you once and talk to them. You will be surprised how many things you were missing out after you talk to some of your old friends. Meet up with them and surprise them with a gift - check out some specially curated gifts for friends.
48. Listen to a fresh playlist
Music is said to be the language of the soul. And new music could often be really exciting! Browse through new collections and you never know, you might come across something which you would relate to a lot and might eventually end up playing it on a loop.
Why just one, you might come across several ones! Funk it up and blow the roof down - perhaps with the Timebox Smart Speaker - a Bluetooth smart speaker with so many features that you'd need as many hands as an octopus to count. Bring about the revolution in music!
49. Go swimming
The feel of fresh water itself is so refreshing! Go to a pool and spend few hours basking in the sun and swimming.


It would be a nice workout too, but in a rather fun and exciting way! And in case you don't know how to swim, you can always just pass time at the pool sitting and listening to music or reading a book.
50. Make crafts
Creativity is always a good way to kill your idle time - it is productive and satisfactory. Pick up some stationery and get to craft making. It could be a pen stand or a scrapbook or maybe a wall hanger, whatever you wish to or like to make.
Later on, you can use it to decorate your room and feel a little proud of your creations.
---