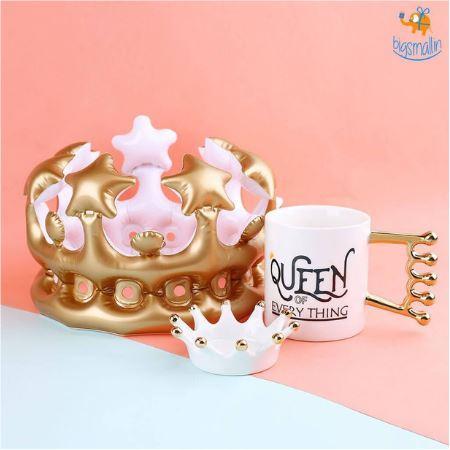 As the 8th of May 2022, draws near, many kids out there are biting their nails, some in anticipation, some slightly bonkers for not being able to zero down on the GIFT! Cease to worry amigos, because we at Bigsmall.in bring to you a wondrous spread of fun & quirky gifts for the most special lady in your life. Be it your own mother or your ma-in-law chances are that she won't be able to resist the charms of this little package of love that you choose and we deliver! Psst! We also send in specially curated handwritten notes for mommy dearest. If you know a millennial new mom who just brought home her little bundle of joy do the honors for her as you scroll through a mesmerizing spread of gifts for new moms collection. Allow us to walk you through the plethora of collections and awesome gifts to choose from! 
This one is the daddy of the entire segment! From her morning cup of coffee to her keeping her feet warm and tasty with creative socks, this one hosts them all. For starters, you can begin her special day by gifting her an awesome laser cut Mother's Day Pop Up Card. It beautifully captures the various phases of motherhood in an intricate laser cut design. This is guaranteed to make her smile. Or if she can't get up without her daily dose of caffeine, why not make a gift of Vintage Coffee Grinder?! There is a certain magic to grinding your own coffee, isn't it? There is a little girl hidden in every mom who loves to be pampered. Take her back in time with the Whale Shaped Wooden Desk Clock. If she believes in the magic of unicorns then you cannot go wrong with the Unicorn Plush Slippers.
If you are running on a tight budget, we totally get you mate! But hey! Since when did gifting have anything to do with price tags? You can still choose the most fun & quirky creative gift for mom at none other than the best online gifting store, without burning a hole in your pocket. For the kid who wants to play safe and wishes to gift his/her mom the gift of choice, Gift Cards are the best option. Because hey! Remember Rachel? She would always exchange even the most well thought out gift for something else. You don't want that to happen. The value on the redeemable gift cards ranges from 500-10,000 Rs. You were always in awe of her almost superhuman abilities to juggle a plethora of tasks ranging from ensuring that your lunch pack had the tastiest grub to making the best school projects. Why not consider gifting her a Wonder Woman Metallic Lapel Pin? In the daily rigmarole of life, it's often her feet that take a beating. Give her the gift of soft, moisturized and pampered feet with Spa Gel Socks. The perfect gift for moms who are teachers, choreographers, nurses, doctors, or simply great homemakers!
So been scrimping up your pocket money for getting the perfect gift for mom? Managed to save a grand, well, boom, guess what! That's enough for an awesome gift for your mom, my friend! If she is a working professional who loves to carry her homemade tea in a flask to work, then the Eco-Friendly Bamboo Flask is just what you need. A cute, fun take on the traditional Thermos bottle this one is truly for keeps. If your mom loves looking after her adopted kids (her plants), chances are that she would love the Rocket Planter. A wonderful home decor item, it is perfect for holding small plants, flowers, and succulents. Wonder Woman has inspired a number of women worldwide in spite of being a fictional character. Make a gift of the Wonder Woman Apron to your mom who has truly managed everything with immaculate perfection. If she needs a big cup of coffee in the morning, look no further than the Huge Heart Mug. It is bound to make her happy whenever she drinks from it. Look at all that cute little hearts, who can say no to that.
The epitome of perfection and unconditional love, your mother deserves nothing but the best! Choose from a range of gifts that have a premium feel to them and can be passed on from one generation to the next. All heart, every time you visit mom? Then maybe the Heart Shaped Umbrella is a good mother's day gifting option. This high quality, single fold, lightweight, classic umbrella will protect her from the fury of rain and summer sun alike! Does she love listening to Bhajans or Gita Upadesh? Then maybe you should go for high-quality devotional Bluetooth speakers such as the Ganesha Bhajan Vaani Speaker and Shrimad Bhagavad Geeta Speaker. The Bhakti Bhajan Vaani Speaker comes from the house of Shemaroo entertainment and comes preloaded with 221 bhajans, aartis, jaaps, mantras & stotras. The Shrimad Bhagavad Geeta Speaker is an audiobook boasting of a collection of 18 chapters, 700 verses in 3 languages: Hindi, English & Sanskrit. Krishna devotees are in a treat with 100 specially curated Krishna bhajans. 
Your bestie just gave birth to her baby? If she just did then chances are that the onus of giving her her first mother's day gift lies on you. We have got you covered with a fun collection of quirky gifts for the millennial mom that is totally adorbs. With the Boss Baby in tow, she is a mess most probably with literally zero sleep and quality me-time, remind her that she deserves all things nice only with this Love You To The Moon Gift Set. This innovatively designed creative gift set is inclusive of Spa Socks, Nail Polish Holder and a Jewellery Storage Box. Every one loves chilling at home with a set of worn-in PJs and a comfortable pair of plush slippers. Post-delivery it becomes all the more important to recharge one's batteries. Your friend would truly appreciate the Doggo Plush Slippers. These are so temptingly comfortable, that you might just feel like hoarding a pair for yourself too! Maybe you could take a day off work and look after the little munchkin as the new mom sits back all snuggled up in the Mermaid Tail Blanket reading her favourite paperback novel.
When attending a baby shower or while planning one, people are often confused regarding whether they should buy gifts for the baby or gifts for the new mom. We suggest that you choose the road less taken and buy gifts that will please both, the mom and the baby. The Handcrafted Elephant Rug is one such product that is bound to delight everyone who uses it. This cute elly shaped rug is handmade with sheep wool and crafted with tonnes of love. With kids around chances are that the coffee mugs keep breaking, a push here, a nudge there and wham! there goes your favourite coffee mug. We might have something for you that ain't exactly unbreakable but is so cute that it will be handled with care by one and all! Often kids are known to be fussy eaters, however, eating out of the Sporty Cereal Bowl is so much fun that even the pickiest of eaters will look forward to their daily bowl of nourishment. 
Gifting was never this much fun! With a mind-boggling range of funny gifts, coffee mugs, posters, home decor items, and new products added regularly one is basically spoilt for choice. 
---